Electric Nissan to Cost Just $25G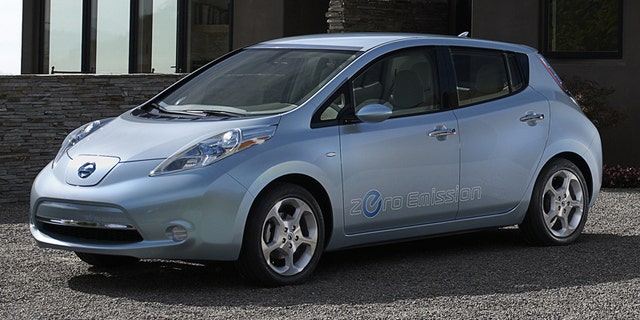 Nissan announced Tuesday that it will sell its upcoming electric car, the LEAF, for $32,780. After a federal tax credit of $7,500 that is available to all buyers, the five-door hatchback will cost just $25,280, several thousand dollars less than the average transaction price of a car sold in the United States.
When it goes on sale in late 2010, the LEAF is expected to be the only all-electric five-passenger car from a major manufacturer that is capable of being driven on the highway. As a pure-electric vehicle, the LEAF will have range of just 100 miles per charge, limited by the size and expense of the lithium-ion battery pack. On a 220-volt outlet, a full charge takes about eight hours, but Nissan says that an available quick charger can replenish the batteries to 80% capacity in about 30 minutes.
In an effort to make electric vehicles like the LEAF more useable in urban environments where most homeowners and commuters don't have easy access to electric outlets, the company has entered into partnerships with several cities including Portland, Oregon and Washington, D.C. to install a network of public charging stations.
Nissan will begin taking reservations for the LEAF on April 20th, which will initially be imported from Japan before production starts at the company's plant in Smyrna, Tennessee in 2012. Worldwide production is expected to reach 200,000 units per year by 2013.
And if twenty-five grand still seems a little steep for you, you might want to consider moving to California where a state tax rebate knocks an additional $5,000 off of the bottom line, bringing the grand total to $20,280, which is less than a Toyota Prius.