Electric Car Company Aptera Preparing for a Reboot?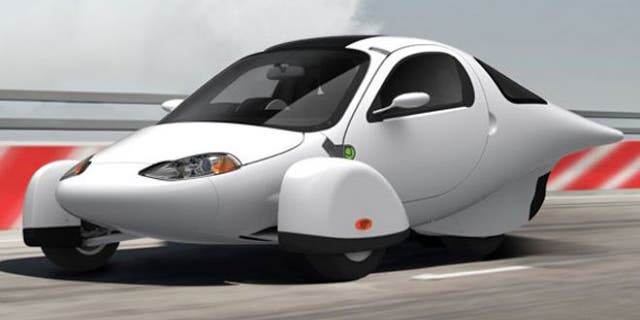 Just as one American electric car company, Fisker Automotive, begins delivering vehicles to customers, another is preparing for a reboot.
Aptera Motors, the California startup behind the radical Aptera 2e electric car concept, has posted a notice on its website that "2.0 is coming."
Gone are all of the images and bits of information about the Aptera 2e, a three-wheel two-seat electric car with a projected fuel efficiency equivalent to 200 mpg and a target price of $25,000. They are replaced by a single page containing a statement that reads "the combination of amazing aerodynamics and advanced composites means the coming of a new generation of energy efficient vehicles that will change what we expect from our cars."
An Aptera representative tells FoxNews.com that further information on what the company has planned isn't imminent, but could be coming in the next few months. However, the teaser site offers a few clues as to what might be in store.
Under the word "aerodynamics" is a rendering of a cloaked vehicle being tested in a wind tunnel that appears to have a more conventional greenhouse shape and footprint than the 2e, which dramatically tapers to the rear like the fuselage of a small airplane. This suggests the new Aptera could in fact be a four-wheel car.
More telling of a possible change of direction, below the word "safety" is a picture of a small child in an infant car seat. Automakers typically don't promote the use of these devices in two-passenger cars so its inclusion could mean that 2.0 has rear seats. But we'll have to wait and see.
In August, Aptera returned all of the deposits it was holding for the 2e, which led some industry analysts to believe that it was about to go out of business. After more than five years of development, 2e production never got off the ground, largely due to Aptera's failure to as yet secure a $184 million loan guarantee from the Department of Energy's Advanced Technology Vehicles Manufacturing Loan Program that it has been seeking. The same program granted loans of $529 million to Fisker and $465 million to Tesla Motors to help those startup automakers acquire manufacturing facilities and complete development of their hybrid and electric cars, all of which are conventional four-wheel vehicles.
Prior to the recent developments, Aptera CEO Paul Wilbur told FoxNews.com that if the loan doesn't come through "we'll continue with our private funding, and we'll have a little bit more work to do in raising equity to build these vehicles."
It appears that work continues, for now.