Dodge launches Kickstarter-style crowdfunded purchasing site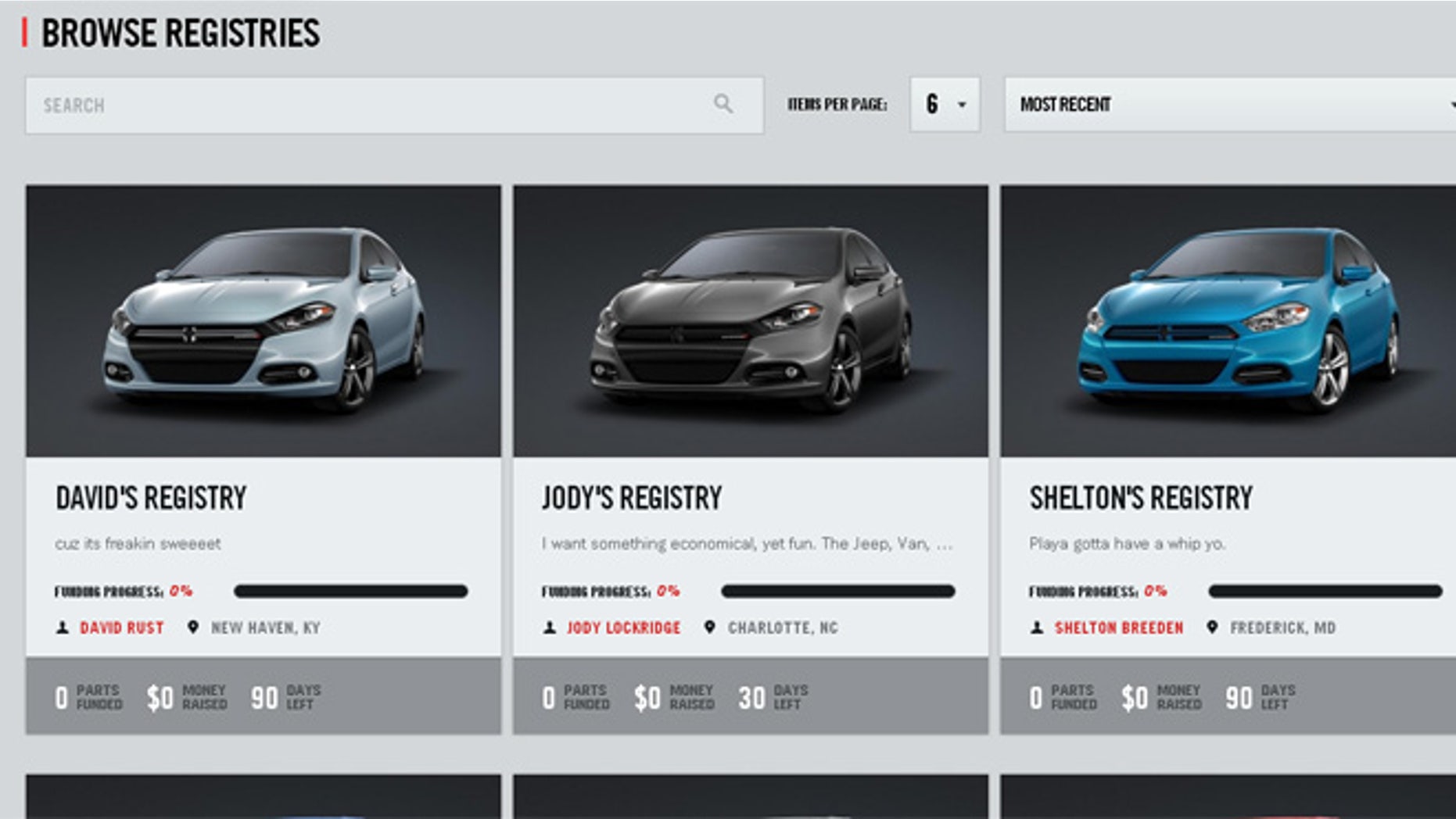 Are you longing for the new 2013 Dodge Dart, but just don't have the funds to buy one right now? The new Dodge Dart Registry program may just be your answer.

Launching January 20 with a new commercial during the NFL's NFC championship game, and backed by crowdfunding service RocketHub, the Dodge Dart Registry allows interested Dart shoppers to register and then receive donations from, presumably, friends and family.

Tied into social networks Facebook and Twitter, the Dodge Dart Registry seeks to help make the purchasing process both more social and more affordable. Dodge explained the registry in a release to media: "Like any registry, friends and family can ensure they're giving a gift that someone really wants, whether it is for birthdays, graduations or any other gift-giving moments throughout the year."
Test Drive: 2013 Dodge Dart

The goal, obviously, is to help secure cash for younger buyers to purchase a new Dart. For Dodge, the goal is more than just selling more Darts. The brand wants buyers and gifters to join in the social promotion of the car, too. The release continues, "Once registered, an individual has the option to connect to Facebook and Twitter to spread word about their desire to own a new Dodge Dart or, perhaps, thank anyone who has contributed to the effort, all the while communicating and sharing key features of the vehicle through their social channels."

The registry program also plays on the "New Rules" slogan associated with the Dart. "Now, 'New Rules' transcends not only how we design, build and market a car, but redefines how consumers can purchase a new vehicle by mobilizing friends and family to help," said Oliver Francois, Chief Marketing Officer, Chrysler Group LLC.

Once registered, contributors to the purchase can sponsor by the part--paying for the steering wheel, shifter, seat, or engine, for example.

The Kickstarter-like model isn't new, but an official association with a carmaker is, and it's certainly a novel approach to boosting both sales and buzz around Dodge's product. Will it get off the ground and help hordes of younger people into new cars? Perhaps. On the other hand, it might just be a new way for the freeloader in your life to find their way into your wallet.