Dodge Challenger SRT Hellcat price, speed revealed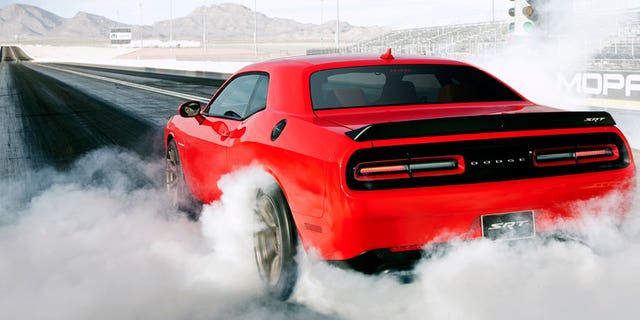 $5,445.54.
That's how much you'll pay per second to drive the most powerful muscle car ever down a quarter-mile drag strip.
The 2015 Dodge Challenger SRT Hellcat will cost $60,990 when it goes on sale this fall with its 707 hp 6.2-liter supercharged HEMI V8 under the hood, the automaker announced today. That compares to $55,935 for the 662 hp Ford Mustang Shelby GT500, $57,650 for the 580 hp Chevrolet Camaro ZL1 and $397,500 for the 691 hp Lamborghini Aventador.
With 650 lb-ft of torque, the Challenger SRT Hellcat is the most-powerful American production car ever made, and Dodge says it can do a quarter-mile run in 11.2 seconds at 125 mph on its showroom stock tires, and just 10.8 with a set of street-legal drag radials installed.
The coupe will come standard with an adjustable suspension, and be available with either a 6-speed manual transmission or 8-speed automatic. Dodge President and CEO Tim Kuniskis told Autoblog.com, that it has a top speed of 199 mph.