Dale Earnhardt Jr., family hospitalized after small plane crash in Tennessee, sister says
NASCAR star Dale Earnhardt Jr., his wife and daughter were hospitalized after a small plane crash in Tennessee on Thursday, his sister said.
"I can confirm Dale, Amy & Isla along with his two pilots were involved in a crash in Bristol TN this afternoon. Everyone is safe and has been taken to the hospital for further evaluation. We have no further information at this time. Thank you for your understanding," Kelley Earnhardt wrote in a tweet. Amy is Dale's wife, and Isla is their 1-year-old daughter.
DALE EARNHARDT JR. TO RACE CAR AT DARLINGTON NASCAR RACE THAT LOOKS LIKE HIS DAD'S FIRST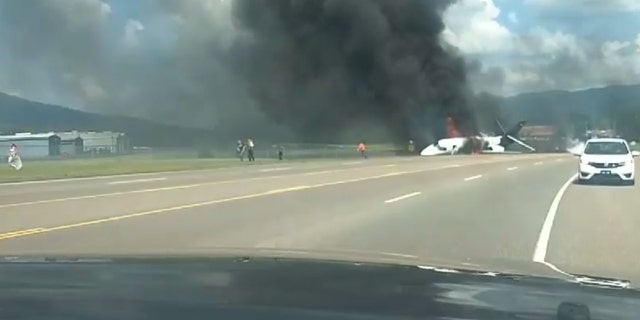 Fox News also has learned the plane involved in the crash is registered to Dale Earnhardt Jr.'s race team, JR Motorsports, and crashed near Elizabethton Municipal Airport, which is in Carter County, Tennessee. Elizabethton is about 20 minutes from Johnson City, Tenn.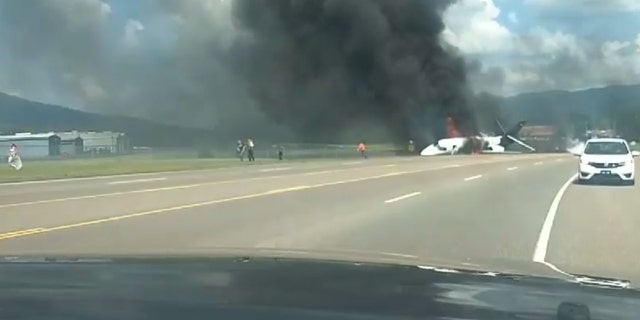 The plane ran off the end of the runway and caught fire, according to the Carter County Sheriff's Office.
In a statement sent to Fox News The Federal Aviation Administration said, "A Cessna Citation rolled off the end of Runway 24 and caught fire after landing at Elizabethton Municipal Airport in Tennessee at 3:40 p.m. today."
The statement went on to say, "The FAA will investigate and the National Transportation Safety Board will determine probable cause of the accident."
The pilot, co-pilot, Earnhardt, his wife, their daughter and the family dog were on board when the plane crashed, Sheriff Dexter Lunceford said.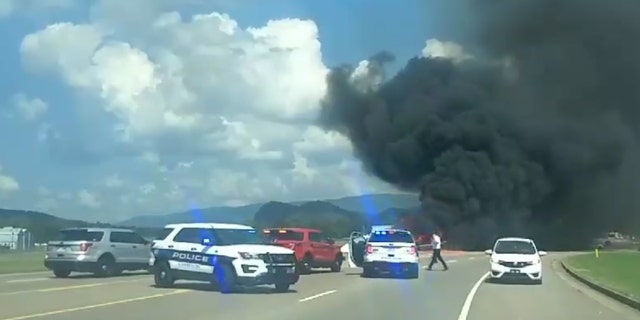 Earnhardt Jr. has been transported to the hospital for minor injuries, the public information officer with The Carter County Sheriff's Office told Fox News. He added everyone on the plane survived the crash. The extent of their injuries was not immediately known.
RECALLING DALE EARNHARDT AND THE SAFETY DEBATE
Earnhardt reportedly was flying to Bristol, Tenn., to announce Saturday night's NASCAR Monster Energy Cup Series Bass Pro Shops/NRA Night Race.
Earnhardt Jr., who retired from racing full-time in 2017, also has been an analyst for NASCAR on NBC.
Later Thursday, an NBC Sports spokesperson said, "We're incredibly grateful that Dale, his wife Amy, daughter Isla, and the two pilots are safe following today's accident."
"After being discharged from the hospital, we communicated with Dale and his team, and we're all in agreement that he should take this weekend off to be with his family. We look forward to having him back in the booth next month at Darlington."
The former driver of the #88 is expected to return to the broadcast booth Labor Day weekend -- when NASCAR's premier series returns to Darlington, S.C. for the Bojangles' Southern 500.
In his Cup series career, Earnhardt Jr. collected 26 wins, more than a dozen pole positions and 260 top-ten finishes. The Kannapolis, N.C., native also was voted the series' most popular driver 15 straight times.
CLICK HERE FOR THE FOX NEWS APP
His father, Dale Earnhardt, died from injuries sustained in a crash on the final lap of the 2001 Daytona 500. The elder Earnhardt's death led NASCAR to work toward instituting more safety measures at tracks, including the Steel and Foam Energy Reduction (SAFER) Barrier, which is intended to absorb and reduce kinetic energy during the impact of a high-speed crash and, therefore, lessen injuries sustained to drivers.
Fox News' Trace Gallagher contributed to this report.