Custom Polaris Slingshot worthy of a salute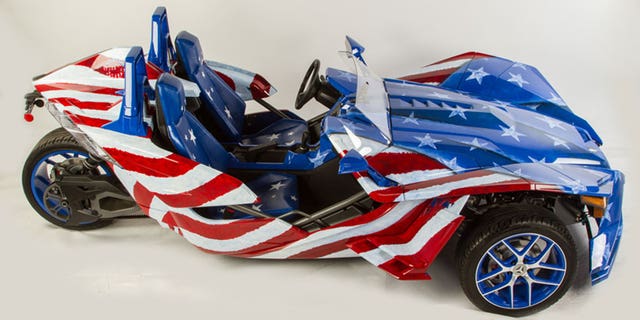 Cuban-born Mets slugger Yoenis Cespedes put the Polaris Slingshot on the map when he arrived at spring training camp in one a couple of weeks ago, but now the all-American three-wheeler is waving its own flag.
Allstate has teamed up with noted motorcycle customizer Rick Fairless on a red, white, and blue version of the Slingshot to celebrate both the insurer's 75th anniversary and its 50 years of offering motorcycle coverage.
Along with a Stars and Stripes motif, the Slingshot gets blue wheel accents and unique upholstery from Fairless' Dallas neighbor ASM. The ride is on display at this week's Daytona Bike Week, and will be making the rounds of motorcycle events throughout the summer, wrapping things up at Sturgis Bike Week in August.
It's not for sale, but is the prize for Allstate's annual motorcycle sweepstakes, which runs through February 2017. Hopefully for the winner, the Slingshot will still be cool then.
----------
Polaris Slingshot test ride