Amphibious 8×8 ATV travels marshes, mountains, shallow lakes, and tundra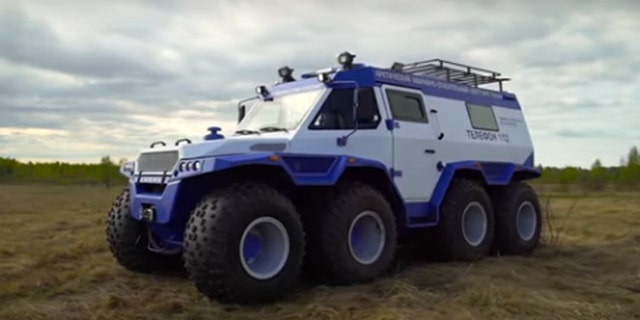 If you love off-road challenges, the Russian-built Wamah Avtoros Shaman 8×8 nine-passenger amphibious all-terrain vehicle (ATV) is ready to float, roll, and climb. There is no driving on U.S. streets. This ATV is for off-roading only and serious off-roading at that.
The Shaman is larger than a 4×4 Chevrolet Suburban in all dimensions. A Suburban measures 18.7 feet long, 6.8 feet wide, and 6.2 feet high. The Shaman, at 20.7 feet long, 8.2 feet wide, and 8.9 feet high is two feet longer, 1.5 feet wider, and a walloping 2.5 feet taller than the Chevy. This is a large vehicle.
Road clearance is about 18 inches and the turning radius is just under 25 feet. Since the front and rear wheels can be turned in opposite directions, the radius number is aided by the Shaman's ability to almost drive around itself.
It's not the sheer size that gives the Shaman its off-road prowess, however. All eight wheels are equipped with low-pressure tires and each wheel is a drive wheel, with its own independent suspension. There are several drive modes including Crab Mode and Thruster Mode. The latter drive setup will follow twisty, windy paths or trails nicely -- in Thruster Mode the front four and rear four wheels are turned in opposite directions.
The Shaman's underside has a hermetic boat-formed frame to keep water out. Just in case, however, standard high-performance pumps can remove up to 53 gallons of water a minute if any flows inside the frame.
In the Shaman's standard configuration, the top speed on land is 44 mph and 1.3 mph in water. Equipped with an optional screw propeller, the water speed increases to 4.3 mph.
Fuel consumption may not be top-of-mind when selecting an off-road hunting or rescue vehicle, but the 146-horsepower Iveco diesel engine is rated at approximately 9.4 miles to the gallon. With the Shaman's 69-gallon fuel tank, the maximum range is about 650 miles between fill-ups.
You can configure the Shaman with seats for eight passengers plus the driver, or in the "hunter" configuration with beds for four people.
The Shaman ATV's base price is about $200,000. The screw propeller option is an additional $5,200. Picking every option in the website configuration tool drives the price up to almost $240,000. If you are intrigued by the Shaman, the bad news is it's currently only sold in Russia. However, since you won't be driving it on U.S. roads anyway, there are probably ways to buy one and have it transported to the U.S.