90-year-old NASCAR great Herschel McGriff returns to racing
TUSCON, AZ – Herschel McGriff Sr. is 90 years old. On Saturday, he'll be making history as the oldest-known person ever to compete in a NASCAR race.
"When we get in the car, when I get my helmet on and the suit, they don't know who's in there — they don't know I'm 90 years old," McGriff Sr. said. "So, they might think, 'Hey, here's some 23-year-old wanting to pass me.'"
Instead, it'll be McGriff Sr. driving in NASCAR's K&N Pro Series West race at Arizona's Tucson Speedway on May 5.
"NASCAR, they want to make sure — you know, 90 years old, a lot of them are in a wheelchair or pushing carts around and walkers, that kind of thing," McGriff Sr. said. "They don't quite understand my abilities, I guess. Since I hadn't driven for over three years, they sent a guy out here [from Charlotte] to test me. I had to run 50 laps on the track. I borrowed my son's car to do it in. Then they had to have a letter from my cardiologist to make sure that my ticker was good and so my cardiologist, he put me through the whole thing."
The cardiologist cleared McGriff Sr. to race after running tests on the treadmill. He said the doctor told him he had a very strong heart.
"Time I walked out of the office, he had a hard copy of the letter that went to NASCAR and I [gave] him four tickets to the race," McGriff Sr. said.
"It's been quite a test just to be able to drive this car to get in. But, I'm good now — for one race, anyway."
"At my age and haven't driven, I don't feel 90. So, hopefully my right foot feels like I'm about 30 or 40 years old and my left foot won't work very well, won't push the brake too much."
McGriff's storied racing career began just days after the end of World War II in 1945, when he was 17. NASCAR founder Bill France, Sr., recruited him to stock car racing a few years later, and he won four races in NASCAR's top series in 1954.
Over the years, McGriff has racked up 35 wins in 266 races across several NASCAR-sanctioned circuits, with his last coming in 1989 at age 61. That still stands as a record for oldest winner of a NASCAR feature race and helped earn him a spot on NASCAR's list of its 50 greatest drivers of all time.
NASCAR doesn't have complete age records from every race, and can't fully confirm that McGriff Sr. is the oldest driver ever, but said that "his is definitely a unique and rare occurrence."
"In my old style of racing, I used to be in the front most of the time, from my record," McGriff Sr. said. "But, you know, at my age and haven't driven, I don't feel 90. So, hopefully my right foot feels like I'm about 30 or 40 years old and my left foot won't work very well, won't push the brake too much."
And on race day, it won't just be about McGriff Sr. His son, Herschel McGriff Jr., and granddaughter, Mariah McGriff, will be competing in other races on the same racetrack on Saturday. McGriff Sr.'s sons-in-law will also be helping McGriff Jr. with the car.
"It's always been a family thing," McGriff Sr. said.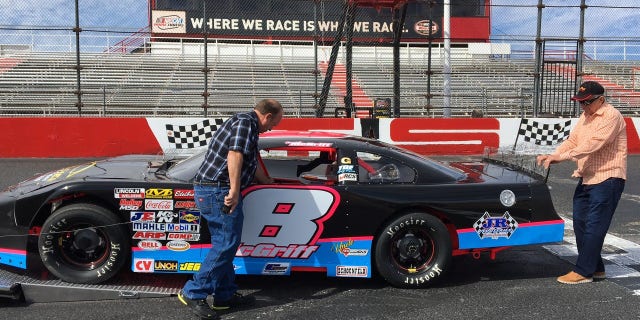 "I think the fun part is everybody gets together," McGriff Jr. said. "That's the part I really like. Sisters, they all come out because everybody has a part in it."
McGriff Jr.'s daughter, Mariah, is a college student planning on being a nurse. Her dad is a mechanic, passionate about working on cars and lent his car to his father when the time came to do that 50 lap test run for NASCAR.
"As long as I can remember, I've been doing this with him and helping him," McGriff Jr. said. "I started racing at 13. Now my daughter started racing at 13 … does real well in college and school. Actually, the last four years of her high school she did online so she traveled with me. She was in the back seat doing online with three computers going on so she would go around the racetracks to help take care of grandpa."
McGriff Sr. said he's always told his son that maybe sometime when he's 90 he'd race. Bill McAnally got word of it from Jr. and decided to furnish a car and crew for Sr. as a birthday present to be able to race at 90.
"I have a very competitive car," McGriff Sr. said. "Bill McAnally owns the car. He owns three other teams. He's won several championships with different drivers with his teams. My car will be set up just like the other three teams that he has. So, I have no excuse but to run good and hope I end up towards the front."
His dad will be checking off something else on his bucket list on race day — playing the trumpet for the National Anthem. And on Sunday morning, just less than 24 hours after the race, McGriff Sr. will go to Pennsylvania to ride in NASCAR driver Kyle Petty's Charity Ride. It's a motorcycle "charity ride across America" that raises money for Victory Junction, a charity that aims to enrich children who have chronic or life-threatening illnesses.
McGriff Sr. is also a NASCAR Hall of Fame nominee this year.
At 90 years old going speeds of over 90 miles an-hour on the racetrack — he's got more planned after he finishes this race, in the race of life.
"There's still a few things I need to do yet…I figure I got another 10 years to go," McGriff Sr. said. "I'll get a lot done in the next 10 years."