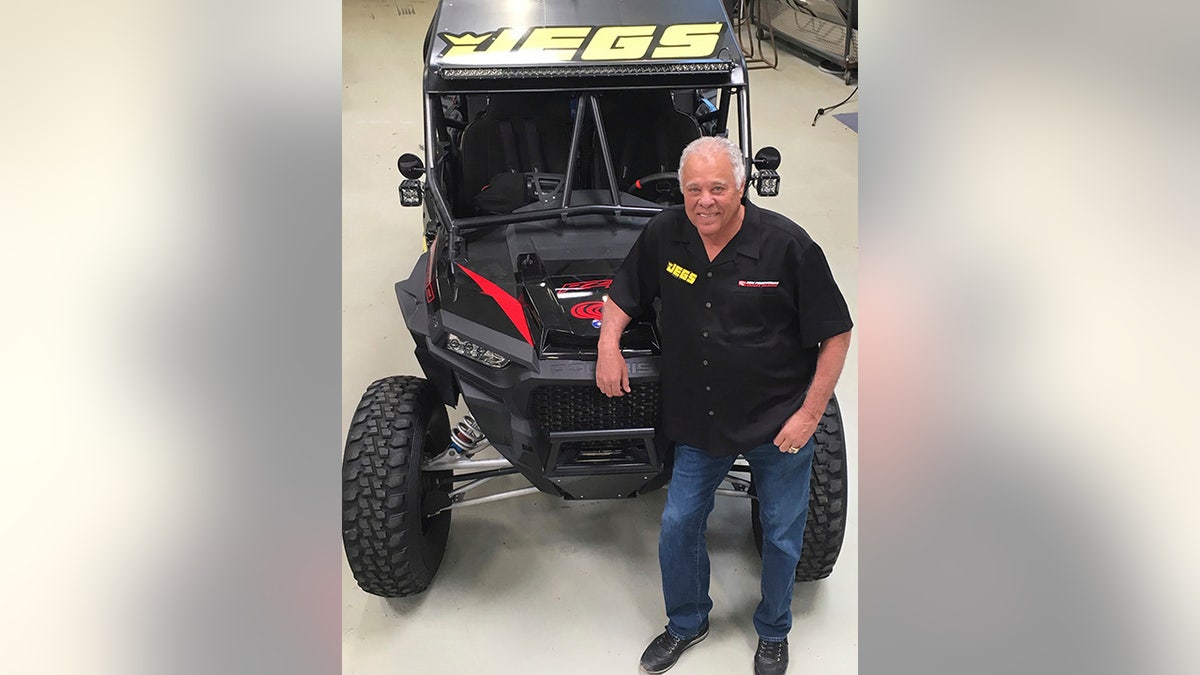 Don Prudhomme had no clue what he was doing the first time he raced Baja.
He didn't know the course. He didn't grasp the conditions. He didn't even have the right setup in the car.
The legendary drag racer was a last-minute fill-in for actor Steve McQueen, who had to bail because of filming obligations. Prudhomme teamed with friend and fellow racer Tony Nancy for the 1,000-mile sprint across the desert and through tiny towns in Mexico. They drove McQueen's car — a dune buggy Nancy built with a Porsche engine — and made it about 100 miles before flames started spewing out of the tailpipes.
Prudhomme walked away with more regrets than recollections.
Now, 50 years later, he's looking for redemption.
"Hope to have a little better luck this time," Prudhomme told The Associated Press from his home in San Diego.
The 77-year-old Prudhomme will return to Baja for the Mexican 1000 next week, his first competitive race since retiring from NHRA in 1994.
"It's always been a thorn in my side that we never finished the race," Prudhomme said. "But thinking back on it, it's kind of a good thing or else I'd still be lost out there in the desert. We didn't know what the hell we were doing. I would say luckily we broke down, to be honest with you. Now, going back, it's a bucket list thing. It's like climbing a mountain you didn't make it up years ago."
Or decades ago.
The Mexican 1000 is a five-day, off-road rally run by the National Off-Road Racing Association, which ran the first Baja 1000 in 1967. It celebrates off-road racing history and vintage off-road vehicles. Cars, trucks, buggies and motorcycles from all eras of Baja racing are eligible to participate in a variety of classes. The race begins April 22 in Ensenda, Mexico, and ends in San Jose del Cabo, Mexico.
Even though Prudhomme hasn't entered the event since that ill-fated trip in 1968, he has plenty of desert experience.
He's made countless trips through the Baja desert in recent years, either alone on an adventure motorcycle or with buddies in off-road vehicles. Prudhomme was with three-time NASCAR champion Tony Stewart and fellow drivers Jeff Gordon and Greg Biffle in 2016 when Stewart broke his back flying over a sand dune and bottoming-out his buggy.
He also knows the course considerably better half a century later.
There have been significant technological advances, too, like GPS, on-board computers, helmets that don't allow in fumes and dirt, and sensors for every part of his 2018 Polaris that's been beefed up by P.J. Jones, son of 1963 Indianapolis 500 winner Parnelli Jones.
"This should be a fun event for him," said former NASCAR driver and off-road champion Robby Gordon. "It's pretty cool. It's good to have other forms of motorsport come to Baja and see the adventure. That's the biggest thing that Baja brings: It brings an adventure that no other form of motorsport does because every corner is different, every road is different and just because the car went through there in front of you, the road will change.
"It's the wild west of motorsports. There are no guardrails. There are no catch-fences."
There's no maximum age limit, either.
"It's about time he got back out there," said longtime NHRA rival "Big Daddy" Don Garlits, who recently turned 86. "He's too young to be parked."
Prudhomme agrees, adding that he feels about half his age.
"Physically, it's a piece of cake," he said. "I'll have a couple of Red Bulls along the way to keep me awake, but I don't think it will be a problem. ... I'm not trying to pretend I'm Superman or anything, but we go to Baja all the time."
Prudhomme will race in the Stock Turbo UTV class. He also will have a full crew and a helicopter following along.
"It's not a cheap date," he said.
The driver nicknamed "the Snake" won 49 national events in the Funny Car and Top Fuel classes during his NHRA career divisions, including four consecutive titles (1975-78) in Funny Car. He later added another 63 victories as an owner before shuttering his team following the 2009 season.
"Once you're competitive, you're always competitive. You never lose that," he said. "To be honest with you, I feel like it was yesterday that I quit drag racing, quit driving. I had a dream about it the other night. I had a dream I was in the staging lines getting ready to make a run. After competing for 50 years in drag racing, it just doesn't leave you. It's there. It's embedded."