707 hp Dodge Challenger SRT is the most powerful American car ever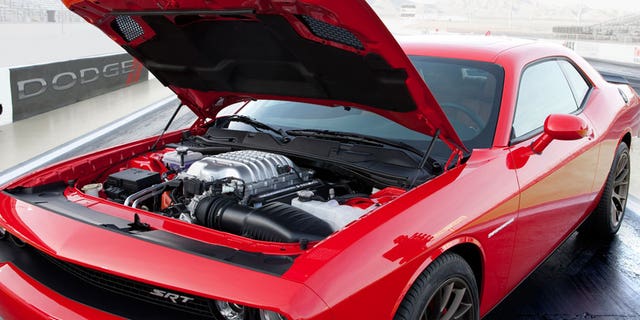 Turns out the Hellcat is a real fire-breather.
Dodge has announced that its new supercharged V8 will be rated at an astonishing 707 hp and 650 lb-ft of torque when it debuts in the 2015 Challenger SRT later this year, making it the most powerful mass produced American car ever.
The 6.2-liter Hellcat HEMI engine features an iron block, forged alloy pistons and is fed by a 2,380cc supercharger blowing at 11.8 psi. It will be available with either a 6-speed manual or 8-speed automatic transmission.
Not only does the Hellcat put the Challenger SRT at the top of the American muscle car list, besting the 662 hp Ford Mustang Shelby GT500 by a fair amount, but the monster motor is also the most powerful V8 in the world and the car third among all non-electrified autos sold by major automakers, trailing only the 16-cylinder Bugatti Veyron and V12 Ferrari F12.
Oh, and if you're worried about handing the keys over to your kids or a valet, don't. At least not as much. The Challenger SRT will come with two sets, one that restricts the engine to 500 hp and another that opens the gates of the Hellcat.
No word yet on fuel economy, but don't expect it to break any records. At least not the good kind.
The car plants the flag for the rebooted Dodge brand, which will focus on performance cars in the coming years, while Chrysler gives up its luxury aspirations to build more mainstream vehicles.
The Hellcat will be unleashed on showrooms in the third quarter of 2014, and is widely expected to make its way into a 4-door Charger SRT sedan at a later date.