2018 Kia Stinger: A name worth remembering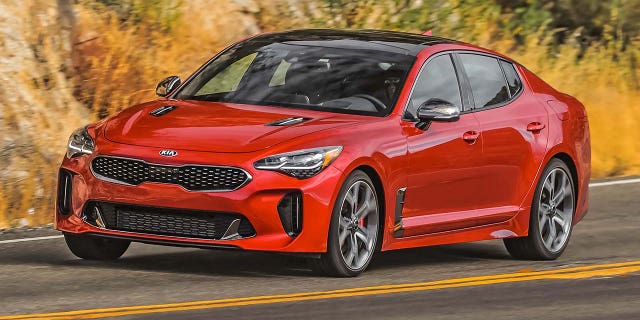 Kia is looking to kick butt and take names in the compact luxury sports sedan segment.
The problem is, there aren't any names. Just lots of numbers and letters stuck onto trunk lids. Funny then that Kia's entry has one. It's called the Stinger.
I'll leave the buzz jokes to you, but the Stinger's sleek and muscular styling definitely gets a lot of attention. I lost count of how many times I heard the phrase "that's a Kia?!" while I was driving it.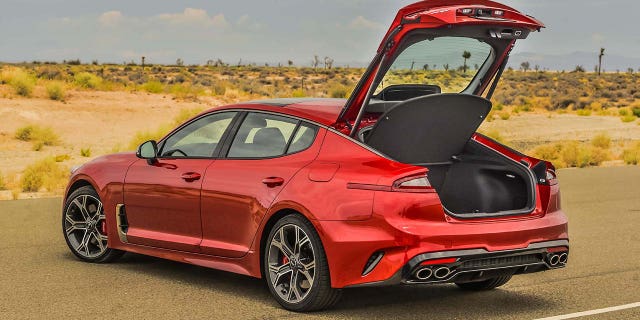 It is a Kia, but it's not actually a sedan. It's a stealth hatchback like the Audi A5. It's also not a compact. It's a little bigger, about halfway between the BMW 3-series and 5-Series. And at a starting price of $32,800, it's thousands less than the former and of all the cars it competes against. Kia is coming at this hard with value.
The Stinger is a rear-wheel-drive car with optional all-wheel-drive. The base model comes with a 255 hp 2.0-liter turbocharged four-cylinder engine, while the step-up Stinger GT is powered by a 3.3-liter twin-turbocharged V6 with 365 hp for $39,250.
The fully-loaded one I tested topped out at $52,300, which is where the 5-Series starts. That gets you all-wheel-drive and goodies like adaptive cruise control, an active suspension system, head-up display, Nappa leather-upholstered ventilated seats with adjustable bolsters and LED mood lighting. I found red to be most appropriate.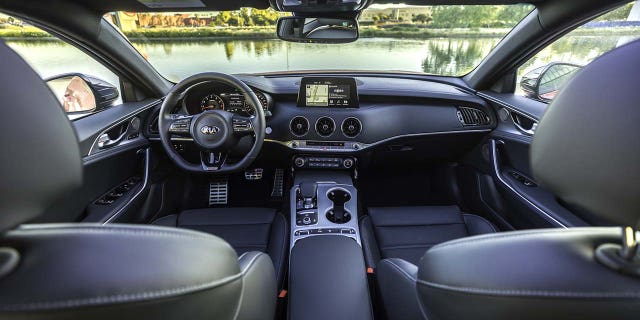 The Stinger has a low roof, and you sit way down in it. From the driver's seat it feels very much like a sports car. Above the knees, everything looks great and is trimmed in leather, soft-touch materials and metal. It's plastic town down low, but if you're going to save money somewhere, that's the place to do it. Overall, it doesn't disappoint at its price point.
Kia's sister company Genesis uses the V6 in larger vehicles than the Stinger, so it's plenty powerful for it. It seems a little louder in this application, possibly because the sound is electronically enhanced. There are even three volume settings for it, but I couldn't tell the difference between them.
Drive modes -- Eco, Comfort, Sport, Smart and a configurable Custom setting – change the character of the car more noticeably, especially through the suspension, which cycles through a wide range of stiffness. The steering, throttle and eight-speed automatic transmission all adjust in sync.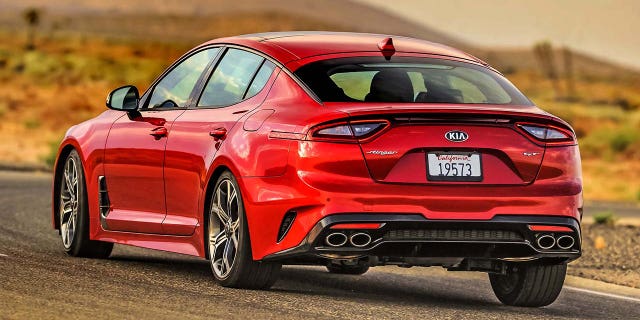 The Stinger GT can accelerate to 60 mph in 4.7 seconds and hit a top speed of 167 mph, according to Kia. That sounds about right, and puts it right in the mix with the competition. At the more realistic speeds where you'll spend most of your time, it's an able handler that's on par with the best of the Japanese cars it matches up against, but an nth degree below the much pricier Europeans. Its rear-biased all-wheel-drive system is resistant to understeer, but doesn't turn it into a drifter.
It's a pretty sublime cruiser. The noisy winter tires my test car was fitted with didn't let me get a good fix on how quiet or not it really is, but I put in hours behind the wheel without complaints from any passengers or body parts. The cargo area is huge, and why anyone would rather have a trunk than a hatchback – at least on a car that looks as good as the Stinger – is beyond me. It's just so much more functional in every way, and this one's powered and will even open on its own if you stand next to it for a few seconds with the key on your person, so you don't need to use your hands.
Throw in an epic 10-year/10,000-mile powertrain warranty, and 5/60 for the rest of the car and the Stinger is really an excellent deal. The only issue is the name.
Not Stinger, but Kia. There are a lot of brand snobs out there, and trying to get someone out of a BMW or a Mercedes-Benz into one of these could be a tough sell. The thing is, Kia doesn't have to.
It has one of the highest brand loyalty ratings of any automaker, so all it has to do is keep a few of its upwardly mobile customers in the fray and the Stinger will be a success. Even better for it, the kids like it too.
At least one teenage New Jersey gas station attendant does, who was clearly star-struck by the car as he nervously asked me about it.
"That brand new?"
"Yep."
"The GT?"
"It is."
"Twin-turbo and everything?"
"It's loaded."
"Wow, thanks."
Thanks?
Kia should be thanking you.
----------
2018 Kia Stinger GT
Base price: $39,250
As tested: $52,300
Type: 5-passenger, 4-door, all-wheel-drive sedan
Engine: 3.3-liter turbocharged V6
Power: 365 hp, 376 lb-ft
Transmission: 8-speed automatic
MPG: 19 city, 25 hwy