2017 Toyota Tacoma TRD Pro Test Drive
The Toyota Tacoma is the closest thing there is to a Treasury bond on four wheels.
It regularly tops Kelly Blue Book's best resale value list: After three years, it should be worth 72 percent of what you paid for it, if it's still in good shape and you haven't done anything silly to it. Custom jobs, even the excellent ones I know you all do out in the barn on Saturday nights, usually don't have the same positive effect on trucks that putting a new bathroom in your house does.
But what if you like to take your pickup off-road? Like, really off-road? Well, Toyota will be happy to build you one for that, and the work comes with a warranty. So your money should be pretty safe, as long as you don't scratch the paint, which won't be easy.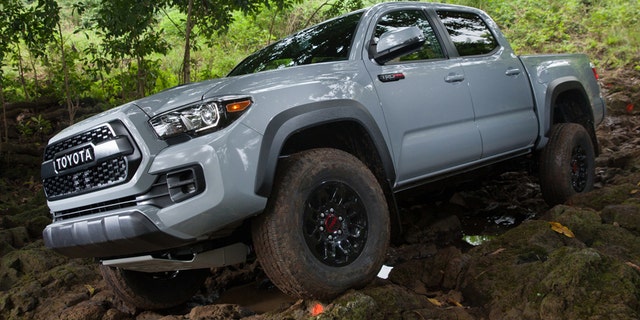 The 2017 TRD Pro is the new top-of-the-line Tacoma, and it's just asking to get dirty. It's the highest performance model and you can take it or leave it, because it comes in only one version: a short bed, double cab, V6-powered 4x4 loaded with all the good stuff, including a tow package, navigation and heated leather seats. Your choices are limited to deciding between a manual or automatic transmission, and the paint color, of which there are three: red, white and a light gray called "cement." These are decisions that will weigh heavily on you, I'm sure.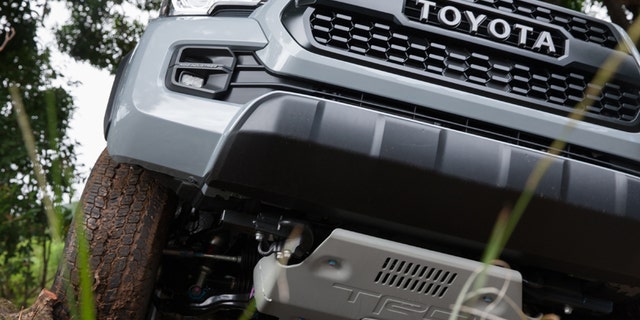 Like the larger, more powerful and more expensive Ford F-150 Raptor, the TRD Pro's secret sauce is its suspension. It brings a 1-inch front lift for a better approach angle, adds nearly that much wheel travel compared to the lesser TRD Off-Road, and rides on a set of 2.5-inch-wide aluminum Fox brand shocks with several stages of damping and rebound that can handle higher speeds on rough roads without overheating, while doing a better job climbing up and over things. The wheels are also spaced an inch wider for stability, and there's an extra-strength front skid plate in case you still manage to muck things up. (I can confirm that it works well.)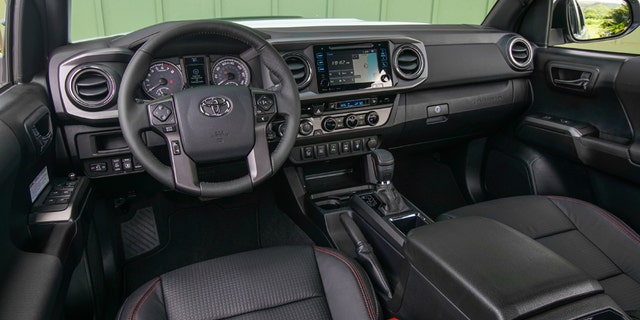 The TRD Pro doesn't get a more powerful engine than other Tacomas, because why mess with a very reliable 278 hp thing? But it does have a louder exhaust and a big hood scoop that add the illusion of super strength. The 4x4 drivetrain — the best Tacoma has to offer — is tough enough with a two-speed transfer case and locking rear differential, plus a crawl-speed cruise control and a traction management system with settings for many surface conditions that both work in 4x4 low.
Unfortunately for me, the Mogul setting is for the dirt kind, because my local ridgeline trail was covered in snow when I went to test the TRD Pro, limiting how far I could safely solo the most challenging rocks without worrying about getting back. It made quick work of the road leading to them, though, despite divots that would've stopped most trucks in their tracks, or at least made me pay dearly for not slowing down.
I did get to hop over a few downed trees and do a little bit of bouldering, and the TRD Pro handled it all with more ease than the last TRD Off-Road I took to the same location. Thanks to those tricky shocks, the highway ride is a lot less bouncy, too.
You should hope so, since the TRD Pro starts at $41,720 with the manual transmission. The automatic adds $2,000. That's $7,405 more than the cheapest TRD Off-Road in the same cab and bed configuration. But once you add all the options that come standard on the TRD Pro, the gap is closer to three grand, which still doesn't get you the suspension, so there's the real difference.
Could you build a better Tacoma on your own for less? Perhaps a more capable one, but as far as off-the-shelf small off-road pickups are concerned, the TRD Pro is tough to beat. That won't stop Chevrolet from trying later this year with its extreme Colorado ZR2, and surely a Ford Ranger Raptor is in our future. But until then, the TRD Pro is the gold standard in this investment class.
----------
2017 Toyota Tacoma TRD Pro
Base price: $41,720
As tested: $43,720
Type: 5-passenger, 4-door, 4x4 pickup
Engine: 3.5-liter V6
Power: 278 hp, 265 lb-ft
Transmission: 6-speed automatic
MPG: 18 city/23 hwy