2017 Hyundai Ioniq test drive: The most fuel-efficient car ever
The Hyundai Ioniq Hybrid, at 58 mpg combined, is the most fuel-efficient car without a plug ever sold in the United States. It's a historic achievement and its arrival should be a momentous occasion. Unfortunately for Hyundai, it's momentous like a tree falling in an empty forest with no one around to hear it is.
Yes, people still like fuel-efficient cars. But with gas prices much lower than they were a few years ago, they're not headliners anymore. Everything gets better mileage these days, and the super-sippers don't stand out like they used to. I'm sure nearly everyone reading this didn't even know about the Ioniq's claim to fame until just now. Be honest.
And before you skip straight to the comments section to point out that the original Honda Insight — the tiny two-seat pod that looks like it's from the future as seen from the year 2000 when it was introduced — was rated at 60 mpg city and 66 mpg highway, keep in mind that the EPA changed its scoring a few years ago and downgraded it to 53 mpg combined.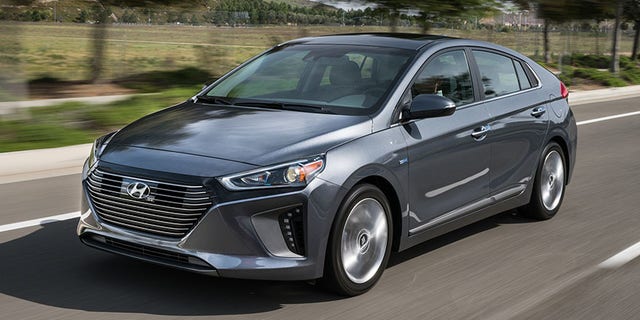 The Ioniq may not be as cool as the Insight, but it's much more of a car. A direct competitor to the 56-mpg Toyota Prius, it's a five-passenger, four-door hatchback that's about the same size as the Hyundai Elantra.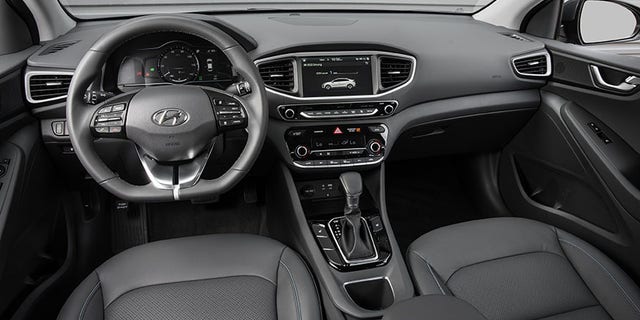 Its styling, like the Elantra's, is very sophisticated, and vastly more conventional than the bizarre, insectoid Prius. The Ioniq's cabin isn't a science project, either. You'd never guess there was anything out of the ordinary going on.
That's fine, because the Ioniq doesn't need any razzle-dazzle to impress. Just the fuel economy gauge, which persistently stays above 50 mpg, no matter how indifferently you treat the accelerator.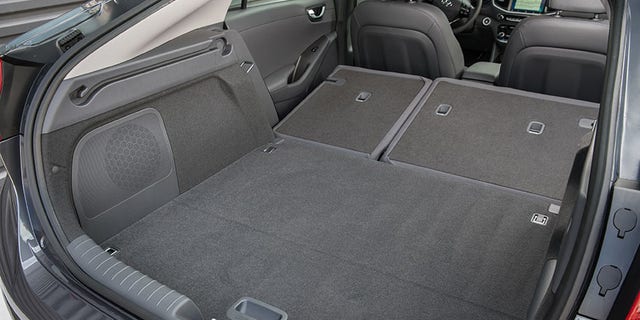 The Ioniq is powered by a 1.6-liter four-cylinder engine and electric motor with a combined output of 139 hp. That's not a lot, but it's more than the 121-hp Prius can muster. Unlike many hybrids that use shiftless, often droning CVTs to deliver their power to the wheels, the Ioniq has a six-speed automatic transmission that makes it feel and sound more like a normal car.
And not a loud one. It's pretty much par for the mainstream compact class, and it starts and stops its engine to save fuel as smoothly as any hybrid does. The Ioniq's overall finish may be one iota below the Prius', but its ride comfort and handling leave nothing to be desired.
The Ioniq's base price of $23,085 makes it $285 less to get into than a Prius, but here's where things start to get confusing if you're comparing the two. The entry-level Ioniq Blue gives you that 58-mpg rating, while the better equipped SEL and Limited trim levels drop to 55 mpg. In the case of the Prius, it's the $26,060 Eco that gets 56 mpg, while all of the others are rated at 52 mpg. Honestly, those numbers are close enough to be a wash in the real world, but yardsticks are yardsticks, so there you go.
Among the Ioniq Hybrids, an SEL equipped with an optional $1,000 tech package that includes automatic emergency braking and adaptive cruise control seems like the sweet spot at $25,835. But if you really need leather seats, a booming audio system and premium door sill plates (and who doesn't?!) among other niceties, a fully-loaded Limited will run you $31,385.
There's also an all-electric version of the Ioniq, but you can buy it only in California and it goes just 124 miles per charge. A plug-in hybrid with around a 32-mile all-electric range will be on sale next year for those of you who'd rather split the difference.
None of them will turn heads the way the Prius does, so you'll be saving gas in relative anonymity. If that's fine with you, the Ioniq is a fine way to do it.
----------
2017 Hyundai Ioniq
Base price: $23,085
Type: 5-passenger, 4-door, front-wheel-drive hatchback
Engine: 1.6-liter four-cylinder with electric motor
Power: 139 hp
Transmission: 6-speed automatic
MPG: 57 city/59 hwy