2017 Chevrolet Colorado ZR2 test drive
Chevy's newest pickup is a Jack-of-all-trades, but it's not a work truck.
The Colorado ZR2 is an extreme off-roader, the likes of which haven't been seen from GM since Hummer was honorably discharged in 2010. But unlike those hulking, wannabe war machines, the ZR2 was engineered to excel at rock crawling, high speed desert running and the daily commute. Juggling chainsaws is easier than that.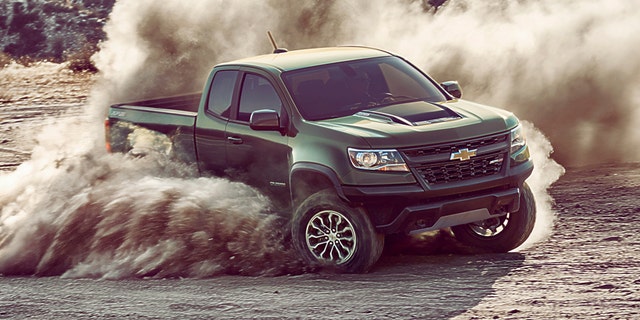 The $40,995 ZR2 comes standard with front, rear and center locking differentials; 31-inch tires; and a 2.0-inch lift and 3.5-inch wider track than a Colorado Z71, courtesy of a longer rear axle and redesigned cast iron front control arms. That's a serious effort, but not too shocking. The shocks that Chevy chose to keep everything in check are.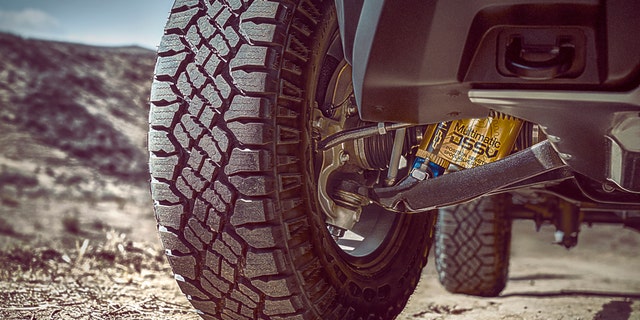 They're known as Dynamic Suspensions Spool Valve (DSSV) dampers, and were originally invented by Canadian automotive engineering firm and race car builder Multimatic for use in Indy and F1 cars. Chevy borrowed a set for the last Camaro Z/28, which was engineered by some of the same people that did the ZR2. Putting them on a pickup is thinking way outside the cargo box.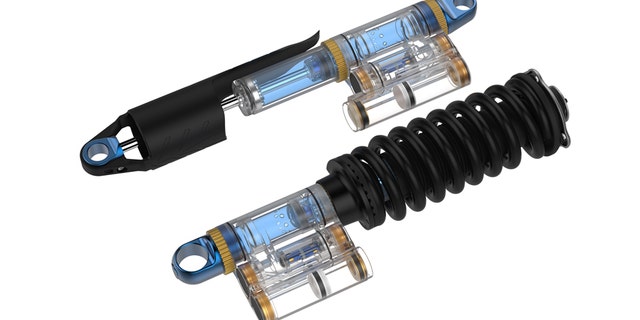 Rather than a stack of flexible discs to regulate the flow of fluid inside of them, DSSVs feature spring-activated spool valves that are more precise and help prevent overheating. No two applications are the same, however, and the ZR2's mission called for an all-new version with two remote chambers located off the main cylinder that deliver the type of wheel travel required for off-roading. It also offers multiple damping and rebound curves that allowed Chevy to tune them to take on a wide variety of surfaces. They are a giant leap for truck kind.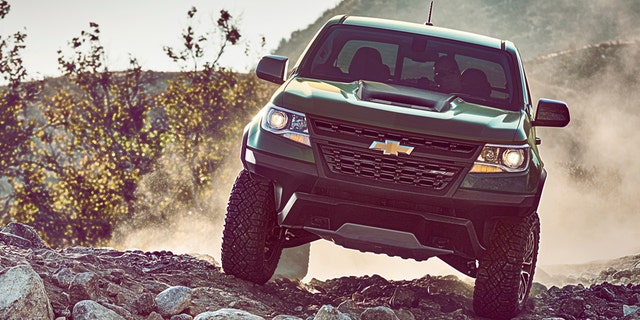 The shocks get stiffer as they compress, so the ZR2 can get plenty of air. Chevy held the launch event for the ZR2 on a trophy truck-style track in Gateway, Colo., that had a big jump that I was hitting at close to 50 mph, which was more than enough to get all four wheels off the ground.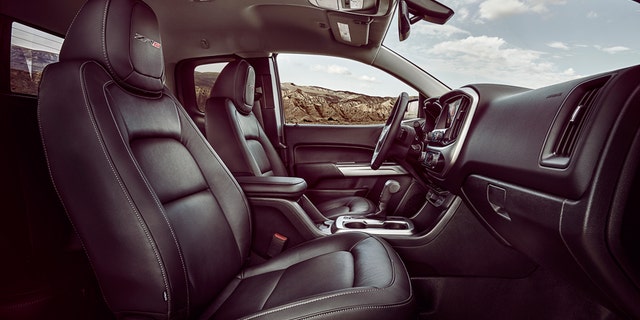 Flying is easy, even in a pickup. It's the landing that's the hard part. But the ZR2 touches down without crashing into its bump stops, and sticks it every time. Instead of hopping off into the canyons like a jackrabbit, it immediately settles down and composes itself, ready to go again.
Leave it in two-wheel-drive, switch the stability control to Off-Road Mode and the ZR2 will also drift like a sports car, at least on dirt. It's no problem getting the tail out, and outstanding body control makes it very easy to hold it there when you give it the gas…or diesel.
The ZR2 can be had with the Colorado lineup's 308 hp 3.6-liter V6, or its torquey four-cylinder turbo diesel engine for an extra $3,500. Either motor can be ordered with an extended cab or crew cab body to go with it, and both are matched to automatic transmissions. The responsive V6 is better suited for high speed antics, but the diesel is more efficient on the highway (22 mpg vs 18 mpg), where the ZR2 rides and handles as well as a similarly sized crossover, and is quieter than some.
For a tall boy, it doesn't mind dancing down a twisty road where many off-roaders mail it in. Heated seats, navigation, a wireless charging pad and built-in Wi-Fi are included, checking all of the road trip boxes. Every ZR2 configuration has a payload and tow rating of 1,100 pounds and 5,000 pounds, respectively, but based on my experience in other Colorados, the diesels will have an easier time testing those limits.
With 369 lb-ft of torque, the diesel is also very at home on trails. Powered by it, the ZR2 chugs up steep gravel climbs and stair-step rocks with the greatest of ease. The ZR2's crawl ratio isn't as ridiculously low as a Jeep Wrangler's, but it's the only midsize pickup with a locking front differential, and puts it to good use.
Ground clearance is 8.9 inches at the bottom of the rear shocks, with about another inch of clearance under the differential. A tapered front bumper exposes the faces of the tires and improves the approach angle, while a front skid plate, transfer case shield and functional metal rockers protect its nether regions when you push it too far. A bed-mounted tire carrier is available to keep your spare out of harm's way, and the ZR2's rear bumper loses the corner steps found on other Colorados, because they kept breaking off on the hardcore trails it's capable of traversing.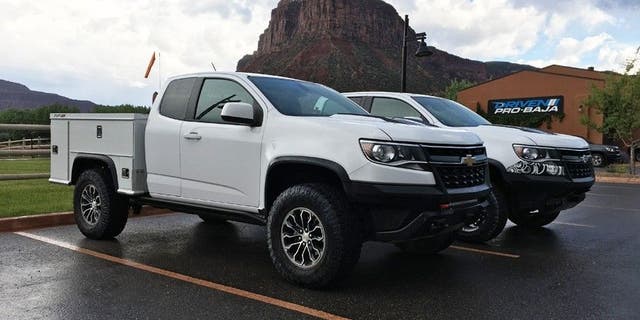 Chevy claims that a stock Colorado made it up the Rubicon without getting stuck or needing any outside assistance. On other trips, the Hummer H3 Alphas that the development team used benchmark it against kept getting left behind, which won over the grizzled veterans who didn't believe that the whippersnapper had it in it. Things got to the point that they had to turn a ZR2 into a support vehicle, by removing its bed and putting a service body on it. I guess that makes it work truck, after all. Possibly the coolest.
But the ZR2 is primarily a toy, and a unique one at that. It's only true competitors are the Toyota Tacoma TRD Pro and the Ford F-150 Raptor, and it's more of an all-arounder than either of them.
IN DEPTH WITH THE COLORADO ZR2:
The Tacoma is the closer rival, and a right-sized rock crawler. But it's less powerful than the ZR2, smaller inside, and a more traditional off-road suspension that makes it nervous at high speeds on paved roads. (Bonus points for offering a six-speed manual, though.)
On the other hand, the more powerful, full-size Raptor can handle higher speeds and bigger jumps out in the desert, and should leave the ZR2 in its dust there, but it's a little bouncy on the street and too big for a lot of trails. Not to mention some garages. It also starts $10,000 more than the ZR2 before you even look at the options list.
Chevy could close the performance gap with the Raptor by offering an even more powerful engine in the ZR2. It already has the bulging hood for it, and the suspension seems up for the challenge. There's a killer twin-turbocharged V6 in the GM parts bin that would turn it into a really wild truck.
In the meantime, it's a fun one, and a good deal considering all that it comes with. Expect to see plenty of them flying off dealer lots and other things soon.
Editor's note: FoxNews.com covers its own costs to attend product launch events.
----------
2017 Chevrolet Colorado ZR2
Base price: $40,995
Type: 5-passenger, 4-door pickup
Engine: 3.6-liter V6 or 2.8-liter turbocharged four-cylinder diesel
Power: 308 hp/275 lb-ft (V6), 186 hp/369 lb-ft (diesel)
Transmission: 8-speed automatic (V6), 6-speed automatic (diesel)
MPG: 16 city/18 hwy (V6), 19 city/22 hwy (diesel)