2016 Chevrolet Camaro V6 Test Drive
Sure, you could've had a V8. But V6 pony cars are the best. It's true!
Well, it's true if you care only about style, or if you run a car rental agency. At least that's how it's been for the past 50 years, but not anymore.
The 2016 Chevrolet Camaro may still look like the Transformer that vanquished the Ford Mustang on the sales charts after the nameplate returned from hibernation in 2010, but it's an all-new and far superior machine.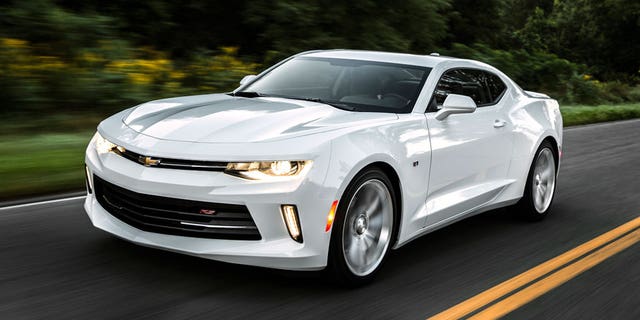 The Camaro it replaces was based on a big, heavy, full-size sedan (then known as the Pontiac G8, now the Chevy SS) and often felt more like Optimus Prime than Bumblebee. Its increasingly potent V8 engines did a good job of hiding this, but it was compromised – and the V6 was overmatched and out of its league.
Still, that didn't stop people from buying. It was the best-selling Camaro by far, but the only excitement it delivered was visual. The new sixth-generation Camaro has plenty of that, but now it shares a platform with Cadillac's acclaimed ATS compact coupe. It's stiffer, smaller in every dimension and a couple of hundred pounds lighter – and those are all wonderful things.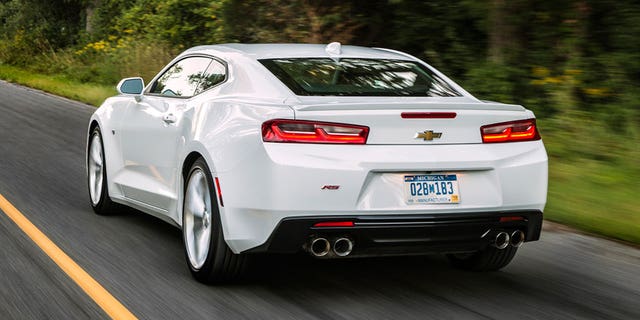 It's so trim that Chevy saw fit to make the base engine a 275 hp 4-cylinder turbo, a Camaro first. But while there's a tempting 455 hp V8 at the top of the lineup, it's the V6 that's suddenly the most compelling option.
The V8-powered Camaro SS starts at an ambitious $37,295, a $2,795 jump from last year and $4,000 more than a Mustang GT. The V6 model has a base price of $28,190 and comes with a 335 hp 3.6-liter engine that's more than up to the task, thanks to the Camaro's trip through the Weight Watchers drive-through.
An 8-speed automatic transmission will likely be chosen by nine out of 10 buyers, but the standard six-speed manual is perfection with a clutch. Each shift is as crisp and direct as loading a Remington 700, and the pedals are positioned close together for easy throttle blips under braking, which required the feet of Shaquille O'Neal to do in the last Camaro. Even Mazda Miata owners might be impressed.
It's a true driver's car now, with synapse-quick responses and a neutral stance through curves that can easily be turned into a drift with an authoritative application of power. It also sounds the part, with a revvy, raspy voice that you can enhance with an available $895 dual mode sport exhaust that includes a hushed Stealth setting that will keep the neighbors happy.
It does the cruising thing better than ever, too. Those Cadillac bones bring a level of refinement that contradicts the Camaro's juvenile image, even rolling on the big 20-inch wheels and low profile tires that came with my test car's $1,950 RS package.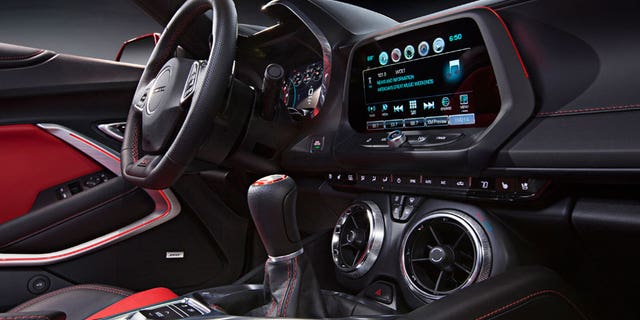 The cabin has a modern, well-dressed style that's an evolution of the fifth-generation Camaro's, but this time with not one miss on the fit and finish front. Entertainment is handled by an Apple CarPlay-equipped touchscreen system, while an epic row of buttons below it takes care of the climate controls.
The one thing Chevy's designers didn't improve, however, is the Camaro's outward visibility. Those short, photogenic windows are confining when you get in, like putting on a medieval helmet for the first time. You get used to it, but the optional blind spot monitor and collision warning system are worthwhile options. That's the price you pay for driving around inside a Hollywood action hero, I guess.
Based purely on performance, this Camaro easily outclasses both the V6 and Turbo 4-cylinder Ford Mustangs, and that's coming from a lifelong Mustang guy. And while I'm not sure how many people would actually cross-shop it against the likes of the BMW 2-Series, if you can handle being an extrovert, you should.
Don't get me wrong, I'm very much looking forward to trying out the V8, and I will soon. But for anyone who doesn't do the drag racing or track day thing, at $4,552.50 each, the money for those two extra cylinders would probably be better used burning a hole in your pocket than rubber.
Besides, the V6 does that just fine.
----------
2016 Chevrolet Camaro V6
Base price: $28,180
As tested: $35,150
Type: 2-door, 4-passenger coupe
Engine: 3.6-liter V6
Power: 335 hp, 284 lb-ft torque
Transmission: 6-speed manual
MPG: 18 city/27 hwy