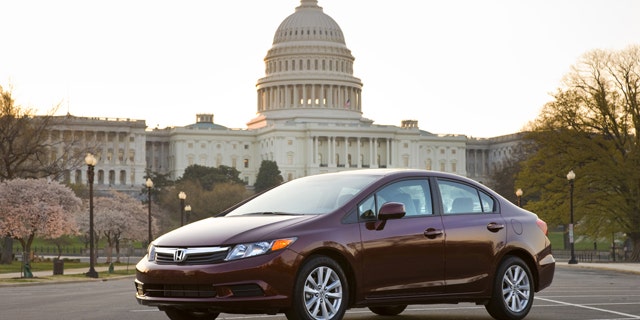 What is it?
The all-new, 2012 Honda Civic.
Are you sure? It looks like the old one.
Look more closely. The shoulders are broader. The face has more character. The rear end is more defined. Overall it is much more three-dimensional than the pod-like vehicle it replaces.
If it's new it must be bigger and heavier, right?
Wrong. Not only does it weigh less, it is exactly the same length as the 2010 model, has a shorter wheelbase, is lower and just a touch wider for improved interior space.
It's a lot different inside then?
Call it evolutionary. At first glance it looks very similar to the outgoing car, with the same kaleidoscope of grey plastics and a double-decker dashboard that stretches all the way to the vanishing point of the horizon. The most obvious change is to the upper instrument pod, which is now larger and houses a multifunctional information screen to the right of the speedometer. This is designed to help you keep your eyes on the road while adjusting the stereo, getting directions from the optional navigation system or when you absolutely must know what your current average fuel economy is.
So, what is it?
That depends on which Civic you buy. The standard $17,355 sedan is powered by a 140 hp 1.8-liter four-cylinder engine connected to a five-speed automatic transmission and has an EPA rating of 28 mpg city, 39 mpg highway. If you really need twoscore fuel efficiency, a pricier HF model is available with slicker aerodynamics and low rolling resistance tires that help it to hit 41 mpg on the highway.
Not bad, but not exactly a Toyota Prius.
No, but there is a new hybrid model, too. Along with a more powerful electric motor, it has a lithium-ion battery pack, which stores more energy, is lighter and is physically smaller than an old-tech nickel-metal hydride pack. The result is an EPA fuel economy rating of 44 city/44 hwy/44 combined, which makes it number two on the charts behind the Prius. Of course, you'll pay up front for the efficiency. $24,800 to be exact, but it does come with floor mats and, for the first time, can be ordered with leather seats and a navigation system.
Will I want to drive it often enough that one of those will be necessary?
If you like the old Civic, you'll feel right at home in this one. They ride and handle as similarly as they look. However, a longer travel suspension soaks up the bumps on rougher roads better, and a trick new stability control system uses the anti-lock-brakes to keep the car from going out of control and also increases the pressure of the variable-effort electric power assist steering to keep you from overcorrecting when it does. Unfortunately, the tires could use a little more grip to take advantage of it.
Can I do something about that?
Sure, if you order the sporty $22,995 Civic Si, which not only gets wider rubber, but also a stiffer suspension and a supremely responsive 2.4-liter four-cylinder with 201 hp. It's basically the same motor you'll find in an Acura TSX, and has a lot more torque than the 2.0-liter in the old Si. A short-throw six-speed manual transmission is not only standard, but also the only one available. After a few laps on an autocross course, you'll appreciate why. The Si is as sublime as compact sports cars come. The only thing smoother than its moves is the sound coming out of the exhaust. It feels much more substantial than the other Civic models, too. Unfortunately, fuel economy does drop by about 25%, but the next time you come across a mountain road, you're sure to get paid back in full. Heavily-bolstered seats, aluminum pedals, a power gauge in the display and sequential lights on the dash that light up as you approach the engine's redline - just like in a Honda-powered IndyCar - round out the package.
Fox Car Report is on Twitter. Follow us @Foxcarreport
This all sounds pretty good. Anything wrong with it?
Relatively speaking, yes. Compared to some of the more obviously new compacts on the market, like the Ford Focus and Chevy Cruze, the Civic doesn't feel very plush inside. Cheap vinyl sunvisors don't help the situation, nor does the abundance of seams in the hard plastic of the dashboard. Even the less-than-cutting edge navigation system looks like it was installed by the audio shop down the corner. There's also a fair bit of wind and road noise, something that becomes particularly irritating when you have a passenger on board and are trying to have a conversation. If they're tall, you may be better off because you won't have to listen to them complaining about the legroom. At 6-foot 1-inch tall, I definitely could have used some more.
So, what's the bottom line?
According to Honda, if you don't count fleet sales, the Civic is the best selling compact car in the U.S. and on any given month it is often number one, period. This 9th generation edition is so competent at the important things, and carries with it such an air of superiority that the new guys need to earn, that it likely won't lose many loyal customers. But the competition in this segment is hot and heavy these days. In addition to the Focus and Cruze, there are new Hyundai Elantras and Volkswagen Jettas on the prowl – all dramatic departures from the cars that they replace, peacocking in showroom windows for people looking for the next big thing.
Some more plumage on the Civic couldn't hurt it, but it aims to please Americans so much that it's not only built here, but Honda isn't even going to sell it Japan anymore. Seems this little guy has gotten to large for the folks back home, even if it hasn't changed much.
----------
2012 Honda Civic
Base Price: $16,355 (Coupe), $16,555 (Sedan)
Type: 5-passenger, 2-door coupe or 4-door sedan
Engine: 1.8L 4-cylinder
Power: 140 hp, 128 lb-ft torque
Transmission: 5-speed manual or automatic
MPG: 28 city /39 hwy