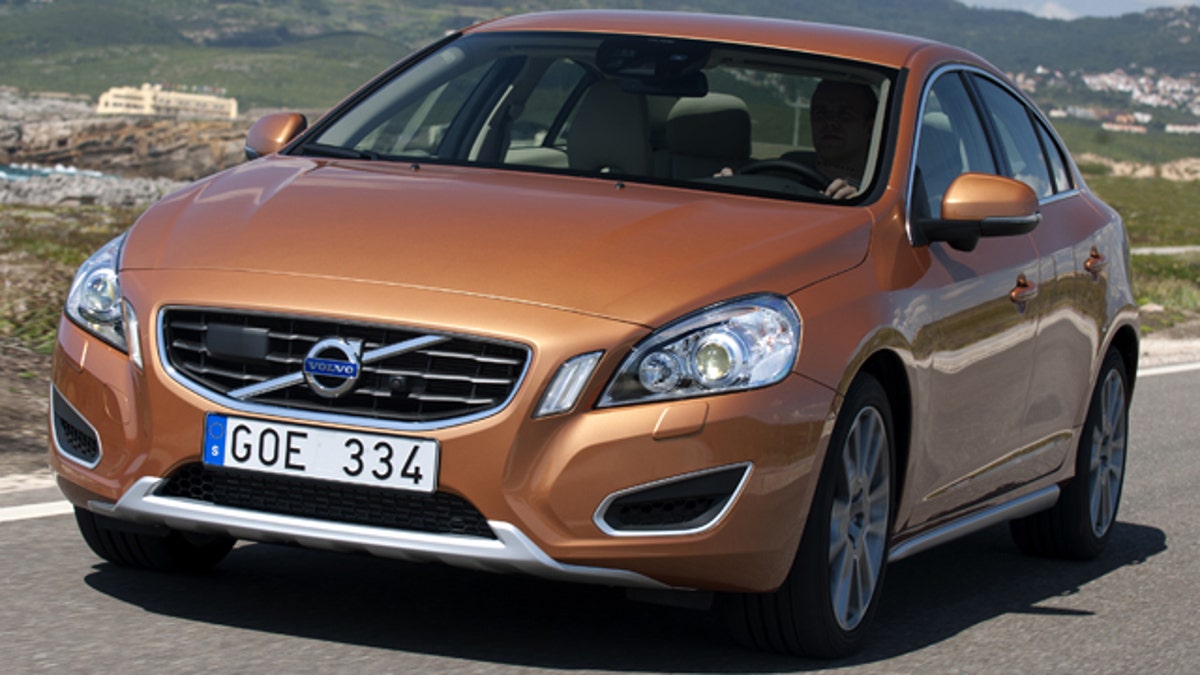 Did you know that your car cares about pedestrians as much as it does about you?
For the past couple of years, safety regulations in Europe and Japan have required that automobiles protect not just their occupants in the event of an accident, but also anyone that they happen to run into. For the most part, this has been achieved through the creation of relatively pillowy crumple-zones on the fronts of cars. Even though these sorts of rules don't exist in the United States -- yet -- many models from the Big 3 are also sold overseas, so they've had to adopt this type of design language, as well. This is why the latest version of your favorite model might look like it could use a little rhinoplasty.
It's probably all for the better, as tens of thousands of pedestrians are killed or injured in the United States each year as a result of being struck by automobiles. But what if you could avoid hitting them in the first place?
The safetyniks at Volvo have been advertising their new S60 sedan as "the naughty Volvo," in an out of character attempt to spice up its appeal vis a vis the competition from Germany. It's a reference that combines the car's sleek (for a Volvo) body, powerful engines and performance-oriented suspension. Try as they might, however, there's no getting around the fact that it's as goody-two-shoes as every Volvo that has come before it.
The S60 has more airbags than air in the cabin, energy absorbing interior trim, high-strength steel; the works. But, if the electrical engineers on staff have done their job correctly, you'll never need any of that. Along with now typical fare like active cruse control and a blind spot warning system, the S60 features Volvo's City Safety system, which uses a camera and sensors to scan the road in front of the car and can slam on the brakes autonomously at low speeds to keep you from rear-ending other vehicles in stop and go traffic.
If this sounds like old news, it's because City Safety was introduced on last year's XC60 crossover. It worked as advertised in our testing, allowing us to return the car to Volvo with a scratch-free front bumper (the Cheetos ground into the carpet were another matter.) The only problem with it – if you can call something that a new technology wasn't designed to do a problem – is that it only works with cars. Motorcycles, bicycles and people on foot are at the mercy of the driver. The last of those has now been remedied.
The S60 is available with a $2,100 option that combines active cruise control with a collision warning system that incorporates a pedestrian detection function. Tapping into the City Safety hardware, a new computer logarithm tracks objects in front of the car and can pick out the upright ones with four limbs, alerting the driver to their presence before proceeding to bring the car to a full stop on its own. It can do this at speeds under 22 mph, but is also able to slow the car from speeds up to 50 mph, which at least mitigates the force of impact. Sadly, animals and anyone less than 32 inches tall do not register in either scenario.
For what I hope are obvious reasons, I wasn't able to independently test the effectiveness of the system on real people. I did try it with a novelty blow up doll that has come in handy for me in the past (evaluating cars, that is), but the results were inconclusive. Online videos made by a variety of automotive news outlets and private individuals present a mixed bag of results, but, since you should be paying attention to the road regardless of the electronic aids at your disposal, even if it works 25 percent of the time that seems like a win. In any case, it's probably a better investment than buying an upgraded stereo system – the standard one is excellent.
Now back to that naughty bit. The S60 truly is an eye-catching car, particularly from the head-on view. Its swoopy schnoz is festooned with lights and creases that make it appear to tuck down dramatically toward the road and do a good job of concealing all of the safety equipment stuffed underneath. The "coupe with four doors" profile may not fully live up to that Volvo-coined description, but function definitely follows form -- something you will discover while ducking your head to get through the low rear doors. The only letdown is the truncated shape of the, uh…trunk, which isn't all that big inside and has a lid that takes a significant amount of muscle to close.
The interior of the S60 is laden with a hearty helping of a very rich grade of that sturdy leather Volvos are known for combined with soft-touch plastics throughout. The single-piece dashboard is straight out of a BMW, while Volvo's signature floating center stack adds a little Scandinavian warmth to the look, even when it's trimmed in Shimmer Graphite Aluminum.
(While we're on the subject of warmth, I'll mention that the heater in the S60 is so powerful I had to leave it off most of the time or else I started feeling sick. Here's to testing cars above the Arctic Circle.)
Two models are available: A 250 horsepower five-cylinder with front-wheel-drive, and the all-wheel-drive version powered by a 300 hp inline-6 that I tested. The six can be had with either a comfort oriented "Touring," or sporty "Four-C" suspension with active dampers. Mine had the latter.
With Comfort, Sport and Advanced modes available, Four-C (Continuously Controlled Chassis Concept) adjusts the stiffness of the suspension, level of stability control intervention, and the aggressiveness of both the throttle and transmission. Separately, you can dial in the level of steering effort to match your personal preference.
In any setting, that wheel is an incredibly responsive instrument. The fact that I noticed this after about 10 feet of forward motion speaks volumes, and is something that should be of concern to the competition. The rest of the car follows its lead nicely, too. The S60 doesn't feel quite as hunkered down as an Audi A6 or Mercedes C-Class, but it's close. And while it may not be the one to choose for banked turns, it is the one I'd want to be in if confronted with a snow bank in the middle of one, as it rides with a slightly higher feel.
Power from the engine is strong and torqey throughout its entire range, so much so that you can't help but think that 250 hp would be plenty in this compact sedan. That said, it's almost worth the extra outlay ($38,550 vs. $31,825) just to experience the inherent smoothness of the increasingly rare inline-six layout of the engine. Given the output, a fuel economy rating of 18 mpg city and 26 mpg highway is reasonable for the class, although the lighter five-cylinder model kicks those figures up to 20 city/30 hwy.
In spite of its racy new attitude, the S60 manages to maintain its own identity – as Volvos tend to do - rather than follow the crowd. This means there are actually several distinct reasons that someone might want to buy one, aside from bein a college professor. Very competitive pricing doesn't hurt, either.
But, it doesn't really matter, either. Even if the S60 is a flop in the United States, Volvo was recently purchased by Geely, one of China's largest automakers, and the door to all of the 1.3 billion people who live there is wide open to it. Right now only about 5 percent of them own cars. That's a lot of pedestrians.
The S60 should fit right in.
----------
2011 Volvo S60 T6
Base Price: $38,550
Type: 5-passenger, front-wheel-drive, 4-door sedan
Engine: 3.0L turbocharged inline-6 cylinder
Power: 300 hp, 325 lb-ft torque
Transmission: 6-speed automatic
MPG 18 city/26 hwy