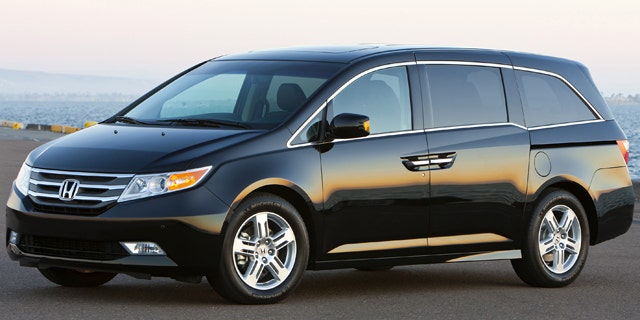 Oh Generations X and Y, you think you are so cool with your extreme sports and your vampires. Well, guess what? You're turning into your parents just like everyone does eventually.
After an SUV tax break-driven slump, minivan sales are on the rise again as children of the 1980's and 1990's start families of their own and reminisce about the good old days when they made mom drop them off down the block from school so that their friends wouldn't see them getting out of the Dodge Caravan with the fake wood paneling.
Apparently, the functional charms of such vehicles were so strong that they became subliminally ingrained into the minds of these otherwise embarrassed youths like the lyrics of a heavy metal song. It's a phenomenon that partly explains Honda's decision to use a riff from the "The Hellion" by Judas Priest in one of its commercials for the 2011 Odyssey. "Heading Out to the Highway" must've already been taken. In any case, somewhere there's a leather-clad fallen angel weeping.
This isn't to say that every 20 to 30-something is flocking to the box. The marketing team at Honda has indentified a demographic that it calls "hesitators" who are attracted to the practicality of a minivan, but can't stomach the image it bestows upon them. This is why the automaker has worked hard to change that impression. Perhaps too hard.
The new Odyssey is longer, lower and wider than the model it replaces, and features a subtle take on the armored-up style recently seen on cars from Honda's luxury division, Acura. Its most distinctive element is the "lightning bolt" belt line that zigzags under the rearmost side windows, drawing the attention of passers-by while giving third row passengers a better view out of the extended glass.
Nearly as prominent are the tracks for the sliding rear doors. They are so wide that if you leave the Odyssey parked outside too long you may find troublemaking teenagers storing their contraband in them. Honda says it hasn't tried to hide the gap in the bottom of the window frame like other companies do so that it doesn't impinge on shoulder room, but you know it's really all about the bolt.
It's not just the third row that gets this sort of spatial consideration, however. There is so much width available in the second row that Honda had to figure out what to do with all of it. The answer? Wide Mode, which allows the outboard seats to be slid sideways to make lots of room for three well-fed American types, or a trio of full-size child seats. The center hump even shuffles forward half a foot to make it easier for the front seat passenger turn around and wipe baby's mouth – assuming that her husband got stuck sitting back there.
As you'd expect from the second best-selling minivan nameplate in America (congratulations Chrysler Town and Country), amenities are plentiful across the seven trim levels of the Odyssey that start at $28,580 and run up to $44,030. Sure, having only 15 cup and bottle holders means that one of the eight people on board will have to make due with just one Big Gulp, but there's also a cool box located in the bottom of the dashboard that can fit a six pack. When you're done with your drinks, a ring pops out from the back of the center console that can be used to hold a small garbage bag for the trash.
Above it – in the top-level Touring Elite model, at least – you'll find an entertainment system mounted to the ceiling that may look strangely familiar. This is because the 16.2-inch Ultrawide monitor is the same as the one in the Toyota Sienna. Honda has packaged it into a unique pod that includes two speakers and a rechargeable remote control. The screen itself can be split to display images from two different sources simultaneously, and the system includes an HDMI input and wireless headphones.
Of course the folks in the front seats are left out of the fun and stuck with having to enjoy the spoken-word version of "Despicable Me" because the safety patrol won't let the 8-inch screen for the navigation system play movies on the move. This is fine for the driver – if not the one riding shotgun - because the Odyssey offers other, more dynamic forms of entertainment.
Fox Car Report is on Twitter. Follow us @foxcarreport
The six-cylinder engine in the Odyssey gets a modest 4 horsepower bump in output to 248 horsepower, but it is plenty. A five-speed automatic transmission is standard, but Touring models get a six-speed that not only makes better use of the power on hand, but also increases fuel economy from 18 mpg city/27 mpg highway to 19/28.
That's crazy good efficiency for such a large car. In fact, it's the best of any eight-passenger vehicle currently on sale. The Odyssey achieves it by running the engine on just four our three cylinders when all six aren't necessary. The system is seamless in its operation, aided by active noise-canceling technology that counteracts any unbalanced sounds coming from under the hood.
Noises and warning lights that you may be more interested in are activated by front and rear proximity sensors that keep you from running into things a low speeds and a blind spot information system for when you need to change lanes. Active cruise control is not available, but the rear backup camera has three views – Normal, Wide (what's up with this wide stuff?) and Top-Down. Unfortunately, its location makes it particularly susceptible to being obscured by mud and snow.
Despite being so fully outfitted for suburban family battle, it's a pleasant surprise to find that Odyssey is actually a good drive, too. The ride is so controlled that you can easily find yourself doing things with it on twisty roads that aren't typically advisable in such a large, tall vehicle. Nevertheless, a five-star crash test rating – including top marks in for rollovers – means that you are well-protected in the event that you do manage to overstep its limits.
At more parental speeds the richly-appointed cabin is almost luxury-sedan quiet and the fully-independent suspension as smooth as the engine. It's almost enough to make you forget sedans and coupes even exist.
Better yet, when the mid-life crisis hits in a couple of years and you buy a convertible to go with your implants – hair or otherwise – you can give the kids the Odyssey to use for High School. Yea, they'll hate you for it, but it'll be perfect for carrying around the equipment for their rebellious-youth garage band.
If they're good enough, maybe one day they'll do the soundtrack for a station wagon commercial. They're coming back, too, you know.
And the cycle of life continues.
----------
2011 Honda Odyssey
Base Price: $28,580
Type: 5-passenger, front-wheel-drive minivan
Engine: 3.5L V6
Power: 248 hp, 250 lb-ft torque
Transmission: 5 or 6-speed automatic
MPG: 18 city/27 hwy (5-speed), 19 city/28 hwy (6-speed)