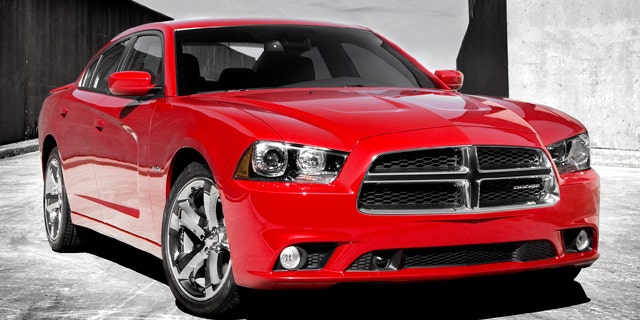 With apologies to Rod Serling, you are about to travel through another dimension, a dimension not only of sight and sound but one where Chrysler's previous two owners weren't the world's biggest cheapskates, cutting corners others did not see.
Your next stop, the 2011 Dodge Charger.
While the original four-door Charger struck a bold silhouette in a sea of bland sedans when it first bowed back in 2006, its unfinished design, cut-rate interior and choice of sad sack six-cylinder engines let it down where it mattered to most people. If not for its wonderful Hemi V8 option and a rear-drive chassis making it a favorite of police departments and the muscle car crowd, it may not have survived long enough to see this overhaul.
But now things are different. Flush with cash from taxpayers and their new Italian overlords, the folks at Dodge went back to the drawing board and essentially made the car they wanted to do so many years ago.
Late is better than never in the Auto Zone (not affiliated with AutoZone.)
Like the new Jeep Grand Cherokee, the 2011 Dodge Charger fixes everything that was wrong with the old model and throws in a few extras for good measure.
This starts on the outside where the shape is familiar (underneath the Charger is built on the same basic platform as the outgoing version) but more refined, with crisper edges, scalloped hood and side panels, more detailed face and crosshair grille, full-width taillight arrangement comprised of 164 individual LEDs and bigger windows that offer greater visibility without taking away any of the car's menace.
It remains something of an acquired taste, but once again the Charger stands head and very broad shoulders among the rest in the drama department, and a black and white version will still scare the bejesus out of you when you spot it in the rearview mirror. While you're attention is directed aft, get a glimpse of that huge trunk lid. You could picnic on that thing.
FoxNews.com Autos is on Twitter. Follow us @foxcarreport
The same attention to detail was directed toward redesigning the interior which, thankfully, looks nothing like what it replaces. The single piece soft-touch dash creates a driver-centric environment filled with metallic trim and racy gauges that play to Dodge's performance image. In leather upholstered models, like the $33,370 V8-powered all-wheel-drive R/T trim level tested here, you'll find an abundance of hides in all the right places including the seats, which are heated and cooled, as are the cupholders.
It's true. Please keep in mind that there is a reason people don't drink hot soda before you try them out.
If there's a letdown, rear legroom seems a little cramped behind a very tall driver in spite of an impressive on-paper measurement of 40.1 inches. The Charger makes up for it in width and three across seating is more than a technical spec.
The 8.4-inch multimedia screen is a gem, and for a relative bargain price of $650 can be outfitted with a backup camera, a superb Garmin-supplied navigation system, satellite radio and a 1-year subscription to SiriusXM Travel Link for when you absolutely need to find a station selling gas for 2 cents a gallon cheaper than the one you just passed, or can't be bothered to look outside to see how the weather is.
If it's bad, the all-wheel-drive will be appreciated. If not, it still will. In an about face to most AWD systems, the Charger's decouples the front axle when it's not needed, so it feels like a rear-wheel-drive car most of the time. And what an increasingly precious thing that is.
With the demise of cars like the Pontiac G8, Lincoln Town car and Cadillac STS, the Charger and its Chrysler 300 twin are now the last full-size rear-drive sedans made by an American company. This is not to be taken lightly.
Compared to any of its front-wheel-drive peers, the Charger drills down the road with an authority befitting its appearance. Find a straight enough road and you never have to touch the steering wheel. When you do, there is the sensation of actually having to put some effort into changing directions. It's called steering feel and hasn't been anesthetized here.
Click here for more news from FoxNews.com Autos
It's a kick to put the spurs to the 370 horsepower 5.7-liter HEMI in the middle of a turn and have the tail squirm a bit before the power is shifted forward for added traction. A reengineered suspension gets rid of any of the slop you might remember from the old Charger and delivers surprisingly balanced handling for such a big car while retaining an all-day comfortable ride, even on the worst roads the Northeast can throw at it.
I drove my family through the outer bands of Hurricane Irene and the little boat never missed a beat, though I'm sure my wife's heart did. After holing up for a couple of days in the apartment, I spent a very long day basking in the post-storm bliss on some of my favorite roads and by the end of it considered taking up a new career as a long-distance wheelman.
The Charger R/T is an engaging car that's full of character in a segment that's desperately in need of both those qualities. Its closest competitor in the size and performance department, the Ford Taurus SHO, has nothing on it on either of those counts, costs more and brings less power to the table. Sure, it's 11 percent more fuel efficient than the Charger, but orange juice is healthier than a screwdriver, too.
Of course, in the future every drop of go juice is going to matter as automakers strive to reach a corporate average fuel economy of 54.5 mpg by 2025, and rear-drive cars are inherently at a disadvantage, at least until they go electric. It's why they started to disappear in the 1980's and a large part of the reason that mainstream ones are on the way out again today. Era, meet your end.
Where's another dimension when you need one?
----------
2011 Dodge Charger R/T
Base Price: $33,370
Type: 5-passenger, 4-door sedan
Engine: 5.7L V8
Power: 370 hp, 370 lb-ft torque
Transmission: 5-speed automatic
MPG: 15 city/23 hwy