2006 MotoGP champion Nicky Hayden dead at 35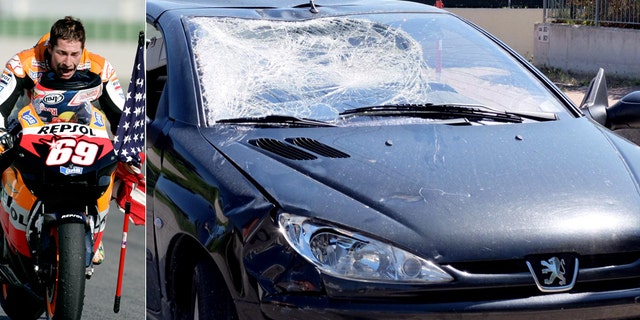 American motorcycle racer Nicky Hayden died on Monday from injuries suffered when he was struck by a car while riding a bicycle in Italy five days ago, the Maurizio Bufalani Hospital in Cesena, where he was being treated, has confirmed.
Hayden was on a training ride on the Rimini coast following a race at Imola when he was hit. He sustained multiple injuries in the accident, including severe cerebral damage.
Hayden was the 2006 MotoGP champion, and was competing in the World Superbike Championship this season.
MORE RACING NEWS FROM FOX NEWS AUTOS
Seven-time MotoGP champion Valentino Rossi, who came in second to Hayden in 2006, spoke fondly of his former rival at the French Grand Prix this weekend, prior to his death.
"I have a lot of stories, a lot of memories with Nicky. We raced, we were teammates also," the 38-year-old Rossi said. "Great rider, always at the top, but especially a great guy."
The Associated Press contributed to this report