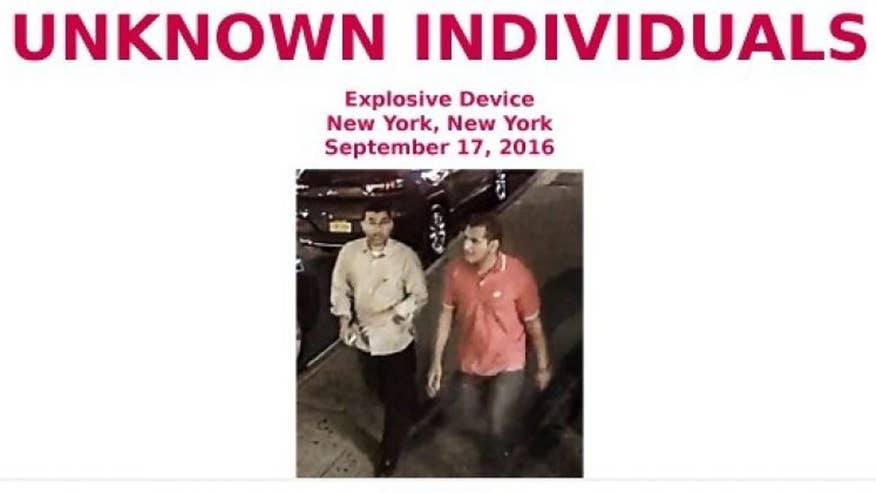 The FBI on Wednesday announced it was looking for two people spotted on surveillance video opening a suitcase containing a pressure cooker bomb in New York City on Saturday night -- taking the bag with them but leaving the device on the sidewalk.
Police described them as "witnesses," suggesting they were not associates of Ahmad Khan Rahami, the suspect accused of planting a string of bombs in New York City and New Jersey over the weekend. Investigators said they simply wanted to speak to the men, saying they were in no danger of being arrested.
The video showed two men coming across the luggage on West 27th Street before removing the bomb. One of the men appeared to wear a white or tan shirt, with the other wearing a red shirt. Police said they had not recovered the suitcase.
Four blocks away, on West 23rd Street in Manhattan's Chelsea neighborhood, a device exploded Saturday night in a garbage bin wounding as many as 31 people, investigators said. The pressure cooker on West 27th Street never exploded.
Surveillance cameras spotted the men walking down several different streets, investigators added.
Rahami, who faces terror-related charges, remains hospitalized with gunshot wounds from a shootout with police that led to his capture Monday outside a bar in Linden, New Jersey. Federal prosecutors said he bought components online and recorded a video of himself igniting a blast in a backyard. They also claimed he vowed in a handwritten jihad journal that "the sounds of bombs will be heard in the streets."
It wasn't immediately clear whether he had a lawyer who could comment on the charges against him, but a federal public defender told a judge Tuesday night that Rahami has not had access to a lawyer since his arrest.

Fox News' Matt Dean, Catherine Herridge and The Associated Press contributed to this report.