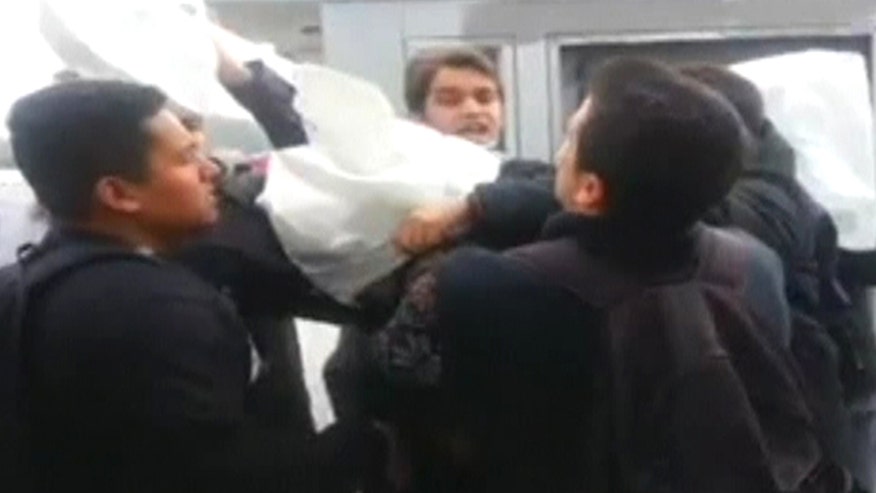 A throng of radical Turkish nationalists roughed up a trio of U.S. Navy servicemen in Istanbul on Wednesday, pulling bags over their heads and shouting, "Yankees go home!" in an incident captured on video.
In the video, which was quickly posted on YouTube, a group of roughly 20 men carrying a banner with Turkish founding father Mustafa Kemal Ataturk's face on it pelt the sailors with garbage and paint before surrounding them and pulling bags over their heads.
"Because we define you as murderers, as killers, we want you to get out of our land," one of the assailants is heard saying. "Damn America!"
Turkish authorities detained 12 people Wednesday, including one woman, in connection with the incident, according to the Dogan news agency.
[pullquote]
The sailors were not injured and were safely back aboard the guided missile destroyer the USS Ross, Capt. Greg Hicks, a spokesman at European Command, told Fox News. The ship had been docked in Turkey following a NATO drill in the Black Sea, according to U.S. officials. The Ross routinely makes patrols in the Mediterranean from its home port in Rota, Spain.
Hicks described the attackers as being part of a "Turkish nationalist group." A statement from the Navy said the attackers claimed to be from the Turkish Youth Union, which reports said characterized as a leftist, ultra-nationalist group that opposes Turkish membership in NATO. The U.S. Embassy in Ankara condemned the "appalling" attack, which took place in the historic Eminonu neighborhood of Istanbul.
[image]
"We have no doubt the vast majority of Turks would join us in rejecting an action that so disrespects Turkey's reputation for hospitality," the embassy said in a tweet.
The video, posted by Turkish news outlets, shows the three sailors running from the mob.
Anger against the U.S. has risen in Turkey following U.S. airstrikes in support of Kurdish fighters battling Islamic State radicals in the northern Syrian city of Kobani near the Turkish border. There are approximately 2,000 U.S. troops currently stationed in Turkey with the vast majority operating out of Incirlik Air Base in southern Turkey, according to Stars and Stripes.
The Kurdish fighters in Kobani are linked to the Kurdistan Workers Party, or PKK, a Turkish guerilla group that is hated by many inside Turkey.
"We find it ugly and disturbing and we condemn that attack, executed by what appeared to be thugs on the street," Pentagon spokesman Col. Steve Warren said Wednesday. "We are working closely with Turkish authorities to have this investigated and to get to the bottom of exactly what happened. These attackers bring great discredit upon the Turks and the Turkish reputation for hospitality which I think is well known."
No travel warnings have been issued for Turkey and there are currently no travel restrictions for U.S. troops.