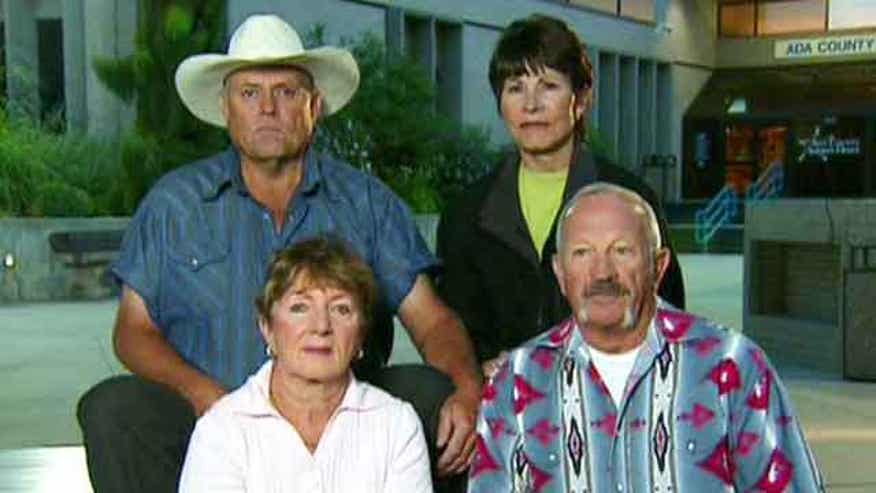 Horseback riders who encountered a missing California teen and her abductor said Sunday that "red flags" went up for them because the pair seemed out of place in the rugged Idaho back country, refusing to give many details on where they were heading or what they were doing.
At a news conference in Boise, the four riders - two men and two women - said they came across 16-year-old Hannah Anderson and 40-year-old James Lee DiMaggio on Wednesday morning.
"I've spent a lot of time in the back country and usually you don't run into somebody wearing pajamas," Mike Young, a 62-year-old resident from Sweet, said about Anderson's attire.
Young said he had a "gut feeling that they didn't belong" in the area and when trying to talk to Anderson, she "kind of had a scared look on her face" and kept trying to look away. Young said DiMaggio told him he was heading to the Salmon River, but they were going in the wrong direction.
"They didn't fit," added 71-year-old Mike John, who is a former sheriff's deputy from Gem County. "He might have been an outdoorsman in California but he was not an outdoorsman in Idaho ... Red flags kind of went up."
John described how he saw DiMaggio sitting on the side of a trail petting a gray cat. He feared that the cat would attract wolves to the area.
"All of their gear [also] looked like it was brand new -- that was another flag that this wasn't normal or natural," John added. "Everything was out of order with him. Kind of like a round peg going into a square hole."
The four riders — John, John's wife Christa, 68, Young, and his wife, Mary Young, 61 — had a second encounter with Anderson and DiMaggio later Wednesday, this one at a lake as they were getting ready to head back down a rugged trail.
The Youngs and Johns recalled seeing Anderson soak her feet in a lake and again avoid interaction.
"We just tried to talk to them but they didn't want to talk to us very bad and they avoided it – that was extremely strange," Mark John said Monday morning on "Fox & Friends."
Still, nothing about their behavior raised suspicion that DiMaggio was wanted for murder and kidnapping, and he didn't appear to be armed, Mark John said.
The horseback riders said "We're all in trouble now," was the only words they heard Hannah Anderson say.
Christa John, who spoke to DiMaggio, said on "Fox & Friends" that he told her that Hannah got to go to a place she wanted to last year -- Los Angeles and Hollywood -- and this year he picked a trip.
It wasn't until Thursday afternoon when the Johns returned home and saw the girl's photographs on the news that they made a connection. After confirming with the Youngs, Mark John immediately called Idaho State Police, setting off the investigation in Idaho.
On Friday, police found DiMaggio's car, hidden under brush at a trailhead on the border of the wilderness area.
On Saturday, after searchers spotted the pair by air, two highly specialized FBI hostage teams moved in on ground, ultimately rescuing the girl and killing DiMaggio.
FBI spokesman Jason Pack said the rescue teams were dropped by helicopter about 2 1/2 hours away from where Anderson and DiMaggio were spotted by the lake. Pack said the team had to hike with up to 100 pounds of tactical gear along a rough trail characterized by steep switchbacks and treacherous footing.
The air was filled with smoke blown in from distant wildfires, and that made both flying and seeing the ground tough, Ada County Sheriff's spokeswoman Andrea Dearden said.
The teams then surrounded the camp and waited until Anderson and DiMaggio were no longer near each other before moving in, and ultimately killing DiMaggio. Few other details about the shootout are being released pending an automatic investigation by FBI agents of everything that occurred before, during and after the shooting.
Valley County Coroner Nathan Hess said he hadn't yet received DiMaggio's body, but would be responsible for issuing a death certificate and determining whether an autopsy should be performed. Hess said he wasn't sure when his part in the investigation would begin.
On Sunday, FBI agents returned to process the scene at the camp at Morehead Lake, about 8 miles inside the wilderness border and 40 miles east of the central Idaho town of Cascade.
But authorities made clear Sunday that the rescue may have taken longer if not for the chance encounter with John and the other riders.
Brett Anderson, the father of 16-year-old Hannah Anderson, told "Fox & Friends" that it was "nerve-racking" and "exciting" when a detective handed him a phone Saturday and he was told that Hannah was safe. The two were expected to be reunited Sunday at an Idaho hospital; however, authorities did not disclose any details of their meeting
DiMaggio also is suspected of killing Hannah's mother, 44-year-old Christina Anderson, and her 8-year-old brother, Ethan Anderson, whose bodies were found last Sunday night in DiMaggio's burning house in California, near the Mexico border.
Brett Anderson, speaking on "Fox & Friends," described his wife as a "hard worker and a great mother."
"My son was my buddy, he wore his heart on his sleeve and if he had $2 he would take three kids to the store with [him] and share it with everybody," he said. "I loved them both very much."
Speaking by phone on Fox News' "Justice with Judge Jeanine" Saturday night, Brett Anderson said he had mixed emotions on the ordeal, saying, "I'm ecstatic that my daughter and I will soon be reunited. I'm saddened by what happened to my wife and son, and I'm worried about what my daughter has been put through."
""She is a strong girl, she made it this far and all we can do is hope that whatever help she needs to get through this," he added.
Anderson also said the Amber Alerts sent out for Hannah made a "big difference" in the search to find her.
"Kudos to law enforcement," Anderson said. "They did an excellent job and I can never show my appreciation enough to anybody out there that showed us love and support; terrific country, love you guys."
Investigators believe that after killing Christine and Ethan Anderson, DiMaggio set fire to his log cabin and detached garage and fled with Hannah Anderson in tow.
As the week went on, the manhunt expanded to Washington, Nevada, British Columbia and Mexico's Baja, California.
As tips poured in from up and down the coast, police cautioned that with Amber Alerts issued in five states for the car, DiMaggio may abandon the car and leave it rigged with explosives.
A friend of Hannah Anderson claimed last week that the girl was "creeped out" by a crush the suspect had on her. The friend said DiMaggio explained that he didn't want the girls to think he was weird in an effort to defend himself after noticing he and the teen exchanged glances. She said he spoke while driving them home from a high school gymnastics meet a couple months ago.
A neighbor also told Fox5SanDiego.com that Hannah was afraid of DiMaggio and did not want to be around him anymore, but "she didn't know how to tell anyone."
Authorities have said DiMaggio had an "unusual infatuation" with Hannah, although Brett Anderson said he never saw any strange behavior. If he had, Anderson said, "we would have quashed that relationship in an instant."
DiMaggio was close to the family. Brett Anderson has also described him as a best friend and said the children thought of him as an uncle.
DiMaggio, a telecommunications technician at The Scripps Research Institute in San Diego, was planning to move to Texas and invited Christina Anderson and the children to his home last weekend to say goodbye, Christopher Saincome, Christina Anderson's father, told the Associated Press.
It's unclear how Christina Anderson and her son Ethan were killed, though police believe the crime was planned.
Click For More From Fox5SanDiego.com
The Associated Press contributed to this report.