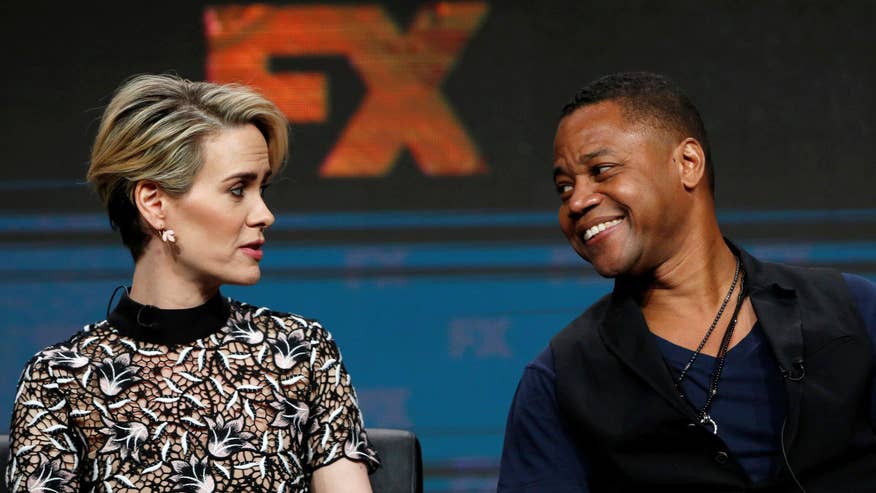 Cuba Gooding Jr. has responded to the infamous skirt-lift that sent social media in a frenzy.
"I have two sons in college… and I say to them, 'Guys, the internet, it's a beast. It's an information highway without regulation. Any image you put on there can be interpreted any way it wants to,'" said the 49-year-old Oscar-winning actor to PEOPLE Magazine a week after last week's mishap during a panel at Los Angeles' PaleyFest.
"I said to my sons again, I said, 'The only thing you can do is represent your moral compass and who you are. Because images are going to be out there without your control, so continue standing in your integrity.'"
CUBA GOODING JR. CAUSES UPROAR BY LIFTING SARAH PAULSON'S DRESS ON STAGE
Gooding caused a stir when he lifted Sarah Paulson's dress while she stood on stage to greet a fellow cast mate.
The moment was captured on camera when Paulson got up to dramatically greet Kathy Bates. Paulson threw her arms wide open and kicked up her leg to welcome Bates.
Gooding then lifted her dress from behind. Paulson didn't seem to notice at first, but once she did she hit her skirt to push it down and let out a shriek. The moment may have come across as a joke for Gooding Jr., but it was no laughing matter for many Twitter users.
FOLLOW US ON FACEBOOK FOR MORE ENTERTAINMENT NEWS
"I love the lady that is Sarah Paulson," said Gooding. "We have a banter like brother and sister, which is how the spirit of that whole panel was. Yet that image was taken out to represent some kind of sexual misconduct, and that wasn't my intent."
Gooding also revealed to the celebrity news publication that he reached out to Paulson after the event.
"The first person, when I heard about the fervor, I called Sarah, I said, 'I love you, I see you as my sister,' and she said, 'I feel the same way about you,'" he added. "And so I let it go."