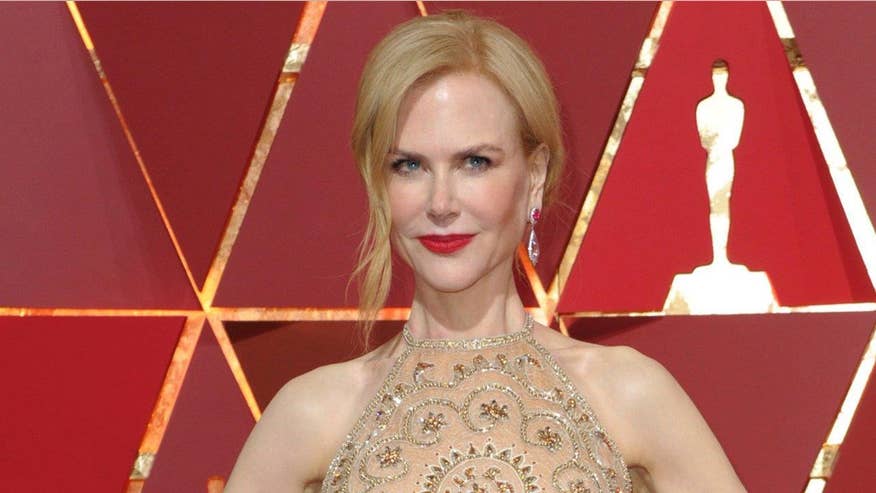 According to Nicole Kidman, there's a legitimate reason why she became a meme during the 2017 Oscars on Feb. 26.
The 49-year-old actress revealed on the Kyle and Jackie O Show on Wednesday that her Harry Winston rings were to blame for her bizarre clapping at the ceremony, which many online commentators said mimicked a seal.
Is it a walrus? Is it the Grinch? No! It's Nicole Scissorhands! #oscars #NicoleKidman #Kidman #nicolekidmanclapping pic.twitter.com/0uezHXMbxz

— Rick Kraus (@RickKraus) February 27, 2017
NICOLE KIDMAN FACES BACKLASH OVER TRUMP COMMENTS
"I was like, 'Gosh, I want to clap,'" she explained. "I don't want to not be clapping, which would be worse, right? 'Why isn't Nicole clapping?'"
Kidman, who was nominated for "Best Supporting Actress," wore 119 carats worth of diamonds, which included a cluster diamond ring that reportedly gave her trouble when it came to applauding.
"It was really difficult because I had a huge ring on that was not my own," she said. "It was absolutely gorgeous, and I was terrified of damaging it. It's like, is there not more important things to be focused on than the seal clap?"
FOLLOW US ON FACEBOOK FOR MORE ENTERTAINMENT NEWS
During the interview, Kidman also commented on what it was like sitting front row during the "Best Picture" envelope mix-up when actors Warren Beatty and Faye Dunaway incorrectly named "La La Land" the winner instead of "Moonlight."
"It was bizarre," she said. "I wasn't sure what was going on. No one in the audience was. Then there was some shuffling, envelopes — and people rushing onstage. I was like, 'What is going on?' I thought someone wasn't well and then I saw people's faces dropping."