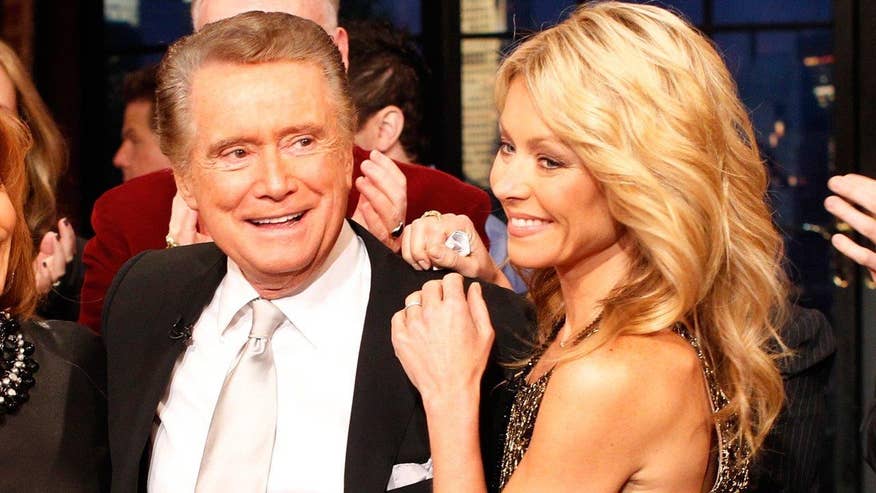 Regis Philbin says he hasn't kept in touch with his former co-host Kelly Ripa since he decided to leave the show "Live" in 2011.
Philbin said on "Larry King Now" in an interview posted online Wednesday, that Ripa took it personally and was offended when he decided to leave their show "Live! with Regis and Kelly." He says she thought he was leaving because of her.
But the 85-year-old told King he left the show because he was getting older and it "wasn't right for me anymore."
"She got very offended when I left. She thought I was leaving because of her," Philbin said. "I was leaving because I was getting older and that wasn't right for me anymore."
Philbin said he still misses hosting and added that the show has "never once" asked him to return as a guest co-host.
However, Dave Davis, President and General Manager, WABC (which produces "LIVE! With Kelly") told Fox News Regis has in fact appeared on the show.
"It was wonderful to have Regis on the show for our 2015 Halloween special. He's also been invited back several times as a guest, and in fact was confirmed for a date, but was not able to make it at the time."
Philbin's final show aired in 2011. He was replaced by Michael Strahan in 2012 who made headlines in April 2016 when he abruptly left the for a gig at "Good Morning America." Asked if he would come back to television, he said it would depend on how often he would appear.
Ripa had not been informed of Strahan's exit before it became public.
Strahan addressed his controversial exit telling People in September, "At one point I think we were friends. I don't know what happened at the end. I learned a lot from her, though."
The Associated Press contributed to this report.