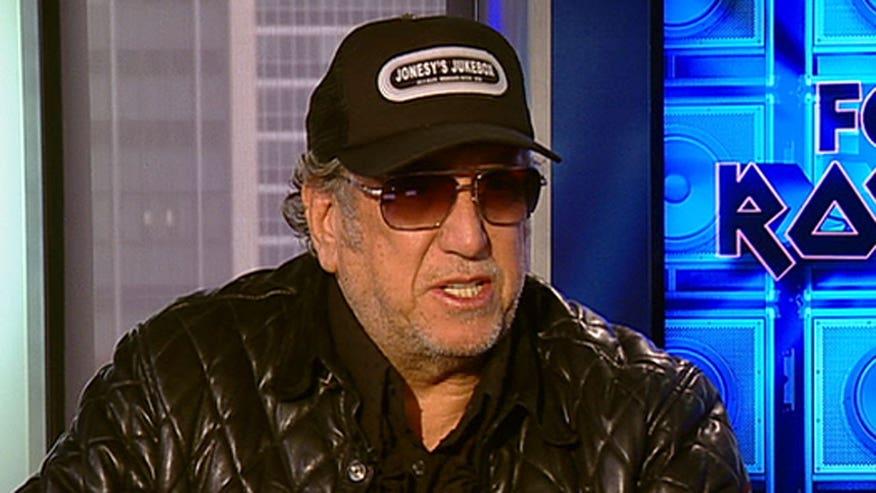 NEW YORK – Forty years ago, the most talked about band in England hadn't even put out an album. The Sex Pistols were making headlines across the country for their outrageous antics, but putting out a record was proving to be a challenge.
After being signed and then dumped by both A&M and EMI, "Never Mind the Bollocks, Here's the Sex Pistols" was released in October 1977 on a new-ish label called Virgin, run by a brash 20-something millionaire named Richard Branson. Months later, after a weird, disastrous U.S. tour, the Sex Pistols broke up, leaving behind what is still widely regarded as the best punk rock record of all time, and a lot of unanswered questions.
Guitarist and founding member Steve Jones is finally answering some of those questions in his new memoir, "Lonely Boy: Tales From a Sex Pistol" (Da Capo Press: $26.99).
LITA FORD: THE RUNAWAYS WERE 'REBELLIOUS JAILBAIT TEENAGE TROUBLEMAKERS'
"It's true, warts and all, and I'm putting my two cents in," Jones said in a sit-down interview in the FOX411 studio. "No one ever hears my two cents, it's always John. Everyone rewrites history, and I wanted to tell the truth."
The "John" that Jones refers to is John Lydon, aka Johnny Rotten, the Sex Pistols' sneering, spitting front man and lyricist. But when the Pistols first started, there was no Johnny Rotten.
"I was singing at first. So I formed the band without John," Jones said. "It was me, Cookie (drummer Paul Cook), (bass player) Glen Matlock, and this other bloke, Wally. He was playing guitar and I was singing."
"The original name was Kutie Jones and the Sex Pistols. I know. Don't say nothin'," Jones deadpanned. "We did one show and it was a disaster, and I realized right there and then I don't want to be the front guy. I don't like it when everyone's staring at you."
MARKY RAMONE: STING'S A JERKWAD
So Jones started learning how to play guitar instead, and the band auditioned for singers. Enter Lydon, who would be dubbed Johnny Rotten by Jones because of his bad teeth.
"He's a certain type of personality, like a lot of front men are, they're a certain breed. They got big egos but no self-esteem," Jones said. "They have to get it up every night, and what comes with that is a lot of drama. As much as I loved playing with John, I didn't really want to hang out with him. So that caused some friction. With his low self-esteem, he wondered why I didn't want to hang out with him, he took it all personally."
But Jones knew the band with Rotten out front was something special. After a live TV appearance in which several members of the band cursed, the Pistols were suddenly public enemy number one in England. They jumped at the publicity.
"It was great at first because we were overnight household names, there was some gratification from that, but in hindsight it was really the beginning of the end," Jones said. "Then we got Sid (Vicious), who couldn't play bass, who looked great, he was a sweet guy, but then he got caught up in the whirlwind where he thought he had to act a certain way, like we all did really."
ROB HALFORD: 40 YEARS ON, JUDAS PRIEST 'STRONGER THAN EVER'
Their tour of England was marred by cancellations as their reputation preceded them and club owners shut their doors. The tour of the American South and Southwest followed.
"By the time we got to the end of it (the American tour), I was done, and I just walked away from it," Jones said.
Vicious died from a heroin overdose in 1979 at the age of 21 after being arrested for the murder of his girlfriend. While the Sex Pistols, with Matlock on bass, have since done a few reunion tours and appearances, Jones, 61, and Lydon, who now both live in Los Angeles, do not communicate.
At all.
"There's still deep resentments that we can't let go for whatever reason," Jones said. "It's like a divorce. You don't want to hang out with your ex-wife."
But their signature album "Never Mind the Bollocks" still rocks, and has been included on virtually every "Top Rock & Roll Albums" list since its release
"It sounds good. It definitely stands the test of time," Jones said. "I'm not blowing smoke up my bum, but it's definitely a classic album."
"Lonely Boy: Tales From a Sex Pistol" by Steve Jones. Da Capo Press. $26.99