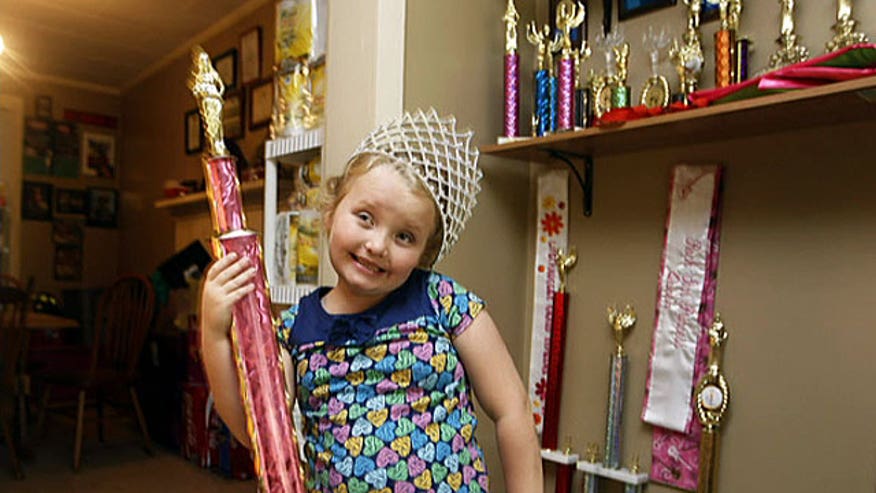 TLC has given "Here Comes Honey Boo Boo" the boot after a story surfaced on Thursday claiming June Shannon—aka Mama June—was dating a convicted child molester.
Shannon reacted to the news in a video she posted on her daughter Alana "Honey Boo Boo" Thompson's Facebook page.
"Just got a phone call this morning from TLC, and as of right now there will be no more production of the show," she said in the clip.
Shannon also used the opportunity to deny claims she was dating Mark McDaniel, a sex offender who was recently released from jail.
"The statement of me dating a sex offender is totally untrue," she said.
McDaniel, who is in his early 50s, was convicted on May 20, 2004 of aggravated child molestation. He registered as a sex offender in March 2014. Shannon wrote in a Facebook post on Thursday that she dated and dumped McDaniel 10 years ago.
"I would not ever ever ever put my kids in danger," she said in the video post.

TMZ reported McDaniel went to jail for molesting a relative of Shannon's. The site posted a photo of Shannon and McDaniel together, but Shannon insisted she has not seen him for more than 10 years and that the photo was faked.
The cancellation, however, is real.
"TLC has cancelled the series 'Here Comes Honey Boo Boo' and ended all activities around the series, effective immediately," a rep from TLC told FOX411. "Supporting the health and welfare of these remarkable children is our only priority. TLC is faithfully committed to the children's ongoing comfort and well-being."
Shannon said she posted her video response despite pressure the family had received from TLC to keep quiet about the scandal.
"Things happened for a reason in life and you live and learn… The fan page has stayed quiet for a while because TLC has kind of told us to hush hush."
It was not immediately clear if children's services was looking into the report about Shannon. An official from the Department of Family and Child Services in Georgia, where the show was filmed, told us they could not "legally confirm and/or deny involvement in cases or discuss specifics."
Back in September, Shannon split from Honey Boo Boo's father, Mike "Sugar Bear" Thompson. The two were never legally married, but they exchanged vows in May in front of Boo Boo and her three sisters.
Shannon said in her video that the family is grateful for the fans they've had through the years.
"We just want to thank, from the bottom of our hearts, the support we've had from our fans… This experience has been awesome to us. The girls have been able to do things that they would not normally be able to do."
"Here Comes Honey Boo Boo" first debuted in Aug. 2012. The show focused on the life of Alana Thompson, who rose to fame as a child pageant winner on the TLC show "Toddlers & Tiaras." In recent seasons, ratings for "Boo Boo" had decreased significantly. An episode in June brought in just 1.7 million viewers, a big drop for a show that had seen 3.2 million viewers at its peak.
Authentic Entertainment, the production company behind the show, did not return FOX411's request for comment.
WATCH: Four4Four: Renee Zellweger's face change shocker