Zimbabwe's Mugabe resigns ending decades-long dictatorship
Zimbabwe President Robert Mugabe resigned Tuesday, ending nearly four decades of rule in the southern African country.
The country's Parliament speaker said he received a letter from the 93-year-old leader soon after lawmakers launched impeachment proceedings against him. The letter submitted to Parliament by Mugabe said his decision to resign was voluntary.
"My decision to resign is voluntary on my part and arises from my concern for the welfare of the people of Zimbabwe and my desire for a smooth, non-violent transfer of power," said Mugabe in his letter which was read out in parliament, sparking cheers and dancing.
Mugabe, who ruled over Zimbabwe since 1980, succumbed to mounting pressure for his resignation amid political turmoil that triggered a military takeover a week ago and widespread protests. He said that proper procedures should be followed to install new leadership.
"Tonight marks a history moment for Zimbabwe," the U.S. Embassy in Harare said in a statement. "We congratulate all Zimbabweans who raised their voices and stated peacefully and clearly that the time for change was overdue."
WHO IS GRACE MUGABE, AFRICA'S MOST POLARIZING FIRST LADY?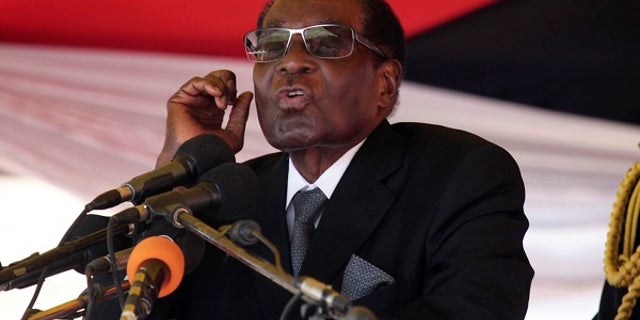 Mugabe's resignation ended impeachment proceedings against the longtime authoritarian leader brought by the ruling ZANU-PF party and supported by the opposition.
The impeachment allegations against Mugabe included that he "allowed his wife to usurp constitutional power" and that he is "of advanced age."
Mugabe was also accused of allowing his unpopular first lady Grace Mugabe to threaten to kill the recently fired Vice President Emmerson Mnangagwa and other officials.
Before the resignation, crowds rallied outside Parliament, dancing and singing. Some people placed photos of Mugabe in the street so that cars would run over them.
"The people of Zimbabwe have spoken with one voice and it is my appeal to President Mugabe that he should take heed of this clarion call and resign forthwith so that the country can move forward and preserve his legacy," Mnangagwa said in his statement, after more than a week of silence.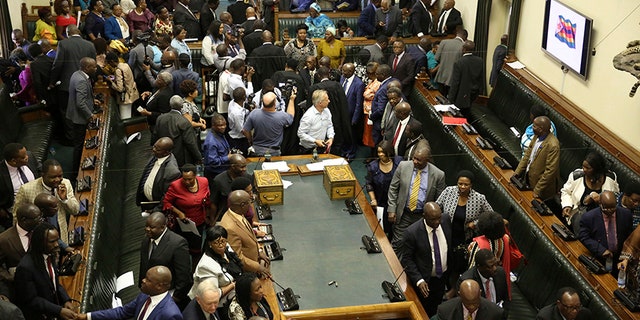 Mnangagwa, who fled the country and has not appeared in public during the past week's political turmoil, said Mugabe had invited him to return to Zimbabwe "for a discussion" on recent events. However, he said he will not return, for now, alleging that there had been plans to kill him at the time of his firing.
"I will be returning as soon as the right conditions for security and stability prevail," said Mnangagwa, who has a loyal support base in the military. "Never should the nation be held at ransom by one person ever again, whose desire is to die in office at whatever cost to the nation."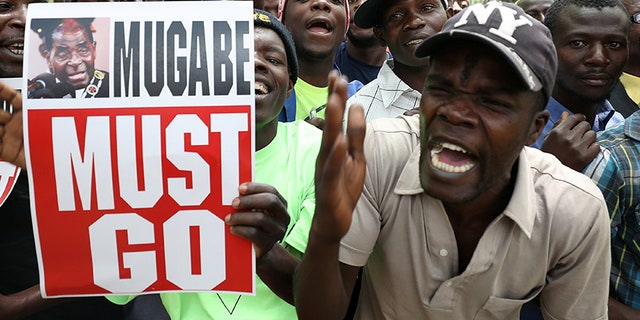 Mnangagwa served for decades as Mugabe's enforcer, with a reputation for being astute and ruthless, more feared than popular.
An expert on Zimbabwean law says impeachment is a process that requires a vote, a committee investigation and a second vote.
Derek Matyszak, senior researcher for the Institute for Security Studies, says the first step is for both houses of Parliament to pass the impeachment motion by a 50 percent majority. Then a joint committee is formed to investigate allegations and determine if there is adequate evidence that Mugabe should be impeached.
If the committee recommends impeachment, both houses must pass the impeachment by a two-thirds majority, which is at least 233 seats of the 347-seat total.
Zimbabwe's polarizing first lady, Grace Mugabe, had been positioning herself to succeed her husband, leading a party faction that engineered Mnangagwa's ouster. The prospect of a dynastic succession alarmed the military, which confined Mugabe to his home last week and targeted what it called "criminals" around him who allegedly were looting state resources — a reference to associates of the first lady.
Regional leaders continued efforts to find a solution to the political turmoil, with South Africa's state-run broadcaster reporting that the presidents of South Africa and Angola would travel to Zimbabwe on Wednesday to meet with "stakeholders" in the political crisis, including Mugabe and the military.
The Associated Press contributed to this report.