Zimbabwe security forces to get second chance to vote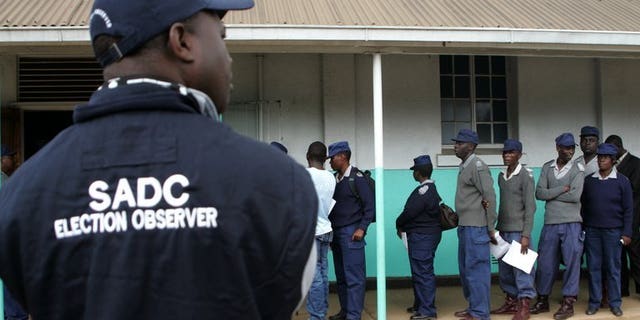 HARARE (AFP) – Zimbabwean security personnel unable to cast their ballots during chaotic early polling this week will get another chance to vote on July 31, the country's elections chief announced Wednesday.
Facing anger from police and soldiers who were unable to cast early ballots as planned, the Zimbabwe Electoral Commission (ZEC) insisted they "will be able to vote" with the rest of the country in two weeks' time.
The vote will determine whether President Robert Mugabe's 33-year-rule is extended.
Early voting had been organised for police and soldiers slated to be on duty on election day, but thousands were unable to vote by the time the two days of polling closed on Monday evening.
Election chief Rita Makarau apologised and blamed the disruption on problems printing the ballot papers.
On Tuesday, scores of officers gathered in front of city hall in Harare, hoping in vain to cast their vote.
The disorder drew condemnation from Prime Minister Morgan Tsvangirai's Movement for Democratic Change, which hopes to end Mugabe's grip on power.
"The process is chaotic and disorganised and has exposed ZEC as a body not ready to the task," MDC secretary general Tendai Biti said Tuesday.
Security forces, which fall under President Robert Mugabe's control, have in the past been accused of rights abuses, intimidating his political opponents and ballot rigging.
Police spokeswoman Charity Charamba on Monday blamed the Movement for Democratic Change for the early voting problems.
She claimed the commission failed to print enough ballot papers in time because the final list of candidates was submitted late.