Zimbabwe leader Mnangagwa, called 'The Crocodile,' promises to hit the ground running
Robert Mugabe's former vice president and top enforcer -- known to some as "The Crocodile" -- took command of the southern African country is rousing style Friday.
Emmerson Mnangagwa was sworn in as the nation's second president -- only Zimbabwe's second leader in nearly four decades -- to shouts and singing from tens of thousands of people.
A smiling Mnangagwa greeted the crowd at a packed stadium, promising to reduce crushing unemployment and return the country to prosperity after years of decline.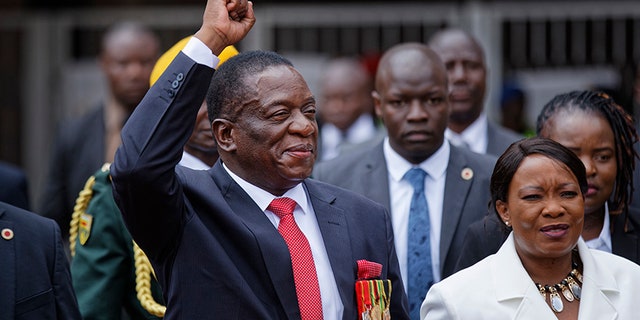 "Our economic policy will be directed for job, job, job creation" he told the crowd of 60,000 in the capital, Harare. "We must work together. You, me, all of us who make up this nation. I must hit the ground running."
Mnangagwa, fired earlier this month as vice president, took power after a whirlwind series of events that ousted the 93-year-old Mugabe after he'd spent 37 years in power. Mugabe on Tuesday succumbed to mounting pressure to quit from the military, the ruling party and throngs of people taking part in demonstrations, amid fears his unpopular wife, Grace Mugabe, would succeed him.
Mnangagwa, a former justice and defense minister, had been Mugabe's ruthless enforcer, accused of overseeing the brutal deaths of thousands of political opponents. He is the subject of U.S. sanctions targeting officials in Zimbabwe's repressive regime.
This week, however, Mnangagwa returned from a brief exile to widespread support from Zimbabweans who welcomed his promises of democracy. His speech on Friday struck notes of inclusion and reconciliation after years of growing frustration with Mugabe's rule.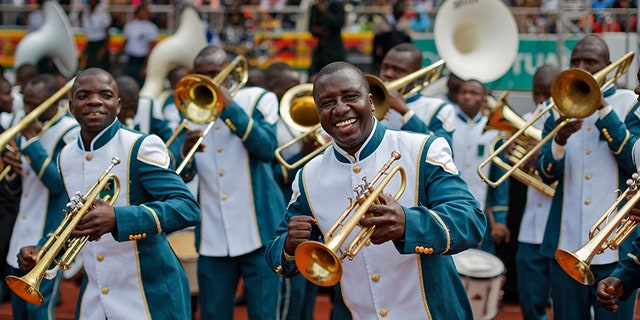 He promised to tackle corruption and pledged "democratic" elections would be held next year as planned.
Mnangagwa also praised Mugabe, who remains a respected figure by many in Africa for his role in ending white-minority ruled Rhodesia. Mugabe should be "lauded and celebrated" for his work, Mnangagwa said, to tepid applause.
Mugabe did not attend Friday's swearing-in, and ruling party officials have said he will remain in Zimbabwe after they promised he was "safe" and his legacy as a "hero" would stand.
Zimbabwe's state-run Herald newspaper reported Mnangagwa assured Mugabe and his family of their "maximum security." The report said the two men agreed Mugabe would not attend Friday's ceremony because he "needed time to rest."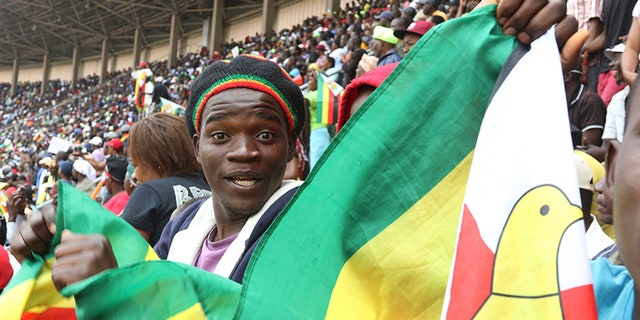 Ahead of the inauguration, some people began to dance in the stadium stands. Banners read "Dawn of a new era" and "No to retribution," even as human rights activists began to report worrying details of attacks on close allies of the former first lady and their families. Mnangagwa has warned against "vengeful retribution."
Tendai Lesayo held a small Zimbabwean flag as she sold drinks from a cooler outside the stadium. She said she would welcome a fresh start, saying "life now is impossible."
Elsewhere in the capital, long lines formed outside banks, a common sight in a nation struggling with cash shortages and other severe economic problems that the new president will have to confront.
"Right now, nothing has really changed for me. I still cannot get my money from the bank," said Amon Mutora, who had been in line since 6 am.
"Attending the inauguration will not bring food for my family," said Kelvin Fungai, a 19-year-old selling bananas from a cart. Many young people are well-educated but jobless, reduced to street vending to survive. Others have left the country.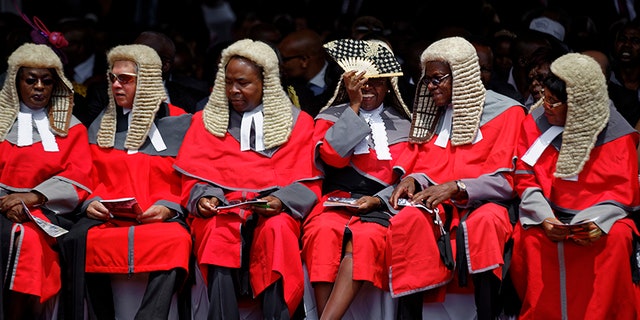 Elsewhere, there were signs of hope amid the uncertainty. Black market rates for cash have tumbled since Mugabe left office. Before he stepped down, one had to deposit $170 into a black market dealer's bank account to get $100 cash. On Friday, $100 cash was selling for between $140 and $150.
As the inauguration crowds streamed by, Sharon Samuriwo sat on a ledge, watching. She said she hoped Mnangagwa would learn from the errors of his predecessor, and she acknowledged the path ahead for Zimbabwe is unknown.
Still, "after 37 years, we've got someone different."
The Associated Press contributed to this report