Yemeni Officials Say 38 Killed in Anti-Regime Fighting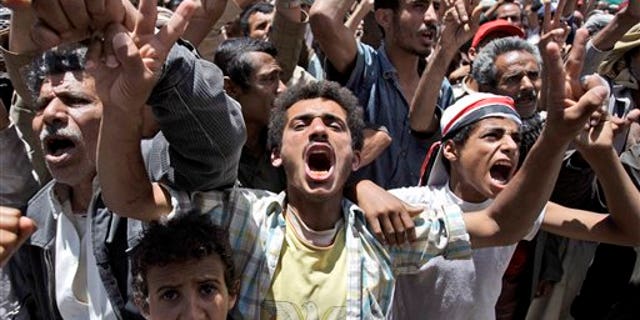 SANAA, Yemen – Fighters from Yemen's most powerful tribes fired on government buildings and soldiers retaliated with intense shelling Tuesday, killing 38 on both sides, as the uprising against President Ali Abdullah Saleh threatened to become a militia-led revolt after street protests and Arab mediation failed.
Medical officials said 24 tribesmen were killed, Government officials put the death toll among soldiers at 14, and 20 were missing.
Ten hours after the battles started, the heart of Yemen's capital was still a no man's land with heavy gunfire, mortar rounds and artillery fire from government forces.
As the death toll mounted, Saleh called for a cease-fire. A statement from his office called on both sides to lay down their arms and asked the tribesmen to withdraw from government buildings they seized.
Both sides traded blame for triggering the latest violence, further deepening the rifts and suggesting Yemen could be stumbling toward a potentially bloody showdown between well-armed tribal militias and pro-Saleh troops.
A statement by opposition groups accused Saleh of "dragging the country to chaos." The Interior Ministry, in turn, blamed the "bloodshed" on Sheik Sadeq al-Ahmar, the head of Yemen's largest tribe, called the Hashid.
Saleh has refused to step down despite three months of nearly nonstop protests calling for an end to his 32-year rule. He also snubbed attempts by Arab neighbors to negotiate his exit.
But the decision by al-Ahmar's tribe and others to take up arms sharply alters the balance.
Yemen's tribes are considered essential allies for any government to survive. Al-Ahmar and others had abandoned Saleh two months ago even though he is, too, a member of the Hashid clan. But the tribes decided to keep their weapons in check even as government forces fired on street demonstrations in attacks that have claimed more than 150 lives.
Now, however, the battles that began Monday may significantly increase pressure on Saleh's regime -- either by encouraging more clan leaders to join the fight or pushing more military officials to abandon the government.
"The defection of Sheik al-Ahmar was a very harsh blow because any ruler in Yemen survives only though tribal support," said Faris al-Saqqaf, a political analyst at the independent Future Research Center in Yemen's capital, Sanaa. "Saleh is slapping al-Ahmar in the face just as al-Ahmar slapped him in the face and he wants revenge."
Tuesday's clashes broke out after government forces tried to storm al-Ahmar's compound in Sanaa's Hassaba district, an area that includes government ministries and the headquarters of Saleh's ruling party. The district is on the road to Sanaa's airport.
Hundreds of tribal fighters came to al-Ahmar's aid and pushed back government troops to take control of strategic points around the district, setting up roadblocks on streets flooded by water mains blasted by mortar shells. Militiamen also used chains to seal the doors of the ruling party headquarters and several ministries.
A senior military official in Sanaa told The Associated Press that sending forces to al-Ahmar's house was meant to "break the will of the tribes, but so far it's failed."
Saleh's forces took up positions inside the interior ministry, which came under sustained attacked from tribal forces. A rocket-propelled grenade punched a hole in the building, where smoke rose from the opening.
Government forces then struck back.
Mortar barrages targeted al-Ahmar's compound and other villas belonging to family members. Later, what appeared to be several artillery shells slammed into al-Ahmar's home, injuring at least three tribal leaders including the chief mediator with the government, said one of the militiamen, Yehia Mansour Abu Isbaa.
"I saw destruction, body parts ... bloodied clothes and lots of smoke," he told the AP.
Dahan al-Qouhet, a tribal leader, said that at least five fighters were killed in the mortar strikes, and two others were killed in other clashes.
Later, a hospital official said the total death toll among the tribesmen reached 24. A security official said 14 soldiers were killed.
That would bring the overall death toll to at least 45 over two days of fighting, according to tribal chiefs, security and medical officials.
"This is not an attack on al-Ahmar and his family only, but on all the tribes in Yemen," said Faisal Manaa, a leader of the Bakeel, another powerful tribe. "We will not remain silent. We are warning the regime if it doesn't withdraw its troops, we will be launching in a comprehensive and fierce war with them."
The escalating clashes came after Saleh refused to sign a U.S.-backed deal, mediated by Gulf Arab neighbors, that offered immunity from prosecution under a timetable to step down within 30 days and transfer power to his vice president.
Although the tribal fighters seemed to tighten their grip in central Sanaa, government troops are still strong in other parts of the capital. Saleh's forces -- backed by his son's well-trained and equipped Republican Guards -- are concentrated in the southern part of the capital, where the presidential palace and military camps are located.