Yemeni official: Death toll from Saudi airstrike now at 19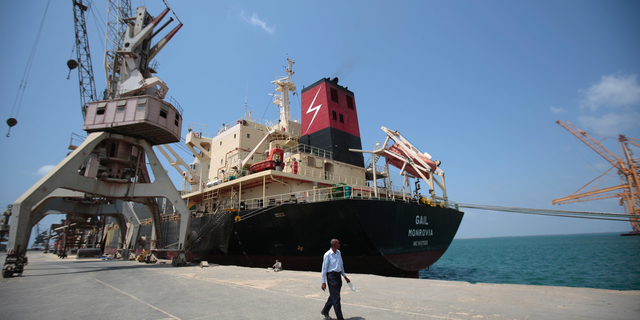 SANAA, Yemen – A Saudi-led coalition airstrike at a fruit-and-vegetable market near Yemen's flashpoint Red Sea port of Hodeida killed 19 civilians, including children, Yemeni officials said Thursday.
Wednesday's strike comes amid mounting fears of a fresh coalition assault on Hodeida, a city that has been the lifeline for international aid deliveries to Yemen, ravaged by a brutal three-and-a-half year war between the Saudi-led alliance and Shite rebels known as Houthis.
The coalition has been trying to wrest Hodeida from the rebels but the campaign, like the rest of Yemen's war, had fallen into a stalemate.
The airstrike, which hit the outdoor market in the town of Bayt el-Faqih, just south of Hodeida, also wounded six people. Initial reports had five dead but the death toll steadily climbed overnight.
The director of the Bayt el-Faqih hospital, Abdullah Shahawi, said all the victims were civilians and that at least two children were among the dead.
Video footage obtained by The Associated Press showed the aftermath of the strike, with body parts lying scattered across the market and coffins lined up in the hospital.
Yemeni security officials confirmed the strike but didn't know what the intended target had been. It's not uncommon for coalition jets to hit civilians in Yemen's war and wedding parties, funerals, residential homes and hospitals have been struck in the past.
Saudi Arabia and its powerful young Crown Prince Mohammed bin Salman, who has been leading the coalition campaign in Yemen, have been facing an international outrage over the killing of journalist Jamal Khashoggi earlier this month inside the Saudi Consulate in Turkey.
Kashoggi's slaying has also sparked widespread condemnation of the crown prince and marred his international standing after Turkish reports alleged that a member of his entourage was involved in the killing.
Meanwhile, the Saudi-led coalition has sent reinforcements to Yemen's west coast for what many fear would be an intensified battle for Hodeida.
The city's port literally keeps millions of starving Yemenis alive, as it serves as entry point for 70 percent of food imports and international aid. A protracted siege of Hodeida by the coalition could cut off that lifeline.
Yemeni officials said Wednesday that reinforcements had arrived in tanks and armored vehicles provided by the United Arab Emirates, a key coalition member. All officials spoke on condition of anonymity because they were not authorized to talk to reporters.
The war between the coalition and the Iran-aligned Houthis erupted in March 2015. An estimated 10,000 people have been killed so far and the conflict has devastated Yemen and pushed it to the brink of famine.
The war has also left around two-thirds of Yemen's population of 27 million relying on aid, and over 8 million at risk of starvation.