Yemen Forces Open Fire on Protesters, 26 Killed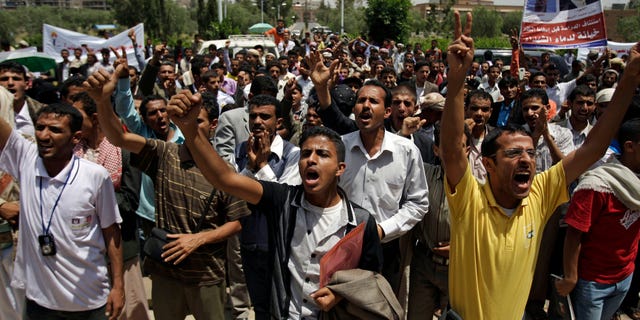 SANAA, Yemen – Yemeni government forces opened fire with anti-aircraft guns and automatic weapons on tens of thousands of anti-government protesters in the capital demanding ouster of their longtime ruler, killing at least 26 and wounding dozens, medical officials and witnesses said.
After nightfall, Sanaa sank into complete darkness after a sudden power outage, as protesters took control of a vital bridge, halting traffic and setting up tents. Thousands of other protesters attacked government buildings and set fires to buildings they said were used by snipers and pro-government thugs.
The attack was the deadliest in months against protesters and comes as tensions have been escalating in the long, drawn-out stalemate between the regime and the opposition. The president, Ali Abdullah Saleh, left for Saudi Arabia for treatment after being severely wounded in a June 3 attack on his palace, raising hopes for his swift removal — but instead, he has dug in, refusing to step down.
The protest movement has stepped up demonstrations the past week, angered after Saleh deputized Vice President Abed Rabbo Mansour Hadi to negotiate a power-transfer deal. Many believe the move is just the latest of many delaying tactics.
At the same time, greater numbers of the powerful Republican Guards force, led by Saleh's son and heir apparent Ahmed and armed regime supporters have also been turning out in the streets in recent days, raising fears of a new bloody confrontation.
More than 100,000 protesters massed Sunday around the state radio building and government offices, witnesses said. When the crowd began to march toward the nearby Presidential Palace, security forces opened fire and shot tear gas canisters, they said. Snipers fired down at the crowd from nearby rooftops, and plainclothes Saleh supporters armed with automatic rifles, swords and batons attacked the protesters. Protesters took control of a main bridge, closed off the entrances and set fire to tents in a camp used by pro-government forces.
"This peaceful protest was confronted by heavy weapons and anti-aircraft guns," said Mohammed al-Sabri, an opposition spokesman. He vowed that the intensifying protests "will not stop and will not retreat."
At the neighborhood of al-Zubairi in the heart of Sanaa, troops opened fire at an anti-government force, the 1st Armored Division led by Maj. Gen. Ali al-Ahmar, who defected to the opposition along with his 50,000 troops several months ago.
Witnesses said al-Ahmar's forces engaged in the fighting Sunday for the first time, but Abdel-Ghani al-Shemari, spokesman for al-Ahmar division denied that and said they are "maintaining self-restraint."
Tarek Noaman, a doctor at Sanaa field hospital, said that 26 protesters were shot dead and more than 200 were wounded. "Most of the injuries are at the chest, shoulder, head and face," he said, and said 25 of injured protesters were in critical condition.
He accused security forces of preventing ambulances from evacuating the wounded and collecting bodies of the slain protesters.
A Yemeni opposition television network carried live video of men carrying injured protesters on stretchers, including a motionless man whose face was covered with blood and eyes wrapped with bandages. Other young men were lying on the floor in the chaotic field hospital. Men on motorcycles rushed the injured from the square to field hospital.
Protesters throwing stones managed to break through security force lines and advance to near the Yemeni Republican Palace at the heart of Sanaa, turning the clashes with the security forces into street battles.
The Youth Revolution committee, which leads the protests, called on Yemenis to rally "day and night and everywhere in Yemen until we topple the remnants of the regime."
The Yemeni state news agency Saba quoted a security official as saying that the Muslim Brotherhood rallied "unlicensed protests" near the university of Sanaa, and "the militia threw firebombs at a power station, setting it on fire."
Though Saleh has been in Saudi Arabia since June, he has resisted calls to resign. Last week he deputized his vice president to discuss a Gulf-mediated, U.S.-backed deal under which he would step down in return for immunity from prosecution. Saleh has already backed away three times from signing the deal.
The U.S. once saw Saleh as a key ally in the battle against the dangerous Yemen-based al-Qaida branch, which has taken over parts of southern Yemen under cover of the political turmoil in the country. The U.S. withdrew its support of Saleh as the protests gained strength.
Later Sunday, Abdullah Oubal, a leading opposition member, charged that the violence was linked to the power deal.
"This is intentional. The hawks within the ruling regime are trying to abort efforts to seal the deal," he said.
Demonstrations also took place Sunday in many other Yemeni cities, including Taiz, Saada, Ibb and Damar.