World aid workers in Syria remain committed, despite threat of US strikes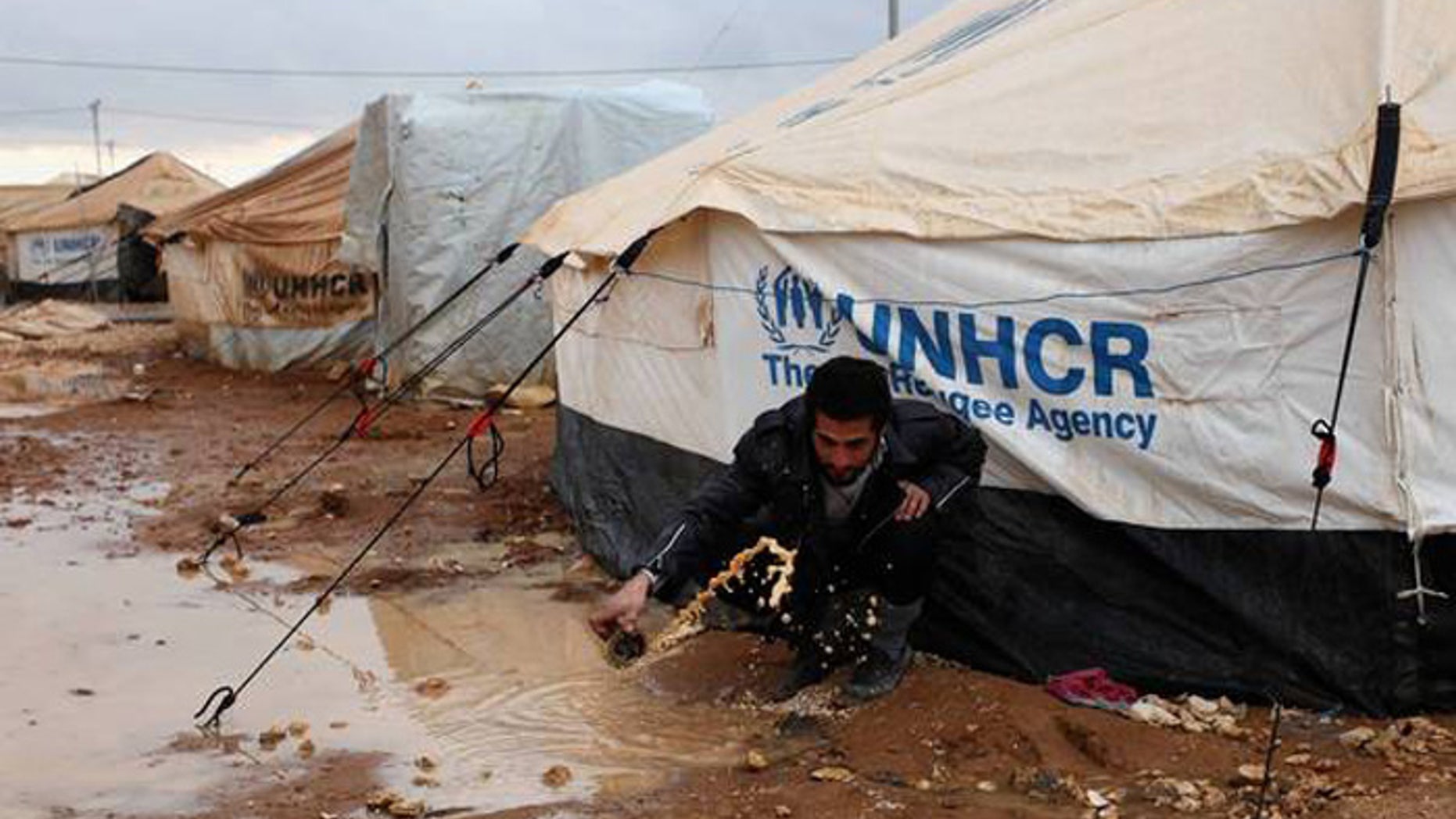 Humanitarian workers in Syria are vowing to stay even with the looming threat of U.S. strikes, knowing that an attack will make their jobs even more perilous – but also more necessary than ever.
With more than 100,000 dead in the two-and-a-half-year civil war, and millions more displaced, aid workers from the United Nations, World Food Program and other food and medical aid charities are entrenched in Syria. Many say they are committed, no matter how much worse the fighting gets.
"We are on the ground and we have no plans to withdraw staff at all," said Tarik Kurdi, the UN High Commissioner for Refugees' Syria representative. "We have a contingency plan to try to respond to the humanitarian crisis and to implement the plan we need to be present."
Kurdi, speaking to FoxNews.com by phone from Damascus, said "the challenges are enormous" for his staff of more than 300.
"The humanitarian situation is already worsening by the day," he said. "It is a very difficult situation with so many Syrians displaced and the health care system just not functioning."
[pullquote]
The decision not to withdraw staff is in marked contrast to March 2003 when then-UN Secretary-General Kofi Annan ordered not only weapons inspectors out of Iraq but aid workers as well ahead of the U.S. invasion.
The fact that the proposed American airstrikes on Syria – punitive raids in reprisal for the Assad government's alleged use of chemical weapons two weeks ago – would be limited is factoring into the UN decision to stay put. But the decision is also testament to the scale of the humanitarian crisis engulfing war-torn Syria and the dedication of aid workers on the ground, say the UN sources.
"No one wants to go," says a senior UN official, who declined to be identified, as he didn't have authorization to speak with the media.
Earlier this week, the U.N. announced the humanitarian crisis spawned by the Syrian war had passed another grim milestone with the tally of Syrian refugees in neighboring countries topping more than 2 million, placing unprecedented strain on host communities, their resources and infrastructure and aggravating sectarian divisions in Lebanon, Turkey, Jordan and Iraq.
Around 5,000 people a day are fleeing the nearly three-year conflict, which the UN says has already claimed at least 100,000 lives. Inside Syria, humanitarian agencies estimate more than 4 million are displaced and are in need of food aid and basic assistance. UN High Commissioner for Refugees António Guterres has dubbed the Syrian crisis "a disgraceful humanitarian calamity with suffering and displacement unparalleled in recent history."
Earlier this summer, the World Food Program's executive director Ertharin Cousin told FoxNews.com during a stopover in Beirut after a visit to Damascus that she admired the courage of the more than 100 WFP staffers inside Syria, adding she has to evaluate regularly whether to evacuate them because of the high risks.
"You consider it because you have the responsibility to consider all the what-ifs but we recognize that if we leave, people will go hungry," she said. "I work with people who humble me every single day because they are committed to being where people need them whether it was in Darfur, Iraq, Afghanistan or now in Syria."
Despite intensified shelling in Damascus her staff insists on staying, she said.
The WFP head held talks during a July visit with Syrian government officials to try to ensure freer access for her agency and more than 20 partner non-governmental organizations that help distribute food.  WFP has had food distribution disrupted at government checkpoints and by jihadists groups among the opposition forces.
Last month, WFP was only able to distribute food for 2.4 million people – falling short of its goal of feeding 3 million people per month – as a consequence of the deteriorating security situation in Syria. The agency says it hopes to scale up operations with the aim of feeding four million in October. But an intensification of the conflict could disrupt this target.
"A military attack by the U.S. carries the serious risk of generating a regional or international escalation and will almost undoubtedly lead to an intensification of the violence within Syria as positions will become even more polarized," warns Sara Pantuliano, head of the Humanitarian Policy Group, a program of the Overseas Development Institute, a London-based think tank specializing in international development and humanitarian issues.
But Pantuliano is not aware of any agency or charity currently working in Syria planning to withdraw.
"Things of course may change if the strikes do take place and there is a further escalation of the conflict," she said.
But like other humanitarian experts, she fears U.S. strikes could prompt Assad loyalists might target aid workers with U.N. agencies and Western charities.
Pantuliano said most humanitarian workers on the front lines in war-torn areas are largely local staff and not international aid workers – and that is also the case in Syria. Twenty Syrians working for the Syrian Arab Red Crescent have died in the conflict.
Fifteen SARC staff and volunteers and four other local aid workers have been killed in Syria in the last year, among them Mohieddine Mahmoud, who was killed last March in heavy government shelling of the Jobar suburb of Damascus, one of the neighborhoods hit by the poison gas attack the Obama administration and rebels accuse the Assad government of launching last month.
As recently as Sept. 5, the medical charity Medecins Sans Frontieres said one of its surgeons, a Syrian working in Aleppo province, had been killed but provided no details on the circumstances.