Women activists denied walk across Koreas' DMZ, cross on bus instead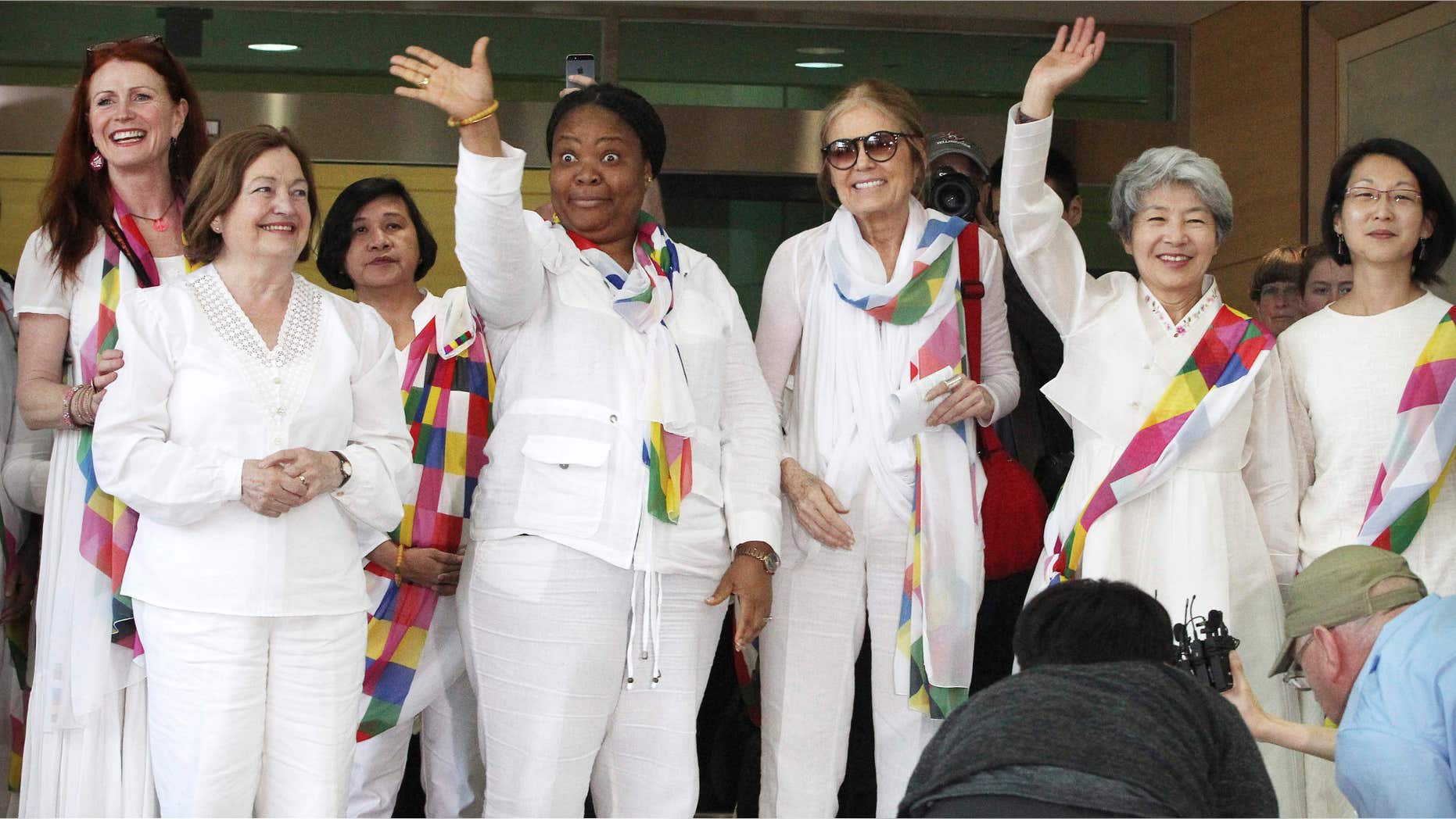 International women activists, including Gloria Steinem and two Nobel Peace laureates, were denied an attempt to walk across the Demilitarized Zone diving North and South Korea Sunday, but were allowed to cross by buss and complete what one of them called a landmark peace event.
The group of 30 women from 15 countries made a final appeal to authorities on both sides to allow them to walk across the line of demarcation, but were turned down. North Korea allowed a South Korean bus to cross the lien to pick them up on the North side of the DMZ and transport them over the border to South Korea.
United Nations officials met the group inside the DMZ after they crossed the demarcation line, and allowed them to march again after the final checkpoint.
"We were able to be citizen diplomats," said Steinem, the 81-year-old feminism pioneer and author. "We are feeling very, very positive. We have received an enormous amount of support," she said after passing through South Korean immigration.
The group included Mairead Maguire from Northern Ireland and Leymah Gbowee from Liberia, both of whom are Nobel Peace Prize laureates.
The women were carrying banners and sang on the North Korean side of the first checkpoint leading into the DMZ. They were met by a large contingent of media on the South side.
The Koreas have remained divided since the 1950-53 Korean War ended in an armistice, not a peace treaty. The DMZ that divides them is one of the most heavily fortified borders in the world. Authorities on both sides said they could not guarantee the safety of the women had they walked across.
Organizer Christine Ahn, a Korean-American peace activist, said the group wanted to walk through the symbolic truce village of Panmujom, where the armistice was signed.
Some members of the group expressed disappointment that the walk inside the DMZ was denied. But Ahn said she was satisfied that they were able to meet with North Korean women during their several-say stay in Pyongyang and to cross through the DMZ, which is rarely allowed in any form to civilians.
The women will also meet with South Korean counterparts.
Ahn said the group went to the two Koreas to call for an end to hostilities on the Korean Peninsula, push for a reunification of families divided by the war and promote dialogue between the two enemies.
The Associated Press contributed to this report