Woman Who Bludgeoned Husband With Hammer Qualifies For Death Penalty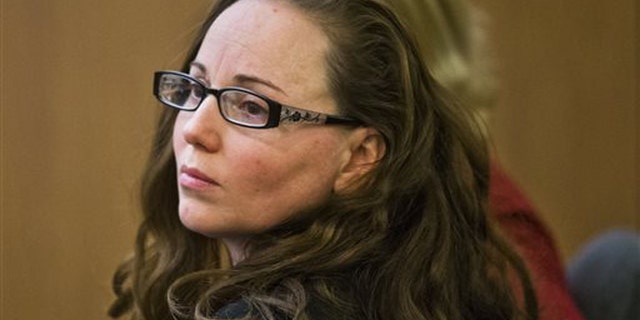 She bludgeoned her husband to death with a hammer, hoping to collect on a life insurance policy to repay about $300,000 in loans from her boyfriend.
Now a jury in Arizona has decided that Marissa Suzanne Devault should be eligible for the death penalty for the brutal killing. It is the same jury that recently convicted Devault.
The decision on Monday clears the way for jurors to now consider whether they will imprison Devault for life or sentence her to death for the fatal beating of Dale Harrell in 2009.
The key prosecution witness was Devault's former boyfriend, Allen Flores, a Yale University-educated management consultant who is 20 years older than Devault and had loaned her $300,000 during their two-year relationship. Devault met Flores through an online sugar-daddy dating site.
Flores testified that Devault wanted to either hire someone to kill Harrell, or kill him herself and tell police he tried to rape her after a night of drinking.
To make her eligible for the death penalty, the jury had to determine that she killed her husband in an especially cruel manner.
If jurors had found Devault didn't qualify for execution, then a judge would have had to sentence her to life in prison.
Attorneys on both sides will now make arguments to jurors on whether she should be imprisoned or executed.
The case had many salacious elements, including testimony about plots to hire a hit man and the fact that Devault was a former stripper who met her boyfriend on a sugar-daddy dating website.
But the judge in the case made extensive efforts to keep the trial from becoming the spectacle that enveloped the Jodi Arias case in the same courthouse exactly one year ago.
He warned the attorneys involved that he did not want any Arias trial fanatics on the jury, and he tried to keep certain sensational elements out of the trial. Devault's past as a stripper, for instance, was barely mentioned during the trial. The case attracted nowhere near the attention of the Arias trial despite some similar circumstances.
Like Arias, Devault maintains she killed in self-defense and told investigators that her husband had physically and sexually abused her in the past.
But prosecutors contend the attack on Harrell was premeditated and say Devault gave conflicting accounts of her husband's death. Harrell, 34, suffered multiple skull fractures in the January 2009 attack at the couple's home in the Phoenix suburb of Gilbert. He died nearly a month later at a hospice because of complications from his head injuries.
Devault initially told investigators that her husband attacked her while she was asleep and choked her until she was unconscious. She also told police that when she woke up, she saw another man who lived at their home beating Harrell with a hammer.
But authorities say bloodstain patterns showed Harrell was alone in the bed at the time of the attack and that bloodstains on Devault's clothes were consistent with a person swinging an object repeatedly over his or her head.
Investigators say Devault later confessed to attacking her husband, saying she pummeled him in a rage as he slept after he sexually assaulted her.
Devault's attorneys attacked Flores' credibility, noting he was given an immunity agreement on child-pornography allegations in exchange for his testimony. The child pornography was found on Flores' computer during a search that was part of the murder investigation, authorities said.
Flores also testified that he once feared Devault would harm him, but he said that concern lifted after she was arrested. He said he went on to bail her out of jail, get her a lawyer and resume their intimate relationship.
Based on reporting by The Associated Press.
Follow us on twitter.com/foxnewslatino
Like us at facebook.com/foxnewslatino