Woman bashed and left for dead by ex — discovered extent of damage when she took a selfie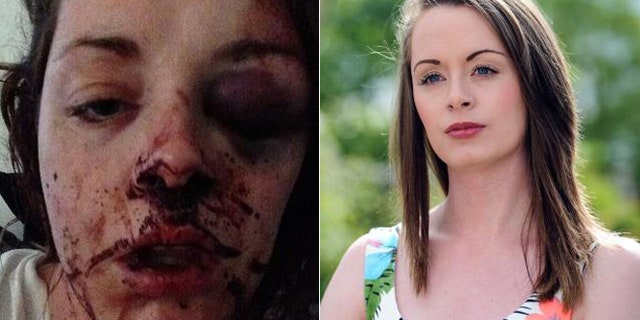 WARNING: Content may upset some readers.
A thug brutally beat up his ex-girlfriend in front of his children and then left her for dead for two days. It was not until she regained consciousness and took a selfie that she saw the true extent of her injuries.
Colleen Higgins, from Hednesford in the UK, had a broken cheek, a fractured skull and was bleeding from her ears after Daniel Moore, 36, beat her up at their home and left her in a coma.
Instead of helping her, Moore did nothing and when she woke up 48 hours later, Higgins was forced to take a snap of herself to see her injuries and work out what happened, after Moore lied and told her she had fallen down the stairs.
Moore was sentenced to six years in prison after admitting grievous bodily harm with intent at Stafford Crown Court.
"I had no idea what had happened when I woke up on the sofa in pain," Higgins said.
"I almost couldn't believe that he had done it to me — my injuries were so horrific and have caused such devastating effects."
Higgins suffered a traumatic brain injury and has lost hearing in one ear but she wants to speak out to warn other women about domestic violence.
The couple met when Moore was a customer of Higgins' in her job as a senior customer service adviser in a bank.
She said Moore treated her like a princess.
"He was the model boyfriend, he'd bring me a picnic at work for lunch and I would come home to dinner made and a bath run for me," Higgins said.
"I knew that he had been convicted of assaulting an ex-partner but I thought that our relationship was different."
After 18 months together they moved in to a house but Moore's behavior changed and he became controlling and aggressive.
When Colleen found out he had been cheating on her, it was the final straw and she left.
But two weeks later, Moore saw her on the way to work and asked if they could talk things over.
After meeting for coffee, Higgins arranged to go round to the house on Friday, April 25 last year to visit Moore's two children.
"I'd always got on really well with his kids and we were playing monopoly and having an ordinary Friday evening," Colleen said.
"The next thing I remember is waking up in the most horrific pain I have ever experienced.
"I couldn't walk but I knew something was wrong so I grabbed my phone and took a picture to see what my face looked like. All I could see was blood everywhere and I knew I needed to get out of the house."
Although Higgins had just emerged from a two day coma, Moore insisted she was fine and had just fallen down the stairs.
She frantically called her mum who rushed her to hospital.
"I didn't even explain what had happened on the phone to my mum, I said I'd fallen over and she turned up expecting to see me with a broken ankle," Higgins said.
"But when she arrived she said she knew straight away that he had done it so she didn't even wait for an ambulance and took me to hospital herself."
When she got to emergency department, doctors realized Higgins had a traumatic brain injury as she didn't know her age or what year it was.
Her brain was swollen and she spent three nights in hospital and then another two after an operation to fit a metal plate into her cheek.
Moore pleaded guilty to causing grievous bodily harm with intent and was sentenced to six years and nine months in prison at Stafford Crown Court on February 24, 2015.
Now, just over a year on, Higgins is finally getting her life back on track.
She said: "My skull was cracked from the back of my head all the way round to my nose and the swelling on my eye was so bad the doctors thought I might lose my sight.
"Some people endure the same injuries that I had and never walk again.
"I had a great rehab team helping me over nine months and it was just sheer grit and determination that he wasn't going to ruin my life that got me through.
"I truly believe that would have left me to die. But I survived and so I want to do everything I can to warn other women who might be in a similar position. If me speaking out saves one person from experiencing what I have gone through then it's worth it."