Wives and mothers on Yemen's frontline fight to free thousands of men from prison hell
MA'RIB, Yemen – In a grainy, leaked cell phone video, the agonized cries and pleas of a man can be heard echoing through the dark room after every lashing to his flesh.
That man is 40-year-old Jamal al-Maimary. Despite being recently released from a political prison inside the Yemen capital of Sana'a, he is now left paralyzed below the waist.
The slow torture is hard for anyone to watch, but 25-year-old Nasayba stares at the screen without flinching. It is reminiscent of what is still happening to her own brother who was detained by Houthi militia leaders on November 10, 2016. According to her latest information, he has had both legs broken and is unable to walk.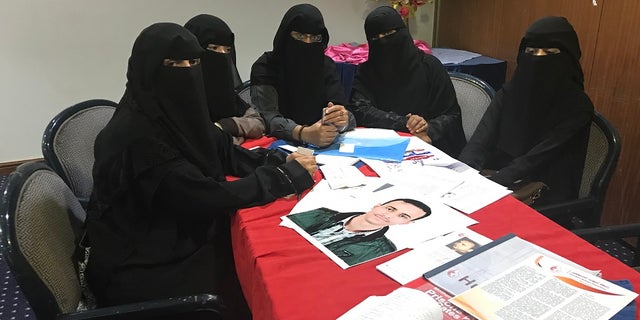 But Nasayba won't give up her fight for him. She is one of around 20 women who make up Yemen's Abductees' Mothers Association. Together, the women fight on the frontlines across the war-ravished nation on behalf of all Yemeni men unjustly swept up as political prisoners in the war between the Shiite-aligned Houthi rebels and the Saudi Arabia-led coalition fighting on behalf of Yemen's nationally-recognized government.
Formed in April 2016, the association is comprised of mothers, wives, sisters, daughters and passionate activists intent on bringing awareness to the burgeoning crisis of imprisonment and alleged torture behind the shrouded secrecy of the blood-spattered walls.
"The first thing we are doing is gathering the women together so we can have a stronger voice to have our men released," explained founding member Sabah Alamid. "Then we are gathering all the numbers and figures, providing psychological support for each other, and then helping women go to see their loved ones behind bars."
Those are all tasks that come with great risk. Beneath the black burqas, these tenacious and fearless females are bucking traditional gender roles in the notoriously conservative Muslim society in which women rarely feature in the limelight.
In several major cities across Yemen, the female activists routinely call street demonstrations they refer to as "peace strikes" which often end in them being attacked and fleeing from abduction themselves.
THE FIGHT FOR YEMEN'S CAPITAL FUELED BY DRUGS, WITCHCRAFT AND FIERCE FIRE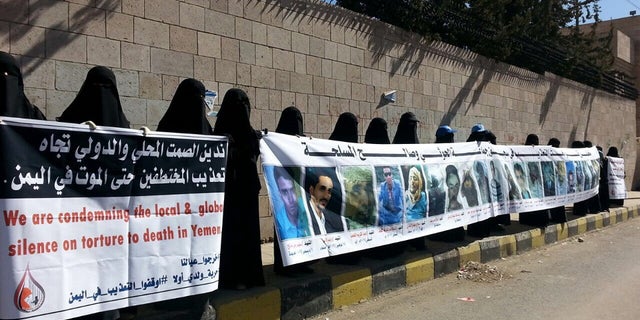 The association has enlisted research specialists who endeavor to track down where prisoners are being held and then quietly guide family members to that location so they make persistent requests to visit their detained relative.
Yet even that is a harrowing experience for all involved.
"When I visit, I am not allowed to get close," whimpers Amina, the mother of a prominent Sana'a journalist who has been detained for more than three years, while his children play innocently with toys in the corner during the Fox News interview. "Last time I tried to get close, and was banned from coming back for seven months."
According to data provided to Fox News by the Abductees' Mothers Association, they have more than 17,000 civilian names registered as being wrongfully imprisoned, with around 3,200 either dead or being held in unknown locations, including 220 children used as a tool to punish their fathers.
The association claims to have verified at least 120 cases in which men have died under duress in prison.
YEMEN'S CHILD SOLDIERS FACE LONG ROAD AFTER SEXUAL, PHYSICAL ABUSE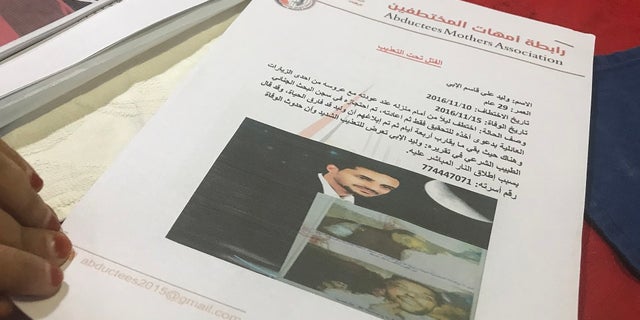 Subsequently, the women pull out files of the dead, their smiling color photos contrasted with their decaying dead bodies and lengthy descriptions of who they were and what they left behind.
Each tale of torture is more horrific than the next. Some were beaten blue with a stick, others electrocuted or hung by their feet for days while their hands were so tightly bound it ripped through to the exposed bone. Others were allegedly tossed into cages teeming with snakes, some had their faces almost entirely cauterized with cigarettes, some with acid.
"We have had a lot of cases like this," observed association member, Mariam Abdullah. "Some kind of burning."
In one apparent torture case examined by Fox News at a small hospital in the city of Ma'rib, a man in his thirties, Mohammed, mumbled endlessly and incoherently to himself - his face and body awash with deep burns and scars, his ribs protruding out from a frail layer of charred flesh.
FAMILY OF KURDISH FEMALE FIGHTER SEEN NAKED, MUTILATED IN GRAPHIC VIRAL VIDEO SPEAKS OUT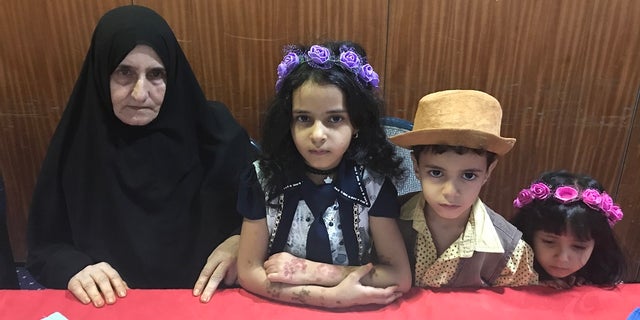 "He cannot concentrate," the doctor noted. "He cannot remember his name."
Mohammed's brother Bashar explained that his younger sibling, once a medical lab practitioner in Sana'a, suddenly disappeared in early 2017 into what they believe to be a Houthi detention facility. He was seemingly beaten and doused with acid from head to toe before being unleashed onto the streets - irreversibly mentally and physically wounded, a mere shadow of his former self.
"Insects were eating his flesh, his smell was coming out through his open skin so no one could be around him and hospitals wouldn't take him in," Bashar said. "About a year after he first disappeared, he was found almost dead in a trash can."
The person who discovered Mohammad's almost lifeless body posted on Facebook seeking relatives to come forward and claim him, with the post eventually landing in Bashar's inbox.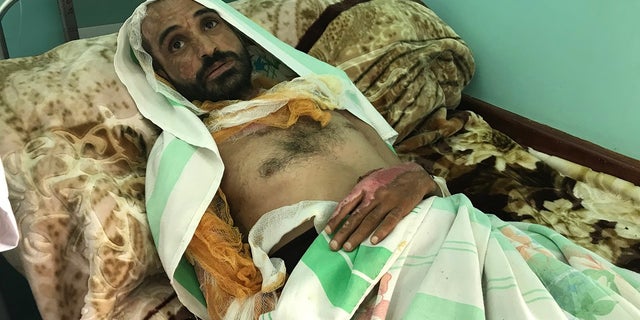 Furthermore, even though the overwhelming number of the prison human rights abuses are alleged to happen toward males, association member Isma Muhammed acknowledged that they have documented 75 cases of women being maltreated.
"They are usually detained for only a few hours or a day," she said. "Their abuse is more mental, but sometimes the guards are abusing them while they are searching, forcing them to get naked..."
While human rights groups have largely pointed to the Houthis as shouldering most of the blame for wrongful imprisonment and mistreatment, the Associated Press reports that at least 2,000 men have absconded into secret prisons operated by the UAE, a partner in the Saudi-led coalition. The Emirati government have denied the allegations.
The women say they fight for all detainee rights, on all sides of the protracted conflict.
"We want justice, we want the outside world to help us," added Mariam Abdullah. "Otherwise, these men will just be forgotten. We need countries with the human rights, like the US, to help us."