Witnesses testify VX killed brother of North Korean leader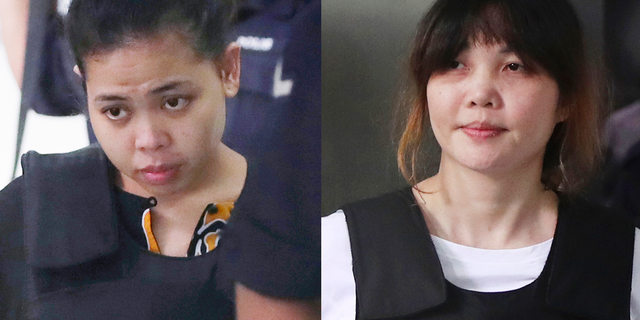 SHAH ALAM, Malaysia – The cause of the death of the estranged half brother of North Korea's leader dominated the second day Tuesday of the trial of two women accused of killing him at a busy airport terminal in Malaysia.
Prosecutors at Malaysia's High Court were seeking to establish the basic facts regarding Kim Jong Nam's death on Feb. 13. There has been no testimony about the motive for the killing, but North Korean leader Kim Jong Un is believed to have considered his older sibling a potential rival for power.
Siti Aisyah of Indonesia and Doan Thi Huong of Vietnam have pleaded not guilty to charges they smeared the nerve agent VX on Kim's face. They have yet to testify, but diplomats from their countries have quoted them as saying they believed they were playing a harmless prank for a hidden-camera TV show and had been hoodwinked by men suspected of being North Korean agents.
Monday's testimony reconstructed Kim Jong Nam's final moments at the airport, while Tuesday's session focused on the cause of death.
DR. NIK MOHAMAD ADZRUL ARIFF RAJA AZLAN, airport clinic physician
Nik continued his testimony from Monday, in which he described how Kim arrived at the airport clinic conscious but in pain, with very high blood pressure and pulse. He said Kim then had seizure-like symptoms and his blood pressure, blood oxygen level and pulse plunged. Nik said he injected Kim with atropine, a standard procedure to boost slow heart rates, and said he did not know at the time that it is also a treatment for counteracting VX and other nerve agents.
Nik said he also inserted a tube into Kim's trachea to improve his oxygen level, and that stabilized Kim's blood pressure and oxygen level so he could be transported to the hospital.
DR. NUR ASHIKIN OTHMAN, chemical pathologist at Kuala Lumpur Hospital
Nur Ashikin said Kim's blood had a very low level of 344 units per liter of cholinesterase, an enzyme used to break down neurotransmitters in the body that send signals to the brain and control the muscles. The normal level is above 5,300 units per liter, she said.
The low level "could be caused by poison such as pesticide or nerve agent," she told the court, and can cause heart and lung problems and symptoms such as profuse sweating and vomiting.
She said blood tests on the two women accused of murdering Kim showed normal enzyme levels, but this may not conclusively show they were not exposed to VX because the women may have been in contact with a low concentration level or have decontaminated themselves by washing their hands with soap or taking an antidote.
DR. MOHAMAD SHAH MAHMOOD, head of the Forensic Unit at Kuala Lumpur Hospital
Dr. Mohamad Shah, one of two pathologists who examined Kim's body and prepared the post-mortem report, said the cause of death was determined to be "acute VX nerve agent poisoning." He said Kim was dead on arrival at the hospital.
A copy of the post-mortem report, submitted as evidence, showed that traces of VX were found not only on Kim's eyes and face but also in his blood and urine, and on his clothing and bag.
An examination of Kim's body found damage in his organs including part of the brain, both lungs, liver and spleen, Mohamad Shah said, adding that this could be caused by poison or a drug overdose. But based on his examination and toxicology and chemist reports, he said there were no contributing factors to Kim's death apart from VX.
The report said Kim weighed 96 kilograms (211 pounds) and had tattoos on his chest, arms and back, including a colored dragon head breathing fire and a man with two fish-like figures.