With no interim leader named, UEFA defends President Michel Platini despite 90-day suspension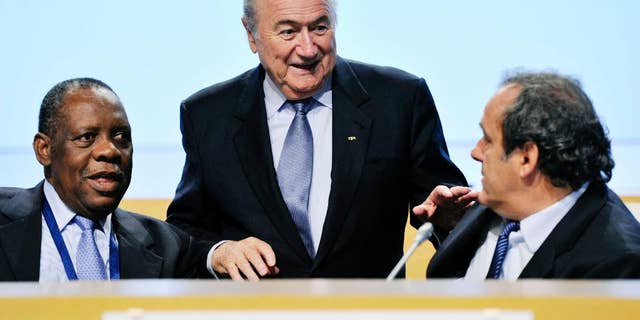 LONDON – Still defiant, UEFA is standing by its man.
Although Michel Platini was handed a 90-day suspension by FIFA, banning him from all soccer-related activity, the home page of UEFA's corporate website on Friday still had a smiling photo and statement from the man they continue to call president.
"This is because the UEFA executive committee is aware that the UEFA president will immediately take all necessary steps to appeal the decision of the FIFA ethics committee to clear his name," European soccer's governing body said in a statement posted on its website shortly after the 60-year-old Platini was suspended.
UEFA does clearly state that Platini will not carry out any official duties during the suspension, but keeping the former France captain as the visible leader in name could end up earning a rebuke, or worse, from FIFA for failing to adhere to the ethics committee's decision.
On the other side of Switzerland at FIFA headquarters in Zurich, Sepp Blatter was stripped of his presidential duties on Thursday after also getting a 90-day ban. The governing body soon issued an official communique to announce that the 79-year-old Blatter had been "relieved of all his duties."
Blatter's job title was even wiped from his Twitter profile and the presidential page expunged, with a site for acting president Issa Hayatou uploaded in its place.
Both Platini and Blatter were suspended after becoming embroiled in a Swiss criminal investigation into financial wrongdoing at FIFA. If Platini does appeal and it is denied, it would effectively rule him out of the running to succeed Blatter as FIFA president in the election on Feb. 26.
Since a criminal case was opened against Blatter two weeks ago, he has been communicating in public through his lawyers, rather than through official FIFA channels. But Platini's statement attacking allegations that are "astonishingly vague" is the lead item on UEFA's corporate website.
And despite the actions of FIFA in Zurich, UEFA has not elevated Angel Maria Villar — the body's most senior vice president — to the top job at its headquarters in Nyon.
Villar, the head of the Spanish soccer federation, is also at risk of sanctions from a separate investigation into soccer corruption.
"It seems to me that UEFA is trying to fudge it by saying they are not appointing someone in (Platini's) place," British lawyer Nick De Marco, a specialist in sports law, told The Associated Press. "Under the rules, they have to have someone in his place chairing meetings."
It is likely that Villar will chair Thursday's hastily-organized meeting of both UEFA's 54 members and the executive committee — despite not being appointed acting president as statutes dictate.
Last month, Platini was questioned by Swiss investigators about a payment of 2 million Swiss francs (about $2 million) he received from FIFA in 2011 for work carried out up to 2002. Blatter is being investigated as a suspect in the case, while Platini is being treated "between a witness and an accused person," according to Swiss attorney general Michael Lauber.
___
Rob Harris can be followed at www.twitter.com/RobHarris and www.facebook.com/RobHarrisReports