With Muhammad on cover, Charlie Hebdo's new issue will be printed in Spanish, English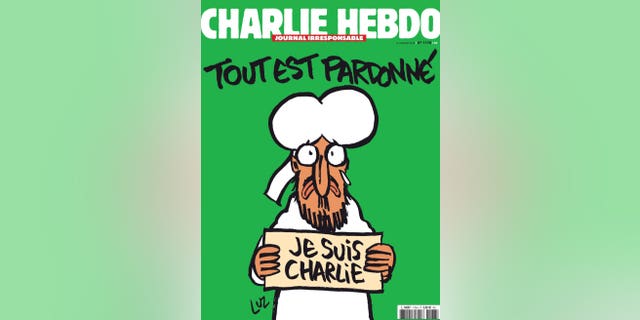 Late Monday, the satirical French weekly, Charlie Hebdo, closed its next issue, which is scheduled to go on sale on Wednesday – exactly one week after 12 people died, including much of the editorial staff and two police officers, when two masked gunmen assaulted the newspaper's offices.
Three million copies of the issue will be printed, with editions in English, Spanish, Turkish and Arabic, according to Madrid's El País newspaper.
The cover shows a weeping Muhammad, holding a sign saying "I am Charlie" with the words "All is forgiven" above him. Charlie Hebdo ("Hebdo" means "weekly") had faced repeated threats for depictions of the prophet.
Renald Luzier, the cartoonist who drew the cover image and who is known by his pen name "Luz," said the drawing represents "just a little guy who's crying." Then he added, unapologetically, "Yes, it is Muhammad."
Speaking at a news conference in Paris on Tuesday at which he repeatedly broke down crying, Luzier described weeping after he drew the picture.
Charlie Hebdo's new issue maintained the publication's irreverent, often offensive attitude for which it is well-known in France. The first two pages included drawings by the slain cartoonists. One showed a much-loved late French nun talking about oral sex. Another showed a Muslim, Christian and Jewish leader dividing up the world.
The lead editorial laid out a vigorous defense of secularism and of the weekly's right to lampoon religions and religious leaders and hold them accountable — and ended with a critique of the pope.
It also heartily thanked the millions around the world who have supported it.
"For the past week, Charlie, an atheist newspaper, has achieved more miracles than all the saints and prophets combined. The one we are most proud of is that you have in your hands the newspaper that we always made," it read.
The Associated Press contributed to this report.
Like us on Facebook