Winter Olympics: South Korean president, Kim Jong Un's sister shake hands but no interaction with Pence
NEWYou can now listen to Fox News articles!
The sister of North Korean despot Kim Jong Un and South Korea's president shook hands in a historic moment for the two countries during the opening ceremony of the Winter Olympics on Friday -- but no such interaction occurred between any Hermit Kingdom representatives and Vice President Pence despite two close encounters.
Kim Yo Jong, the sister of Kim Jong Un, and President Moon Jae-in were introduced by International Olympic Committee President Thomas Bach before shaking hands with each other and other world leaders.
The pair then sat down just a few seats away from Pence, but Pence and Kim Yo Jong did not interact nor appear to look at each other.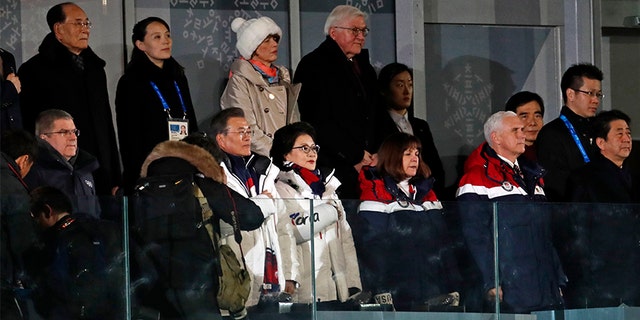 Earlier, at a VIP reception before the ceremony, Pence went around a table and shook hands with all the dignitaries except Kim Yong Nam, North Korea's 90-year-old nominal head of state.
Pence stood to cheer Team USA when they entered the stadium in Pyeongchang, but left before the unified Korean team marched in, the New York Times reported.
Kim Yo Jong is the first member of Kim's family to travel to South Korea since the 1950-53 Korean War, according to the Associated Press.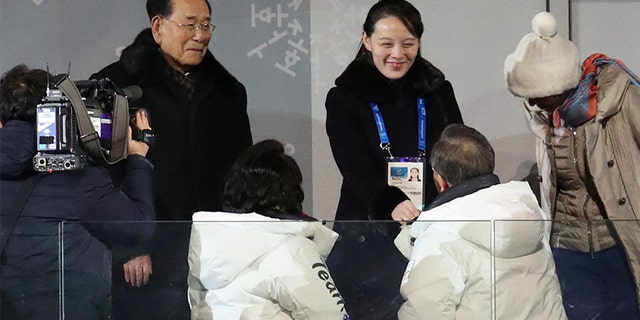 As first vice director of the Central Committee of North Korea's ruling Workers' Party, Kim Yo Jong, who is believed to be about 30, has been an increasingly prominent figure in North Korea's leadership and is considered one of the few people who has earned her brother's absolute trust.
Her arrival came one day after North Korea held a massive military parade, displaying its intercontinental ballistic missiles before Kim Jong Un delivered a televised speech calling his regime a "global military power."
The parade featured tanks, planes, and thousands of goose-stepping troops – as well as Hwasong-14 and Hwasong-15 ICBMS, which the North claims can reach U.S. soil.
Moon has been trying to use the Olympics in Pyeongchang as an opportunity to revive meaningful communication with North Korea after a period of diplomatic stalemate.
Skeptics say North Korea is using the Olympics to poke holes in the U.S.-led international sanctions against the country and buy more time to further advance its strategic weaponry.
The North has sent nearly 500 people to the Games, including officials, athletes, artists and a 230-member state-trained cheering group after the war-separated rivals agreed to a series of conciliatory gestures for the Games.
South Korea allowed the North to use a 9,700-ton ferry to transport more than 100 artists to perform at the Olympics, treating it as an exemption to maritime sanctions it imposed on its rival, and is now considering whether to accept the North's request to supply fuel for the ship.
The Associated Press contributed to this report.