Winnie Mandela, South African anti-apartheid campaigner and former wife of Nelson Mandela, dead at 81
Winnie Madikizela-Mandela, an anti-apartheid campaigner and the former wife of Nelson Mandela, died Monday, her personal assistant confirmed to Fox News. She was 81.
Madikizela-Mandela had been suffering from an infection and was in and out of the nearby Milpark Hospital in Johannesburg, South Africa.
"Mrs Madikizela-Mandela was one of the greatest icons of the struggle against Apartheid. She fought valiantly against the Apartheid state and sacrificed her life for the freedom of the country," her family said in a statement, according to Sky News. "She dedicated most of her adult life to the cause of the people and for this was known far and wide as the Mother Of The Nation."
Madikizela-Mandela was married to the late Nelson Mandela for nearly four decades. The couple was famously pictured hand-in-hand in 1990 as Mandela walked out of prison after spending 27 years behind bars.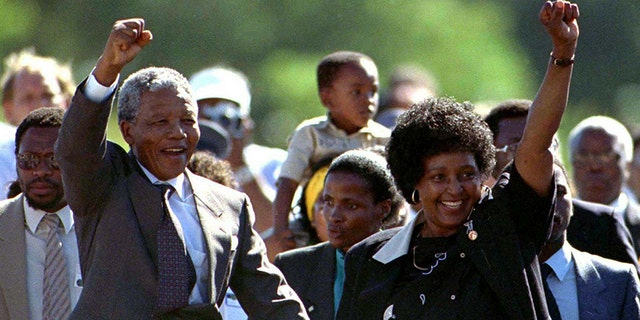 She campaigned tirelessly for her husband's release. Madikizela-Mandela's own activism against the apartheid regime led to her being imprisoned for months and years under house arrest.
However, her legacy was marred by allegations of corruption and a kidnapping and assault conviction. She was removed from Mandela's cabinet three years after the couple separated in 1992. The couple divorced in 1996.
She was also convicted in 1991 of killing an activist named Stompie Seipei.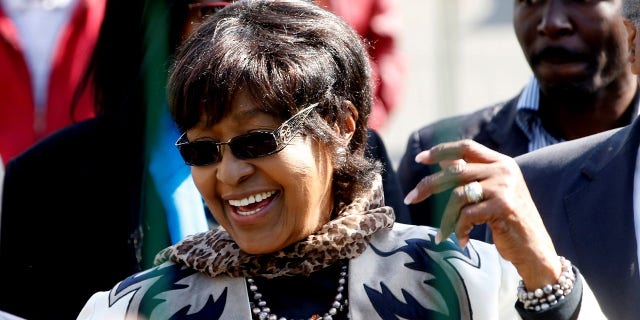 The 14-year-old Seipei — suspected of being an informer — was found with his throat cut near Madikizela-Mandela's home in Soweto. She was sentenced to six years in jail, but had the term reduced to a fine.
Despite her political and legal troubles, she was widely venerated in South Africa for her role in fighting white minority rule.
Fox News' Paul Tilsley and The Associated Press contributed to this report.