Widows of victims of Nigeria's Boko Haram say aid overdue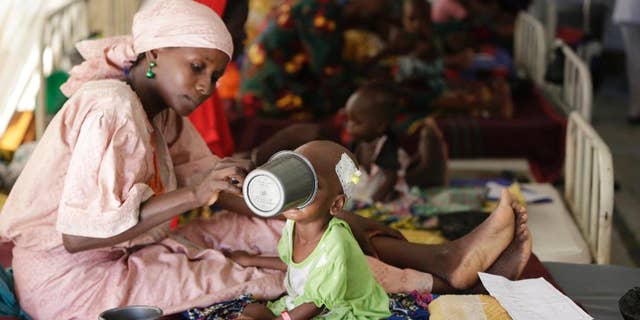 MAIDUGURI, Nigeria – After her husband was killed by a Boko Haram suicide bomber late last year, Hajjagana Mbasaru was forced to pull her children from school and rely on friends to feed them. Like other widows of civilians fighting the Islamic extremists in northern Nigeria, she spent long months waiting for any kind of government support.
Finally, last week, officials in northeastern Borno state stepped up with a small handout: two bags of rice and some beans. Though modest, Mbasaru said it was a welcome change from months of being ignored.
"I am indeed very happy that, for once, the government has remembered me," Mbasaru said.
During its seven-year uprising, Boko Haram extremists have killed more than 20,000 people and displaced more than 2.6 million in Nigeria and neighboring Cameroon, Niger and Chad. Frustrated by the ineffective military response, thousands of ordinary residents in northeastern Nigeria joined local militias.
In Borno, most signed up for the same one as Mbasaru's husband, the "Civilian JTF," a play on the acronym used to describe the joint military and police taskforce in the region.
Often armed with only machetes, iron bars and batons, the men worked to round up suspected Boko Haram fighters and intercept suicide bombers. They soon became targets, and since 2013 nearly 700 have been killed, according to Jibrin Gunda, legal adviser to Civilian JTF.
While praising the sacrifice of the fighters, the government has done very little to help their families adjust to life without them, Gunda said. "Many of them had wives and many children. They had their aged parents who were part of their dependents, and who are now bereaved," Gunda said.
Last week's distribution of food is part of a broader program intended to make up for that neglect, said Satomi Ahmad, executive chairman of Borno*s emergency management agency. More than 150 widows such as Mbasaru were selected to be part of the first round of beneficiaries, and more will be included in the weeks to come, he said.
It was not clear whether families would get just one distribution of food or be able to receive the handouts multiple times.
The idea originated with current vigilante fighters who pleaded for support for the families of their fallen comrades, Ahmad said. "We immediately welcomed the idea because these are youth who volunteered to sacrifice their lives in safeguarding the territorial integrity and internal security of our nation. And the majority of them were breadwinners for their families," he said.
That was the case for Hauwa Li's husband, a businessman who died fighting Boko Haram last year.
"He joined the militia because, at the time, Boko Haram were just killing everyone," Li said. "About 20 months ago, when they set out for the bush, he didn*t come back alive. They brought his corpse alongside others who were killed."
Li, a 30-year-old homemaker, was left alone to support six children under 12. She has worked to find odd jobs to help her family, but she often falls short. "The days we sleep with hunger are more than the days we have our stomachs filled up," she said.
Though they were surprised not to have received any state aid earlier, the widows who picked up food last week said their families are grateful for the help.
Fadi Ali, a 41-year-old widow with 10 children, held back tears as she looked at the bags of food that had been placed at her feet. "God has made provisions for every mouth that needs to eat," she said.
In addition to helping these families, Ahmad said officials hoped the food distribution program will motivate the civilian defense fighters who are still battling the extremists: "We believe it will help to boost the morale of those who are still active in the ongoing war against terrorism."