Why Your Cinco De Mayo Margaritas Will Be So Expensive, Extra Sour This Year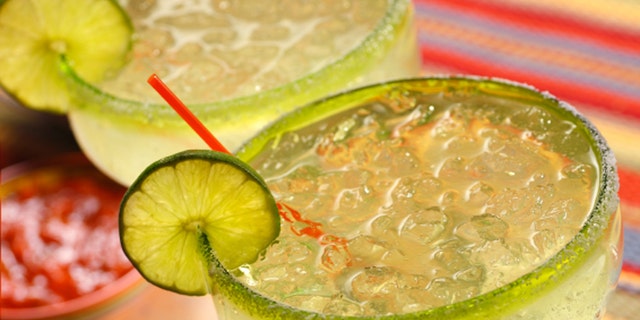 NEWYou can now listen to Fox News articles!
Mexico City – Nobody will blame you if your Cinco de Mayo celebration skips the mandatory Margarita this year. The soaring price of limes, roughly $1 each these days in U.S. supermarkets, is frustrating citrus lovers north and south of the border. The Great Green Citrus Crisis of 2014, it's been dubbed — a severe shortage of limes due to a myriad of circumstances both in the U.S. and in Mexico.
Lime growers in the Gulf Coast state of Veracruz couldn't believe their bad luck last year. Hurricane Ingrid soaked the state in September. Heavy rains followed in November and December, causing the trees in their orchards not to flower and subsequent harvests be diminished by more than 50 percent.
"It's been a very atypical year," said Luis Ochoa, a consultant with lime exporter Limones Mónica in the municipality of Martínez de la Torre, some 200 miles east of Mexico City.
"We had three years of rain in three months," he added.
Heavy rains soaked especially Mexican producers of Persian limes, which are grown mostly on the eastern side of the country and exported to the United States.
Growers in Veracruz admit they can't meet demand, even as prices topped $95 for a 40-pound box of limes that cost eight times less one year ago.
The high prices have brought security concerns, highlighted by a road robbery back in March of a truck carrying nearly $50,000 in limes – an incident prompting the Mexican media to call the fruit "Green gold."
Ochoa acknowledges some incidents of insecurity, but he insists most of them are related to thieves sneaking onto properties and stealing a few boxes.
Some growers are taking no chances, however.
"They're putting people in the groves with rifles to look after (their crops)," said Adriana Melchor, director of fruit exporter Inverafrut. "It's a serious situation," she noted.
The security situation sure turned serious for growers in the state of Michoacán, who produce smaller, more acidic limes for the Mexican market and export less than 10 percent of production to the United States. The Knights Templar cartel forced growers to pay a fee on each kilo of lemons brought to packing plants – businesses also being extorted – until last year self-defense groups formed to fend off the criminal rings.
Leonardo Santibañez, spokesman for the 4,500-member Citrus Growers of the Apatzingán Valley, said production plummeted because farmers were unable to attend to their orchards.
"If you have less attention being given to the groves and there's also rain, then there's going to be less fruit," Santibañez said in March.
Production for the domestic market was dented further by in an infestation of yellow dragon disease in the neighboring state of Colima, where the local lime council said the harvest was down by 64 percent in 2013.
Council president José Guadalupe García called on the government to protect growers against an increasing crime wave in the state as thieves steal fruit from their orchards and attack trucks on the highways, the Guadalajara Reporter newspaper reported.
Growers in both states accused middlemen and retailers of making the most money as lime prices surged in Mexico, reaching more than 80 pesos per kilogram ($6 for 2.2 lbs.) earlier this year.
Attempts to reach Santibáñez, whose organization formed in 2009 to give growers more clout with intermediaries, were unsuccessful.
High prices hit Mexico earlier this year, causing controversy as limes, along with chilies and salt, accompany many Mexican dishes. Media outlets ran scandalous headlines on how the fruit cost more than meat – no small matter in a country where the minimum wages is barely $5 per day.
Consumer protection prosecutor, Profeco, said in an April 2 statement that it was pursuing criminal complaints against unnamed individuals "for crimes against the national economy, due to the excessive prices of limes." It warned of penalties that included prison terms of up to 10 years and fines of $50,000.
Prices have dropped somewhat over the past month. Merchants in a market near the president's residence were offering limes for 20 pesos per kilogram – offering relief for restaurateurs.
"(Customers) always want limes to squeeze on their food," said Lourdes Lozano Valadez, who's sold "huaraches" – thick, sandal-shaped tortillas stuffed with beans – from a stall for 35 years.
Prices for Persian limes, which are mostly exported, should stay high until at least mid-June and then drop with increased production, Ochoa said – so long as the weather cooperates.