White House says production of coca in Colombia jumped 39 percent in 2014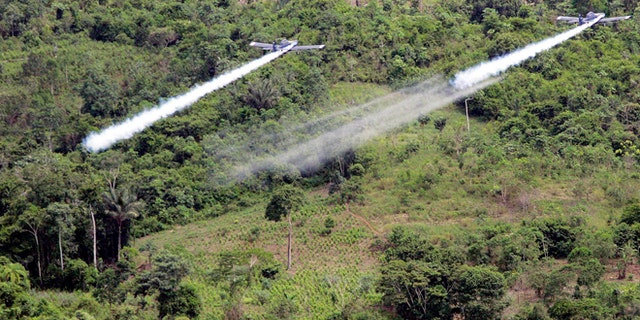 Associated Press – Cultivation of the leaf used to make cocaine skyrocketed last year in Colombia, according to a new White House report that's likely to pressure authorities here to preserve a threatened U.S. aerial eradication program at the heart of the drug war.
After six straight years of declining or steady production, the amount of land under coca cultivation in Colombia jumped 39 percent in 2014 to 112,000 hectares (about 276,000 acres), according to the Office of National Drug Control Policy. Potential cocaine production based on average crop yields jumped 32 percent to 245 metric tons.
The U.S. government uses satellites to annually survey the amount of land planted with the illicit leaf in the Andean nations of Bolivia, Colombia and Peru, where it is grown.
The report is usually published in the summer but the Drug Czar's office released partial numbers for Colombia on its website Monday after some of the key findings were leaked to local media over the weekend. Their release comes as Colombians are increasingly turning against the U.S.-led aerial program that is credited with spraying more than 4 million acres of coca crops over the past two decades.
Colombia's Health Ministry last month recommended suspending the fumigation program after the World Health Organization's research arm reclassified the herbicide glyphosate used to spray coca as a carcinogen. A decision could come as early as this month when policy makers gather in Bogota for a key meeting to debate the future of Colombia's anti-narcotics strategy.
"It's no accident this was released just as the fumigation program is on the edge of being suspended," said Adam Isacson, a veteran analyst of Colombia's conflict at the Washington Office on Latin America. "The U.S. is probably doing all it can to avoid that outcome."
To be sure, several anti-narcotics officials from Colombia and the U.S. stand by the program, saying there's an even greater risk to farmers' health and the environment if cocaine production reliant on hazardous chemicals were to proliferate unchecked. Coca production in Colombia peaked at over 169,000 hectares in 2001, as the U.S. was embarking on a multi-billion-dollar program to restrict the flow of cocaine.
President Juan Manuel Santos has yet to make his views known.
The White House attributed the surprise jump to increased cultivation in areas off limits to U.S.-backed aerial eradication. Overall, forced manual and aerial eradication efforts have fallen sharply since 2012, when Santos embarked on peace talks with rebels who depend on the drug trade to fund their insurgency.
A State Department official, speaking on condition of anonymity, called the increase in coca production "unfortunate and concerning" but expressed confidence that Colombia's strong commitment to fighting trafficking will allow it and the U.S. to reverse the trend.
While Colombia is the largest supplier of cocaine to the U.S., Peru appears to remain the largest producer of the drug thanks to higher-yielding, mature coca fields. Most of its production is destined for non-U.S. markets in Europe and Brazil.
Colombia's Justice Minister Yesid Reyes said the report should generate some much-needed reflection.
"Although we've had a lot of success, the anti-drug policy needs to change because it's demonstrated not to be as efficient as we'd like," Reyes told journalists in Washington, where he traveled to explain to U.S. officials the scope of the fumigation program's review.
Like us on Facebook