What comes after Raqqa for ISIS?
The U.S. military estimates the Islamic State now controls just three percent of Iraq and only five percent of Syria after the fall of Raqqa, Syria to U.S.-backed fighters more than three years after the first American airstrikes against the terror group.
So now the fall of the so-called ISIS capital has raised a key question: what comes next?
President Donald Trump said Wednesday, "We are decimating ISIS in the Middle East."
"They'll go to parts of Africa, they'll go to other places, when they get to those places --we'll beat them," said Trump.
"This is an inflection point, it's not the end of the campaign," warned Gen. Joseph F. Dunford, Jr., Chairman of the Joint Chiefs of Staff.  "We are not shifting our attention away from Iraq or Syria yet."
Dunford hosted a meeting of 70 defense counterparts Tuesday at Fort Belvoir, Va. outside Washington, D.C to talk about what will follow in the ISIS fight.
"The next phase for us more broadly is to expand our information intelligence sharing," Dunford added.
Trump's special envoy to the ISIS coalition said the decision last summer to arm Syria's Kurds sped up the Islamic State's downfall.
"It's moving faster more efficiently and more effectively, pretty significant changes made in terms of delegations of authorities," said Brett McGurk, seated next to Gen. Dunford at a press conference, when asked about changes to the ISIS fight under the current administration and which president deserves the credit.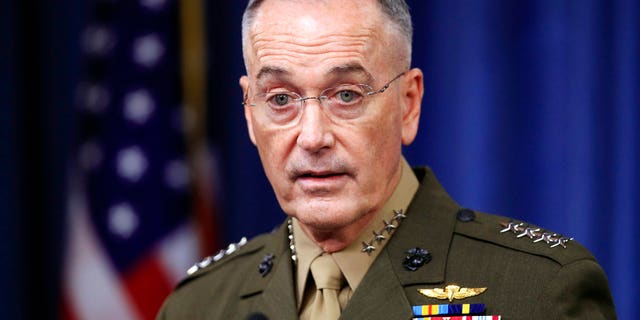 "A pretty important decision was made back in May about how to prosecute the Raqqa campaign, that the president made, which allowed us to complete the Raqqa operation," he added.
Former defense secretary Ash Carter said the Trump administration simply carried out a plan designed by the Obama administration.
"The plan was laid out two years ago and has been executed pretty much to the manner and on the schedule that was foreseen then," said Carter on CNN Friday.  "The credit goes to first and foremost our military for carrying that out.  I was always looking for ways to accelerate it."
Both special envoy McGurk and Dunford served under the Obama administration. Dunford said it took time to build momentum and enough local fighters to defeat ISIS.
"If you look at where the Iraqis were in the fall of 2015 and you compare their combat capability to 2017, they have improved significantly over the last two years," Dunford said.
"At one point I think we had identified about 175 partners in Syria that we had trained and some hundreds that were available to fight - now we now have 50,000 partners on the ground, half of them Arab partners," Dunford added.
Secretary of State Rex Tillerson traveled to Baghdad this week in an effort to diffuse tensions between Iraq forces, some backed by Iran, and the Kurds to keep Iraq from falling into a civil war and prevent outside groups from filling the vacuum in areas now free of ISIS. Meantime, Defense Secretary Jim Mattis traveled to the Philippines to meet with defense ministers from the region and acknowledged the work of the local forces crushing an ISIS-funded insurgency in the southern city of Marawi.
There is also the fear of more lone wolf attacks in the West inspired by ISIS, with local insurgencies around the world rebranding themselves as ISIS.
Today, about 6,500 ISIS fighters remain, mostly in the border region between Iraq and Syria, down from tens of thousands of fighters across both countries covering an area the size of Indiana.
"You expect to see large flows of ISIS fighters coming out of Syria and Iraq. We don't see that at all," said Dunford.
A senior U.S. military officer at the Pentagon offered an explanation.
"We're not seeing a lot of flow out of the core caliphate because most of those people are dead now," said Lt. Gen. Kenneth F. McKenzie Jr., director of the Pentagon's Joint Staff earlier this month.