Westerwelle visits Mideast to support peace efforts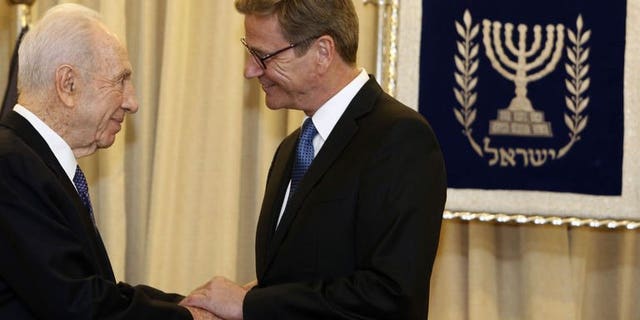 JERUSALEM (AFP) – German Foreign Minister Guido Westerwelle met Sunday with Israeli officials on a visit to support nascent peace talks, offering to try to soften a European ban on dealings with Jewish settlements.
"This meeting comes after we relaunched the negotiations between Israel and the Palestinians, and I know that Germany is deeply supportive of the need of direct, bilateral negotiations between Israel and the Palestinians," Israeli Justice Minister and chief negotiator Tzipi Livni said ahead of their Jerusalem meeting.
Israeli and Palestinian negotiators are set to meet on Wednesday, a day after the Jewish state is scheduled to release the first batch of 26 long-time Palestinian prisoners from a total of 104 it has agreed to free.
Livni also warned against making the "linkage between Israel, the EU and the Israeli-Palestinian conflict," referring to new EU guidelines excluding Jewish entities on occupied Palestinian land from financial cooperation accords with the bloc.
"The future borders of Israel and the future borders of the Palestinian state will be discussed in the negotiations room between Israel and the Palestinians and not as a EU decision, as we saw in the guidelines," she stressed.
"The EU should wait to see what's going to happen with the outcome of the negotiations."
Westerwelle said he was bringing with him a simple "message of encouragement and support" of the US-sponsored direct talks. "We will play a constructive and supportive role," he said.
As for the EU guidelines, he said that "with goodwill on all sides, pragmatic implementation should be possible."
Ahead of a meeting later Sunday with President Shimon Peres, the German minister said: "There is no and there will be no policy change of partnership. We seek a sustainable partnership to continue the projects in research fields."
While noting the guidelines were in the hands of the European Commission, Westerwelle said that "with goodwill and a pragmatic approach, we will overcome the present difficulties and come to solutions."
Peres said that unlike past attempts to bring an end to the conflict, "the Arab world is offering peace and Israel is united around the two-state solution. The talks are difficult for all parties but worthwhile for everyone."
On Monday, Westerwelle is to sit down with Palestinian president Mahmud Abbas and prime minister Rami Hamdallah before returning to Berlin.
After three years of stalemate, talks between Palestinian and Israeli negotiators on ending their longstanding conflict began again last month in Washington under US mediation.
The two sides aim to try to resolve their differences within nine months.
The next round is to take place on August 14 in Jerusalem attended by US mediator Martin Indyk and is to be followed by a meeting in the West Bank city of Jericho.