'We were told we were jihadists': Yazidi teen details daring escape from ISIS training camp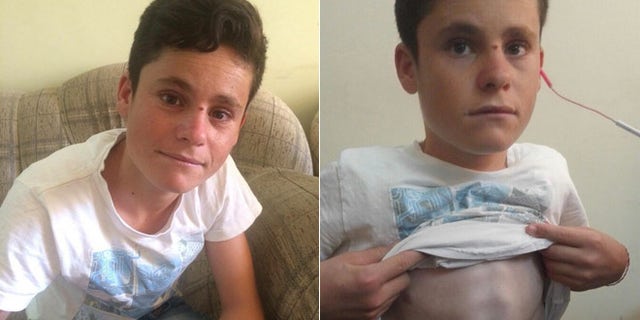 NEWYou can now listen to Fox News articles!
A Yazidi boy who escaped an ISIS training camp and made a daring trek to safety across the desert of northern Iraq told FoxNews.com in an exclusive interview about his hellish, nine-month ordeal under the black-clad terrorist army's brutal grip.
Now safe in a Kurdish-run refugee camp, Ahmed Amin Koro, 15, fears he will never again see his father again. He wonders how the tight-knit religious minority can recover from the scars inflicted by ISIS in the nearly two years since it stormed Mount Sinjar, the ancestral home of 150,000 Yazidi.
"For a moment, if I feel happy, my neighbors are not," Ahmed told FoxNews.com in a Skype interview arranged by Kurdish authorities. "We cannot be happy. "We think of others who are with ISIS. It is a difficult life."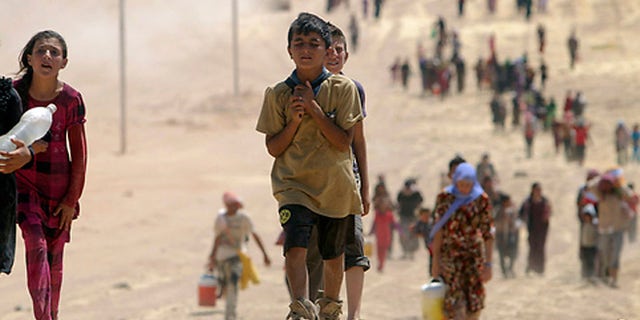 Ahmed was just 13 when ISIS laid siege to Mount Sinjar in early August of 2014. For days, the Yazidi, an ancient religious minority wrongly regarded by many in the region as devil worshippers, remained trapped in the towns that dot the mountainside, such as Tel Qasab, Tel Banat, Qahtania and Mojamaa Al Jazeera, as the world watched a humanitarian crisis unfold. Iraqi military choppers airlifted some to safety, while others formed convoys to flee down the only road leading off the mountain.
Ahmed's father had desperately hoisted him and his little brother into a relative's vehicle and stayed behind, but moments later, ISIS fighters manning a checkpoint on the road stopped the car.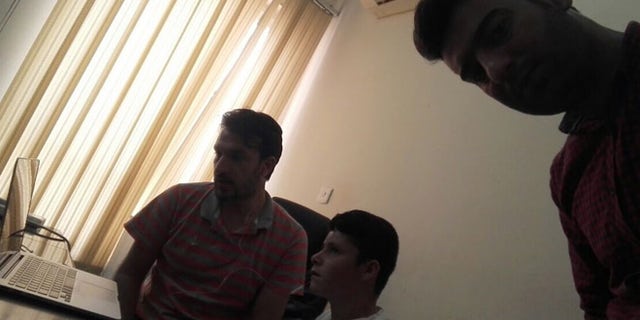 "At first they told us, 'We have no problem with you, you are all our brothers and our sisters,'" the soft-spoken boy told FoxNews.com from the Kurdish city of Duhok. "At first they told us they wouldn't hurt us."
While Ahmed and the other children were being whisked 50 miles east to the ISIS-controlled town of Tal Afar, the Islamist army was moving up the mountain with savage precision, destroying entire villages and burying countless men and women alive in a horrific scene that galvanized international disgust. Witnesses would later give grimly similar accounts of military-age men being summarily executed while other adults were told to convert to Islam or die.
Yazidi are ethnically Kurds, but follow a pre-Islamic faith. Of the 500,000 Yazidi in Iraq, more than 200,000 have been displaced or killed since the rise of ISIS, according to the United Nations.
Ten days after the seige began, Kurdish forces backed by U.S. air strikes drove the jihadists off the mountain, but not before the Yazidi community was devastated and scattered. Ahmed and his brother wound up in an ISIS education camp, where they and as many as 1,500 other Yazidi children were beaten, starved, forced to memorize the Koran and taught to kill.
"It wasn't a school, it was like a prison," Ahmed said. "We were forced to prayer, we were told we were jihadists and we were not Yazidi anymore."
The children were awakened before sunrise for morning prayers, and fed scraps they washed down with contaminated water that left them ill, Ahmed said. Yazidi girls were taken away each day to be sold to ISIS fighters, Ahmed said, recalling one mother's desperate plea for mercy on her young daughter.
"The mom cried that her little girl was too young and she didn't know anything about marriage or sex, but they didn't care and took her anyway," Ahmed said.
Young women with little brothers told their captors the boys were their sons in the hope that it would make them less desirable, he said. If a virginity test conducted by an ISIS doctor proved them wrong, they were beaten for lying, Ahmed said.
"The girls were covering their faces with dirt, trying to make themselves less beautiful," Ahmed said. "But if they were caught doing that they were beaten. They were all beaten and taken away. ISIS beat us too."
After one month, Ahmed and his brother were moved to a jihadist military training camp closer to Mosul where Koran memorization was enforced with severe punishment. Boys were trained day and night in the use of guns, hand-to-hand combat and learned to fight in close quarters, said Ahmed, who acknowledged witnessing numerous murders by ISIS' cruel instructors.
Yazidi boys were told they were being groomed to take their place on the frontline to fight the Kurds, as well as their own people, said Ahmed, who knew he and his brother had to escape.
Eight months into his ordeal, the boys got permission to visit a relative in Tal Afar, he said. Soon after they arrived, ISIS enforcers there mounted a crackdown, rounding up men and boys in a monstrous replay of the scene on Mount Sinjar. In the frenzied confusion, the boys hid under the rubble of a damaged building mosque until night fell and danger passed, Ahmed said.
In the morning, they began their arduous quest across some 50 miles of desert to return to their mountain home, Ahmed said. The boy recounted how he and his brother waited for hours outside an ISIS base until its occupants went inside a mosque for prayers, then darted into a building to fill their water bottles.
"We knew we would die without water," Ahmed said. "We were so thirsty we drank it all and walked again until we found a small stream to fill them up again."
They never made it to Mount Sinjar, but they did find a Kurdish-controlled village where locals were all-too familiar with their plight. They called representatives of a Kurdish Regional Government agency called the Office of Kidnapped Affairs. The boys waited for the final leg of their deliverance.
"We stayed quiet and still until it was dark, we couldn't walk anymore. We were starving," Ahmed said, his voice a whisper. "Relatives came in the car to get us. Nobody knew before that we had been trying to escape."
Since that day, Ahmed and his brother have been reunited with their mother and sister in the camp, where the boys support their family working in a store and attend school in a makeshift classroom.
Of an estimated 5,000 Yazidi captured in the ISIS assault on Mount Sinjar, about a third have escaped, been ransomed or smuggled to freedom. Perhaps most troubling to this fractured and misunderstood community is the prospect that some of its sons and brothers have been brainwashed and turned against their own people.
In Ahmed's case, eight months of dark indoctrination has not shaken his sense of right and wrong. Instead of anger, he feels only sad resignation and a wistful longing for a life that may be gone forever.
"I want to see my Dad again," he said. "I want to go back to Sinjar and I want to live peacefully with all my community – all of us – safe and together again."